Access Your Office on Your Phone
Learning Objectives
After completing this unit, you'll be able to:
Identify the roles on a field service team.
List key features of the Field Service mobile app.
List ways to customize the mobile app.
Meet the Team
Ursa Major Solar is a solar energy company based in the southwest of the United States. It sells, installs, and maintains solar energy products with the goal of harnessing sunshine for its customers.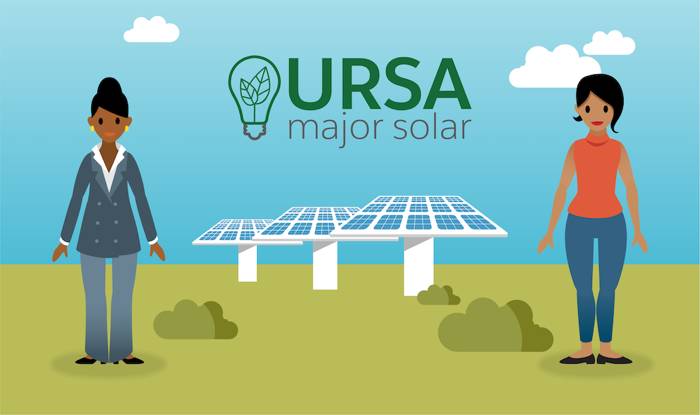 Ursa Major delivers exceptional customer service by using Field Service to connect its workforce, products, and customers on one platform. Now it wants to go farther by having its mobile workers use the Field Service mobile app.
Let's meet some key members of its field service team.
Salesforce admin: Maria Jimenez. She administers Field Service for all field service hubs and sets up everything for her mobile workers. She makes sure that they have the access and tools they need to be successful.
Service resource or mobile worker: James Clifton. He's an experienced solar system installer. Solar panels, hot water heaters, and complex solar systems—big and small, he's installed them all. He's one member of the mobile workforce in Los Angeles, and he's never without his trusty mobile phone.
Let's follow them as they start their mobile journey to help customers on job sites all around the Los Angeles area.
Welcome to Field Service Mobile
Once Ursa Major's field service workers leave their home base carrying their parts, they're off to spend the day bringing sunshine to customers' lives. But how do they keep on top of their schedules and customer information while traveling? By using the Field Service Mobile app on their phones. It's like having an entire desktop in their pocket.
Let's see Field Service Mobile in action in this video.
To understand how the Field Service mobile app works at Ursa Major Solar, let's follow James on an ordinary day. Once he's set up and ready to start his day, he pulls out his phone and views today's schedule. It gives him a good idea of what his day looks like. His app tells him the inventory needed for each job and whether those parts are already loaded onto his van.
He loads up the van with all the parts needed for today's jobs. Then he uses the app to view his first job on a map and to get directions. Before he arrives at a customer site, he uses the app to check out all kinds of things.
View details in the work order.
Check knowledge articles to review how to perform the job or look for service information.
If he has questions or wants to let them know he's running late, he can contact his dispatcher using his Chatter feed. He can also use the contact information in the app to call his next customer and let them know too.
Once he's at the customer's job site, he completes the job and takes a picture of his handiwork. He uses the app to capture the happy customer's signature. Then he updates the inventory in his van to record the parts he used for the job, again using the app. Once that's done, he heads out for his next job.
James accesses everything he needs from the Field Service mobile app. It provides all necessary information without him having to go back to his office or call for assistance.
Even better, the app automatically downloads the information that James needs when it's online and stores the information on his phone. This process is called offline priming, and James doesn't have to even think about it. Once his app is primed, James can access his data even if he's down in a basement with no cell phone service.
Customize the App
Field Service mobile app works as soon as you install it. But you can also customize it to meet your company's needs. Common customizations include the following.
Set up branding using key colors and background images.
Create flows to guide workers as they view information, create and update records, and trigger input-based actions.
Create app extensions to let users pass data from the Field Service app to other apps.
Add quick actions to object page layouts so your mobile workforce can quickly create and edit records, send messages to contacts, and more.
Maria is happy to see all her options. She decides to get her team working now and customize the app later.
In this unit, you met the Ursa Major Solar team. You watched a mobile worker use the app to communicate with customers and their dispatcher. And you learned how an admin can customize the app for their company. Now you're ready to install the mobile app and set up a mobile worker.
Resources