Learn Lessons From Last Year
Learning Objectives
After completing this unit, you'll be able to:
Explain the benefit of a holiday retrospective.
List three key changing holiday dynamics.
Explain the dynamics of shopper engagement.
Describe the shift from Cyber Monday to Black Friday.
Introduction
In this time of uncertainty, retailers are wondering how they can pivot to maximize the holiday season. The first step: begin your pre-holiday planning with a look back at the previous year. A retrospective helps:
Frame success metrics.
Identify new or continuous patterns of behavior.
Identify opportunities for improvement.
By the Numbers
Let's start by taking a look at last year's shopping trends by the numbers. At Salesforce B2C Commerce, we have access to the shopping activity of half a billion shoppers, making over 1 billion visits to sites across 30 countries. This data provides a unique view of the 2019 shopping story.
During the 2018 holiday season, it was clear that these online shopping dynamics were changing.
Timing: Shoppers make purchases on their own terms
Black Friday: The digital shopping event of the season in the U.S.
Cyber Week and Cyber Monday: Be prepared to engage
Mobile: The most important digital channel
A Shorter Holiday Shopping Season
The 2019 holiday shopping season was undoubtedly unique. Thanks to a later-than-average U.S. Thanksgiving holiday, shoppers had six fewer days to complete their holiday purchases. Retailers raced to shoppers' inboxes, encouraging early shoppers to snag great deals and beat the pitfalls of the late holiday season rush.
One lesson that consumers gave us in 2019 is that shopping is going to happen on their terms, whenever and however. Digital traffic grew 13% on the week leading up to Cyber Week with shoppers eager to scope out the latest products and deals. But that didn't mean that shoppers were ready to pull out their credit cards. Digital orders were up only 9% pre-Cyber Week. 
Black Friday Versus Cyber Monday
Black Friday was once again the biggest digital shopping day of the year. Take a look at the data from the Black Friday Holiday Flash Report.
| | | |
| --- | --- | --- |
| Key Performance Indicator | 2018 | 2019 |
| Mobile Order Share | 49% | 53% |
| Mobile Visit Share | 67% | 73% |
| Social Traffic Share | 5.70% | 7% |
| Discount Rate | 27% | 28% |
| Free Shipping Rate | 78% | 78% |
| SMS & Push Notifications | 106 Million | 156 Million |
Let's take a look at the growth by the two key days.
| | | |
| --- | --- | --- |
| Growth | Black Friday | Cyber Monday |
| 2016 | 21% | 10% |
| 2017 | 32% | 15% |
| 2018 | 13% | 15% |
| 2019 | 16% | 13% |
Numbers look great, and in taking a closer look over the past four years, we are seeing that Black Friday and Cyber Monday are still performing well, with year-over-year gains in growth. However, the full picture shows that shopping is becoming more distributed across Cyber Week, as consumers take advantage of rolling promotions that brands and retailers offer.
Early Engagement Within Cyber Week
Digital revenue grew aggressively the first half of the season, as shoppers extended the buying season on both sides of Cyber Week 2019—with global digital revenue growing 15% to $143B. Black Friday continued to be the number one global digital shopping day and Thanksgiving Day emerged as a major shopping event—proving once again that shoppers are going to act when it's best for them.
Cyber Monday continued its reign as the top digital discount day, but a new trend emerged. The second best day for scoring digital deals was not during Cyber Week. Brands extended the discounting to the Tuesday after Cyber Monday. Coincidentally, this Tuesday marked the halfway point for digital revenue spent across the entire season, three whole days earlier than in 2018.
The lesson: Be prepared to engage shoppers as early as possible.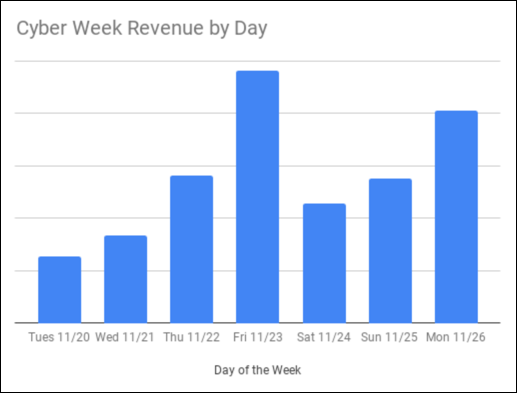 Mobile Milestones and Records
Shopper confidence in mobile ordering soared. The year 2019 ended with mobile as the number one device driving digital traffic and orders. During the holiday season, peak days like Christmas Day, saw up to 80% of digital traffic and 65% of digital orders come through a mobile device.
The lesson: A mobile-first world is already here, and a mobile-first strategy is likely already an integral part of your digital strategy. In 2020, find ways to integrate the mobile experience into the physical for a true omnichannel shopping journey
These are some of the 2018 highlights.
Overall, the season saw global digital revenue grow 8% across the entire season, totaling $723 billion in sales.
There was a 134% increase in SMS sends during Cyber Week.
On peak days during the holiday shopping season, over 10% of mobile traffic and 7% of mobile orders came from a social referring channel.
Plan a Team Retrospective
Although 2020 is undoubtedly going to be a unique holiday season, it's still important to understand the trends from last year. Leveraging B2C Commerce data and insights is a great way to prepare for the upcoming holiday season, but you should also evaluate your unique storefront experience. Meet with your team to review these questions.What didn't work during the holiday season?Which campaign and promotional tactics were successful?How can you align online experiences with offline or in-store experiences?What can you do differently with merchandising, marketing, functionality, or retail ops?What metrics can you use to determine holiday merchandising improvements?
Next Steps
Holiday shopping and timing dynamics are ever-changing. We learned a lot from looking back. We learned that Thanksgiving has now become a major shopping event and that Cyber Week is the digital shopping week of the year.
We also learned that you need to be ready for your shoppers early—and give them the flexibility to shop on their own terms. That means optimizing your brand's shopping experience ahead of Cyber Week—and providing innovative ways for your shoppers to find you across mobile, email, and social. There's also no doubt that key shoppers demand a personalized experience.
With these insights and your company's unique perspective, let's learn how to strategize holiday promotions.