Meet Ruman, MuleSoft Integration Consultant, Certified Instructor and Meetup Group Leader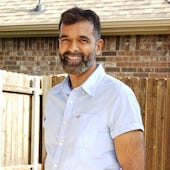 I believe in continual learning, so I believe in Trailhead.
Do you remember when you first heard about MuleSoft and Trailhead?
Back in 2015, I was assigned a task to do a Proof of Concept with Mule runtime engine. Having only worked extensively on Microsoft technologies for over a decade, I was very skeptical. As I worked more with Mule runtime engine, I saw how quickly MuleSoft was enhancing the product and adding more capabilities. Soon, I was encouraging developers/architects to switch. I learned about Trailhead very recently and I've already devoured the MuleSoft content. I'm excited to dig into the other lessons as well.
How has being a part of the Community helped you?
Attending local meetups provides me with first-hand information on new features as well as a platform to share knowledge and discuss technical or design issues. Oftentimes, discussions in the community have led to innovative ideas and solutions. Being a local group leader has been a very rewarding experience as well. I enjoy sharing my expertise and encouraging speakers to present different topics.
What is the best thing that you learned from Trailhead?
Always challenge the status quo. I learned this not on Trailhead but from Trailhead, which changed the learning game. Challenging the status quo will not only take you to the next level but also let you help and provide guidance to others.
How will Trailhead be a part of your future?
I believe in continual learning, so I believe in Trailhead. I hope to see our MuleSoft Community grow stronger and smarter, and Trailhead will be one of the tools with which we can do this.
What message do you have for people new to MuleSoft and Trailhead?
No matter what technical background you're from, if you can embrace change, then you will like what you can do with Mule runtime engine and you will love the time you can save by not doing things the old way.