📢 Attention Salesforce Certified Trailblazers! Maintain your credentials and link your Trailhead and Webassessor accounts by April 19th.
Learn more
.
close
Meet Eric, Salesforce MVP, avid app builder, and entrepreneur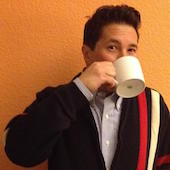 Salesforce skills have allowed me to be my own boss, start my own company, and create the career that I want.
How did you come to join the Salesforce ecosystem?
My first real encounter with Salesforce was when my co-founder (and Salesforce MVP) brought up the Salesforce AppExchange as a potential opportunity for a startup. This was in early 2010, and I knew a bit about what Salesforce was and the problem it aimed to solve, but the AppExchange as a concept was new to me. It blew my mind! We had been brainstorming concepts for our yet-to-be-formed startup company and the idea that enterprise software could be procured and deployed as easily as an app on an iPhone felt like a revolutionary opportunity. We ended up jumping in with both feet and founded a company focused on building apps native to the Salesforce platform and sold through the AppExchange.
What has it been like to learn and grow in your Salesforce career?
In my early days of working with the platform I discovered the amazing Salesforce community. It was a really valuable resource as I worked to develop my own knowledge. I spent a lot of time reading and joining conversations on Twitter, blogs, and IRC channels. I got to know some of the wonderful people who were working hard to answer questions and help others. Eventually, my own knowledge grew and I even had people in the community referring questions to me. However, I never thought of myself as an expert until I was asked by Salesforce to speak about what it was like to build a startup on the Salesforce platform. That presentation forced me to reflect on what I had learned, and to my surprise it was quite a lot! Since that time I've had the opportunity to help an incredible array of people who were somewhere in their journey to building successful businesses in the Salesforce ecosystem. I've also been recognized as a Salesforce MVP for my contributions!
Which accomplishment are you most proud of?
Our TaskRay product is one of the top-rated project management apps in the AppExchange, and it's regularly in the top 10 overall apps. Every time I have the opportunity to speak with a customer whose work processes have been improved and simplified by using TaskRay I feel so happy and proud. I truly love knowing that our team and product are making a difference in how people work.
How do you use your skills to give back to your community?
I love working with entrepreneurs who are considering or in the process of building a business in the Salesforce ecosystem. Typically, I'm fortunate enough to be introduced to other entrepreneurs through fellow Salesforce MVPs, members of the startup community in general, and even from Salesforce ISV partners. Whether it's helping them understand the landscape, developing product and business model ideas, or just connecting them with other folks who have insight they might need, making a contribution to someone else's success is a great feeling.
What does the Trailblazer community mean to you?
Imagine a global army of people work to share knowledge and help others simply for the pleasure of doing it. It's not their "day job." They don't receive any compensation. Instead, their incentive is seeing other people succeed. That's what the Trailblazer community means to me; it's incredible and I believe it's wholly unique in the world of enterprise software.
What is your dream job? How will you get there? Are you already there?
I've got it! I work with a smart, fun team building great products that make a difference in people's lives. I get to meet and help interesting people around the world and I never stop learning new things.
What message do you have for people that are considering learning Salesforce skills?
No matter what type of work you do throughout your career, learning the basics of Salesforce will make you a better thinker and problem solver while also increasing your understanding of cutting-edge digital technology. And there's no easier way to learn than on Trailhead!