Meet Denis, MuleSoft Certified Integration Architect and MuleSoft Meetup Group Leader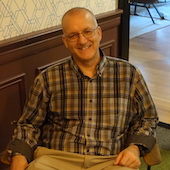 Earning badges on Trailhead is like a game where you just want to achieve the next level, except you learn at the same time!
Do you recommend Trailhead for MuleSoft newbies?
Yes! The Salesforce and MuleSoft Platforms can be daunting at first because they're so vast and powerful. But Trailhead is the smoothest learning platform I've ever used. There's even a badge that can take a non-programmer and lead them to create an API in 20 minutes flat! How can that be topped?
How did you first hear about MuleSoft and Trailhead?
I started to work with Mule as an open source project back in 2007. Even in these humble beginnings, the potential of what was to follow was quite clear. Fast forward 10 years when, in 2016, I participated in an evaluation for a next-gen integration platform. MuleSoft was the clear winner. I started on Trailhead in November of 2018, and I really enjoy learning all of the technical and business content... I'm a Ranger!
What are your favorite activities in the Community to participate in?
Meetups are my favorite MuleSoft Community activity. You meet people from different backgrounds who use MuleSoft. You learn how they leverage the platform, sometimes in new and creative ways. You exchange recipes on specific problem solving. You exchange ideas. All this in a friendly environment with a beer or some food. If you've never been to a MuleSoft Meetup, you're missing out!
What do you love most about the Community?
Since I joined the MuleSoft Community, I've had the opportunity to meet dynamic and knowledgeable people. It's always fun and interesting to hang around other MuleSoft users. Finding the right answer to difficulties you're having with the platform is sometimes challenging. The community oftentimes gives you the answer or points you in the right direction to resolve your problem.
How will MuleSoft be a part of your company's future?
At Pstox, we are MuleSoft partners committed to helping our clients leverage the platform to unlock their data and systems in what is called an application network. An application network makes new and existing data and systems available to be consumed in new ways, in order to build new applications faster and make current applications better integrated.
As a MuleSoft Developer, how will Trailhead be a part of your future?
I've been doing integration and backend work as a developer and architect for the better part of the last 25 years. MuleSoft has made this work more enjoyable and rewarding. Now, Trailhead helps me get on top of new features coming out in Salesforce and MuleSoft. It's fun, and there's a lot you can learn just by doing 20- to 30-minute chunks of reading or exercises at a time.
What message do you have for people new to MuleSoft and Trailhead?
Don't be shy! It's easy, it's free, and you don't have to commit a lot of time. You learn at your own pace, and a session can be as short as 15 minutes. Earning badges on Trailhead is like a game where you just want to achieve the next level, except you learn at the same time! What you learn is very hands-on and you can use it to solve your problems.