With the Lightning App Builder, you can build:
Single-page apps that drill down into standard pages
Dashboard-style apps, such as apps to track top sales prospects or key leads for the quarter
"Point" apps to solve a particular task, such as an expense app for users to enter expenses and monitor expenses they've submitted
Custom record pages for your objects, tailored to the needs of your users
Custom Home pages containing the components and features that your users use most
Lightning Pages are the underlying technology for the Lightning App Builder. A Lightning Page is a custom layout that lets you design pages for use in the Salesforce1 mobile app or in Lightning Experience. A Lightning Page is composed of regions that contain components.
Here's a sneak peek at one of the pages you're going to build.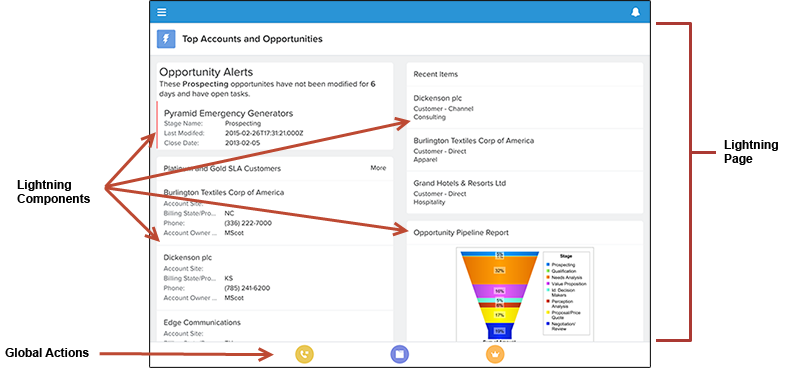 The structure of a Lightning Page adapts for the device it's viewed on. The template you choose when creating the page controls how it displays on a given device. The Lightning Page's template divides the page into regions.

Lightning Components
A Lightning component is a compact, configurable, and reusable element that you can drag and drop onto a Lightning Page in the Lightning App Builder.
You can use standard, custom, and third-party components in the Lightning App Builder.
Standard Components

Standard components are Lightning components built by Salesforce.

Custom Components

Custom components are Lightning components that you or someone else have created. With some modifications, custom Lightning components can work in the Lightning App Builder. For more information on making Lightning components App Builder–friendly, see the Lightning Components Developer Guide.

Third-Party Components on AppExchange

The AppExchange provides a marketplace for Lightning components. You can find packages containing components already configured and ready to use in the Lightning App Builder.