Meet Redwoods Car Insurance
Learning Objectives
In this project, you'll:
Learn the prerequisites for building with Swift and the Salesforce Mobile SDK for iOS.
Be able to explain the use case for Redwoods Car Insurance.
Build and extend a functioning iOS app that integrates with Salesforce.
Introduction
In this project, you build an awesome iOS app with the Salesforce Mobile SDK for iOS. Your app uses rich media, device sensors, and iOS frameworks to provide a rich customer experience. We've built the skeleton of the app so it's easier to learn the essential concepts while still getting hands-on. You build and extend key features.
Inside Redwoods Car Insurance Co.
Redwoods Car Insurance Co. has Service Cloud to manage customer claims. To make things efficient, they use a Service Cloud Console App and several custom Lightning components.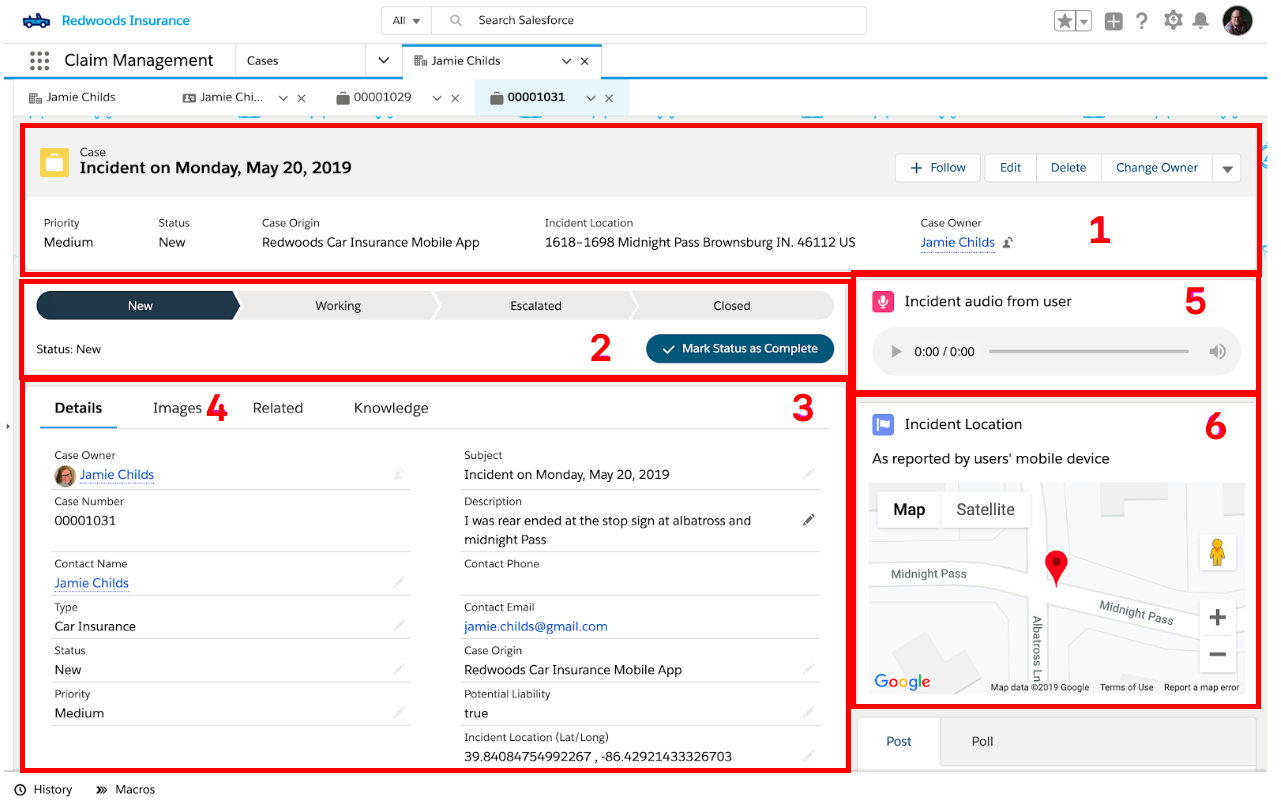 There are typical console features like the highlights section at the top with at-a-glance information (1), a path bar indicating case status (2), and of course the case details (3). Now check out the images tab (4)—this contains a custom Lightning Web Component cycling through images the customer uploaded through the mobile app. 
Then there's a custom Lightning Web Component that plays audio files (5). Finally, a Lightning Web Component draws an interactive map of the accident location (6). 
The work you do with Swift and the SDK will significantly improve how these custom lighting components integrate with iOS.
Inside the iOS App
Customers use the Redwoods Car Insurance iOS app to create and track their car insurance claims. They expect a lot from a modern insurance app. 
They expect to fill out a claim and start seeing results almost immediately. To help drive fast turnaround times, the Redwoods Car Insurance app uses specific mobile device features:
The device's GPS and geolocation to identify where the accident took place.
iPhone contacts, so it's easy to capture the information of passengers involved.
The camera, to capture and attach pictures of accident damage.
Voice to text, because typing can be hard after stressful incidents.
This is a modern iOS app—the developers at Redwoods have written it in Swift, Apple's object-oriented programming language. Swift has an emphasis on safety, working to prevent bugs in a number of ways. Swift also gives us access to iOS platform features and user interfaces such as contact and photo selection. 
For this project you write code to explore Swift syntax and add new features to the app. You learn how Swift and the SDK handle asynchronous work, like network access. You also work with iOS platform features like photo and contact selection.
Prerequisites
Working on a mobile app has its own tools, editors, and unique areas of knowledge. Make sure you have the following: 
A Mac running macOS Mojave or later.
Download and install Xcode 10.2 or higher.
Download and install Git, or a Git client.

Once downloaded and installed, confirm installation by opening Terminal and entering git. It should return a list of commands that you may use.

(optional) You can complete this project with the simulator provided by Xcode. If you'd like to install your app on a physical device to test, you need an Apple Developer Account, which you set up at developer.apple.com. You do not need a physical device to test on, it's just super rewarding to see your app on an actual device.
In Terminal, use Git to clone this repository with submodules. This may take some time since you're also pulling in the SDK with this command:
git clone --recurse-submodules https://github.com/trailheadapps/redwoods-project.git
These prerequisites aren't about the dev team being picky. Building iOS apps with Swift requires Xcode. Xcode, in turn, requires a Mac. We're providing the starter project via Git, so you also need Git installed. This is all connected. 
While Terminal is running, go ahead and create a new Trailhead Playground.
Let's Begin
Click the dropdown below and select Create a Trailhead Playground.
It typically takes 3-4 minutes from the time you first sign up for Trailhead to create your Trailhead Playground.
Once you've launched your Trailhead Playground, you're ready to build your app. Click Verify Step to proceed to the next step in the project. We won't check any of your setup here.