Create Professional Emails in the Feed
Customize Agent Emails in Case Feed
Support agents can respond to customer issues and questions in various ways—they can send emails, make phone calls, or send direct messages to customers on social media.
The Salesforce Console makes it easy for you to keep track of all the emails related to a customer case. You can see emails to and from the customer in context, so you never have to wonder whether you've received a reply from the customer or worry that you've accidentally deleted or lost an email (I know...that would never happen).
Not only can you view emails, but you can also respond to them within the Case Feed.
Great! We've covered that you can view and respond to emails through Case Feed. So now let's look at the ways you can customize the look and feel of agent emails to reflect your company's branding and image.
Three ways you can customize support emails through Case Feed are:
Setting up email templates for different types of support cases
Adding your signature to your emails
Using standardized "Quick Text" for common responses
Let's check out why these customizations are super cool and how to set them up in your Service Cloud org.
Email Templates
Email templates are a great way to help all your company's support agents create professional looking emails that incorporate your company's branding, such as logos, taglines, and colors, just like any corporate letterhead.
You can create email templates various ways – Visualforce, Apex, HTML, and even in plain ol' text. To start off, let's create a company letterhead. The letterhead provides the background for the email template.
Create a Letterhead

You need to select a letterhead when you create the email template. If you don't already have some letterhead handy, you can configure one.

From Setup, enter Letterheads into the Quick Find box and click Letterheads.
Click Next, then New Letterhead.
Select

Available For Use

. This option lets you use the letterhead in templates.
Enter a name for the Letterhead next to

Letterhead Label

. This automatically populates the

Letterhead Unique Name

.
Optionally, enter a

Description

for your Letterhead.
Click Save.
Use the letterhead mockup to customize aspects of your letterhead with company colors, logos, contact info, and more.
When you're done branding your letterhead, Click Save.

Create an HTML Email Template

Here, let's walk through the steps for creating an HTML email template. HTML lets you create colorful and professional-looking templates. Don't worry, you'll have a chance to create a plain text version for recipients who don't have HTML enabled.

From Setup, enter Email Templates into the Quick Find Box and click Email Templates.
Click New Template.
Select

HTML (using Letterhead)

, then click Next.
For

Folder

, select Unfiled Public Email Templates.
Select

Available For Use

.
Enter a name in the

Email Template Name

. This automatically populates the

Template Unique Name

.
For

Letterhead

, select the letterhead you created.
Select an option for

Email Layout

. If you're unsure of which option to choose, click View Email Layout Options to see previews of options.
Click Next.
Enter the

Subject

.
In the paper-shaped diagram, enter the content of your email in the various text boxes.
You can use Available Merge Fields to customize your message with things like the recipient's first and last name, account name, and more.
Use the Formatting Controls at the top of the page to customize the way your message looks. You can also add hyperlinks and images to the template.
Click Next, then Save.

Just like that, your email template is ready for action.
User Signatures for Agents
You might want your agents to have email signatures, so customers know who they're interacting with and how to contact them.
Email signatures are great because customers generally like to know who they're dealing with. Your signature typically includes information like your name and title, but can also include your company's logo, and your (or your company's) contact information. You could even add images or text from your company's latest marketing campaign.
Let's check out how to configure your email signature.
In the top right corner of the Salesforce console, click your name.
Click My Settings.
Click Email.
Click My Email Settings.

Add the information that you want your signature to display in the

Email Signature

box.
Click Save.
Change the Placement of Your Signature
Signatures are generally placed at the end of an email. However, in a long email thread, you want your signature to appear at the end of your reply email instead of at the end of the entire thread. Let's change the placement of user signatures to make sure that the signature is placed at the end of the reply and before the rest of the email thread.
From Setup, enter Cases in the Quick Find box, then select Email-to-Case.
Click Edit.
Select Place User Signatures before Email Threads. If you don't select the checkbox, the user signature is appended at the end of the email by default.

Click Save.
Quick Text for Common Situations
Now that you've made your emails super spiffy, let's create some Quick Text to save you time, mouse clicks, and the embarrassment of typos.
Support agents often encounter the same types of cases over and over again. For example, customers often need to return things. Or the thing that your company shipped to a customer arrived broken. Life happens...and you're on the case to make things right.
Quick Text is a way to quickly insert prewritten responses to common customer situations. You can use Quick Text to quickly respond to customers with standardized responses. Quick Texts save agents time and mouse clicks otherwise spent rewriting the same message, not to mention agitation over accidentally forgetting to add important details.
For example, you can insert a Quick Text that contains your company's return and exchange policy into an email in the case feed. Instead of typing out the policy, and possibly forgetting a crucial detail (like returns accepted only within 60 days), the agent can quickly provide the customer with accurate information.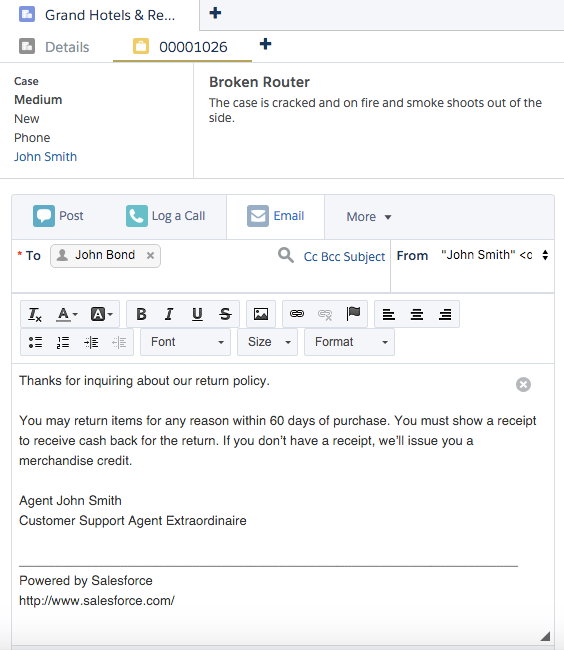 Other examples of common situations where you might use Quick Text:
Return & exchange policy
Refund policy
Follow up email to ask if the customer is satisfied with the case resolution
Password reset
Turn on Quick Text
First, let's turn on Quick Text in your org.
From Setup, enter Quick Text Settings in the Quick Find box, then select Quick Text Settings.
Click Enable Quick Text.
Click Save.
After enabling Quick Text, give support agents access to Quick Text by updating their user permissions. (If you need more help with user permissions, check out this help topic.)
Create a Quick Text Message
Let's create a quick text message that contains the company's return policy. You can insert this message into an email when customers ask about returning a product.
Go to Service from the App menu.

Click the Quick Text tab.
Click New.

If you have more than one Quick Text record type, select a record type for the new message, and then click Continue.
Type a message name. Let's name our quick text Return Policy.
Type the message. Let's enter the message: "Thanks for inquiring about our return policy. You may return items for any reason within 60 days of purchase. You must show a receipt to receive cash back for the return. If you don't have a receipt, we'll issue you a merchandise credit."

Your quick text messages can include line breaks, lists, and special characters and can be up to 4,096 characters. Now that's a lot of characters! To put it into perspective, this Trailhead unit weighs in at 6,500 characters.
You can use the Merge Field Selector to insert merge fields into the quick text message. For example, you could include the customer's name in the message. So you could create a quick text message that says: "Dear [Customer Name], Thanks for inquiring about our return policy. You may return items for any reason within 60 days of purchase. You must show a receipt to receive cash back for the return. If you don't have a receipt, we'll issue you a merchandise credit."
Select the channels in which you want the message to be available. The channels are the various ways that an agent can respond to a customer, such as email, phone, Chat, or whatever other channels you've added to your org. Let's select Email, since this unit's about improving agent productivity with the Case Feed email.
Click Save.
Use Quick Text in an Email Reply to a Customer
Now that we've created some quick text messages, let's take Quick Text for a test drive.
In the Service Console, open a case. Click the Feed tab to see the Case Feed.
Click Email to write a reply email to the customer.
Enter ;; in the email message field. Available quick text messages are shown.
Select the quick text message that you want to use.
Click Enter. Ta-da! The quick text appears in the email. You can add to it or send it off as is.
Click Send to send the email.