Learn About Macros, Service Console, and Case Feed
Learning Objectives
After completing this unit, you'll be able to:
Identify and describe the basic features of Service Cloud Essentials.
Explain the importance of the service console.
Features
Smaller businesses clearly have different needs than their behemoth enterprise counterparts. While some technology solutions can legitimately provide a one-size-fits-all benefit for many different kinds of companies, customer service is an area where smaller companies are best served by a scaled-back solution that's specific to their needs. That's why Service Cloud Essentials was designed to provide the basic customer service tools that every small business needs. In this module, we explore some of the features that make Service Cloud Essentials so useful for growing businesses, including: 
Cases
Case Feed
Console
Help Center
Lightning App Builder
Macros
Email, phone, web chat, and social support
Reports and Dashboards (limited)
Cases and the Case Feed
In a nutshell, support cases are customer feedback or issues that need to be addressed. Your Case Feed is a news-feed–like display that shows you and your team everything that's happening with a support case. It displays "happenings" in context, so work isn't repeated, you talk to your customers in one voice, and you can solve cases more efficiently, so you can get back to business, and your customers can get back to looking at cute cat videos on the internet.
It can take a lot of time to gather the info you need to resolve customer service cases. And then you and your team have to keep track of all that info. Think of just a few things you need to keep track of:
Voicemails left for customers
Email updates with new info from customers
Notes about who has talked with the customer and what they've been told
Knowledge-base articles that explain how to solve the customer's problem
Next steps
And that's just one case! You might have 10 cases to follow up on. 
This is why Case Feed is so helpful. It shows you a timeline for a case's history, and contains information that's super helpful for resolving cases. Every customer interaction—from emails to calls to social networking posts—is shown in context. Not only that, but internal communications are displayed in one place, so your whole team can see exactly what's happening on a case at any time.
Bottom line, all the info you need to resolve the case is available at a glance. It's how small businesses go from playing catch up on service cases to providing memorable service that makes customers happy. 
The Service Console
The service console is where all the Salesforce service features come together. It's a single screen that gives your team a 360-degree view of each customer and where that customer is in your support process. Think of it as a camera lens that zooms in and out on your customers. When someone views cases in a console, they can quickly zoom in all the little details related to the customer—account, contact, products, and more—or they can focus on the one big detail: the customer's question or feedback.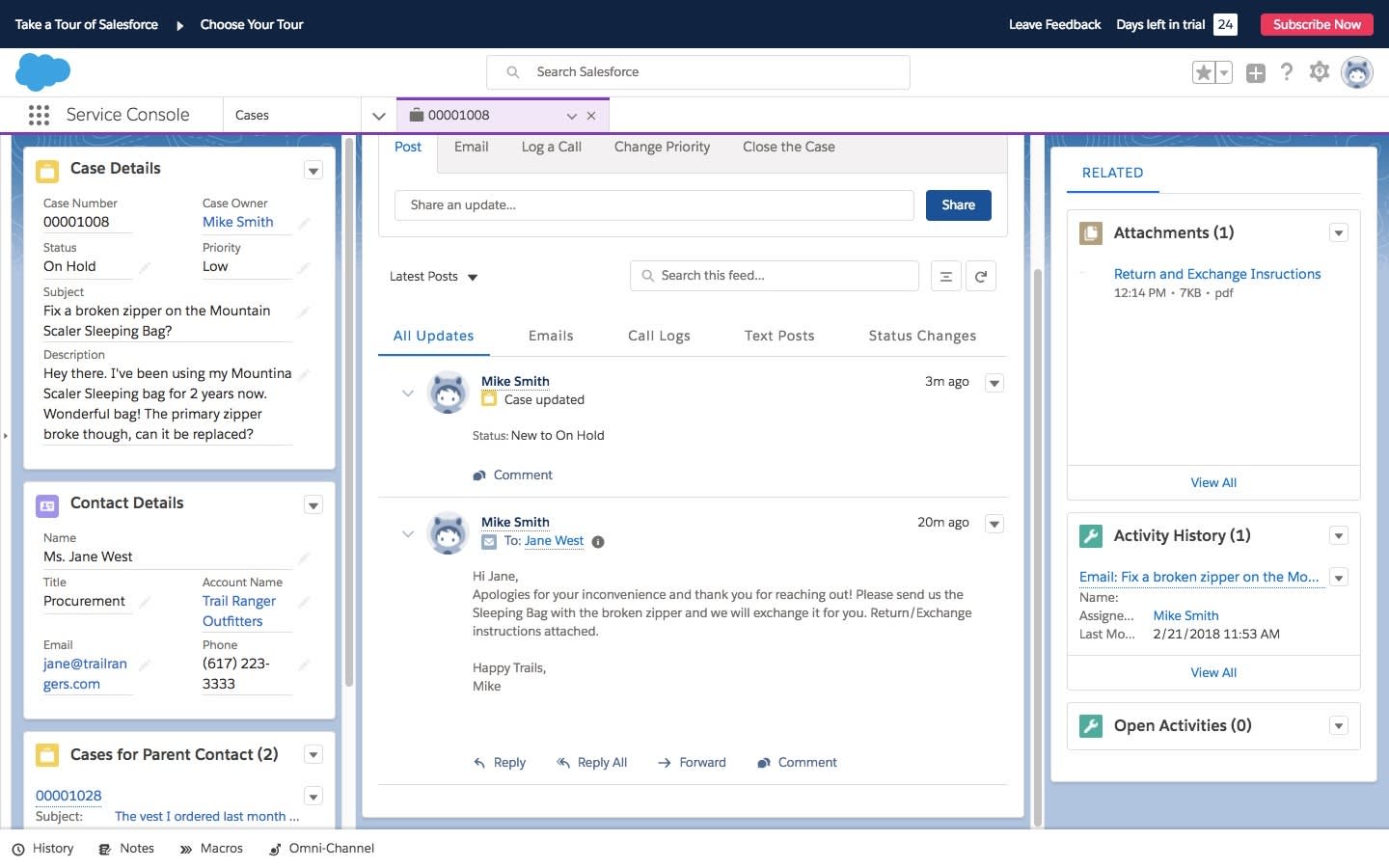 Help Center
Help Center frees up your agents from handling common questions or requests by enabling customers to find their own answers to frequently asked questions. Ready-to-use templates are easy to customize to create a branded self-service site. That way, customers can connect to your team of experts for more complex issues. You can even integrate knowledge articles for your agents that help them deliver answers to your customers faster. 
Lightning App Builder
Your employees are busy. They're closing deals and marketing to prospects and customers, among a million other tasks. By customizing your service console, you can put key information at your employees' fingertips and give them an easy interface to provide top-notch customer service. The Lightning App Builder is a point-and-click tool that makes it easy to customize your service console and give your whole team the information it needs, all in one place. 
Macros and Productivity Tools
Productivity tools like macro builders let your team set up common responses so they don't have to reinvent the service wheel every time a customer has a problem. Service Cloud Essentials makes it easy for them to collaborate by @ mentioning each other, tracking the history of support interactions, and accessing notes for every case. So when they work with customers, they're always speaking in a unified voice.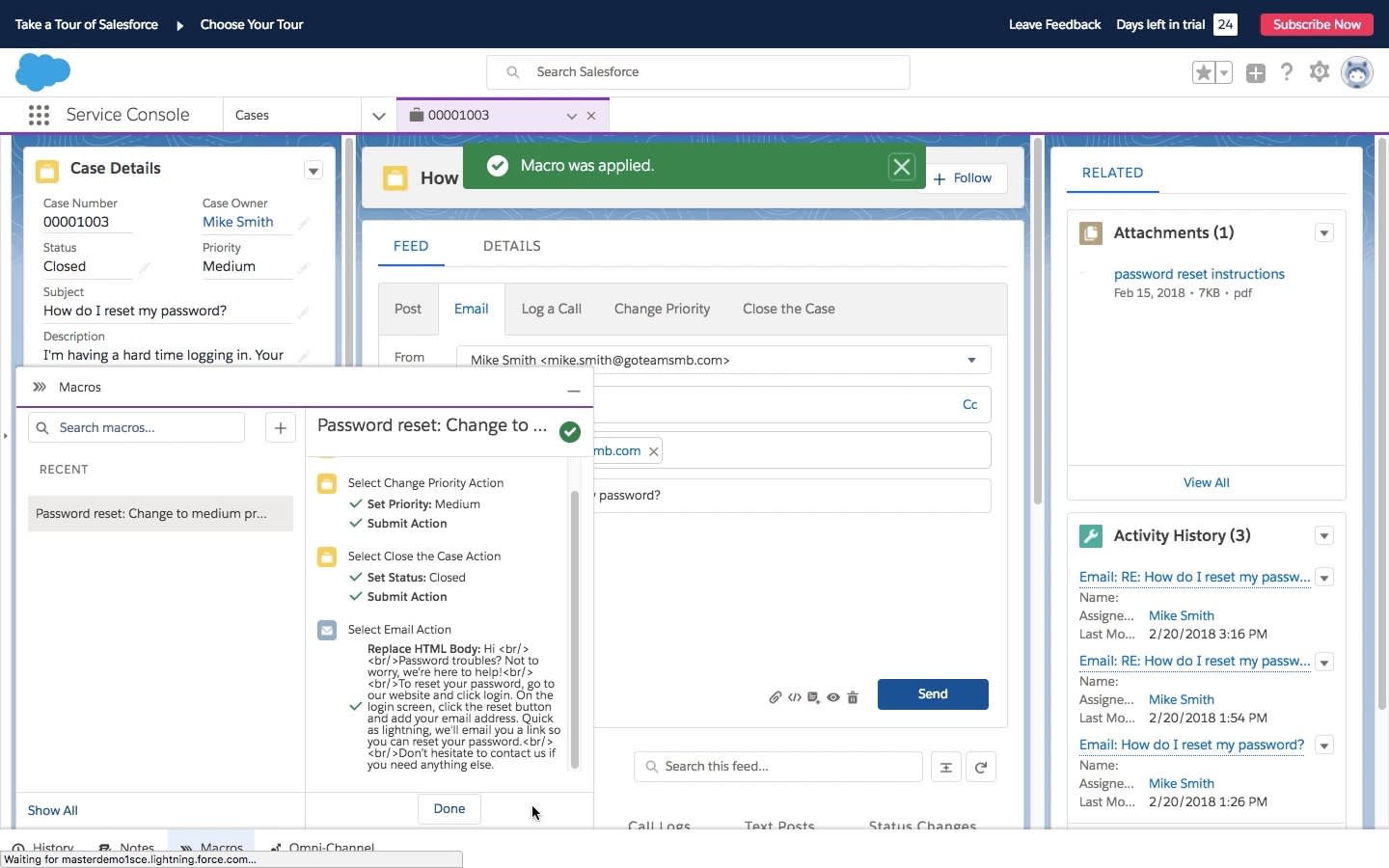 Multichannel Support
Email is a one-size-fits-all approach that just doesn't jibe with a multichannel, social media–driven world that allows customers to express their frustration in so many colorful ways. Service Cloud Essentials provides a solution that makes your small business look bigger, and helps you deal with customers on their terms. With Service Cloud Essentials, you can connect our web chat feature with your email, Facebook, Twitter, Instagram and Youtube accounts all on a single screen (the service console) to help you drive free publicity, understand your customers better, and manage everything in one view.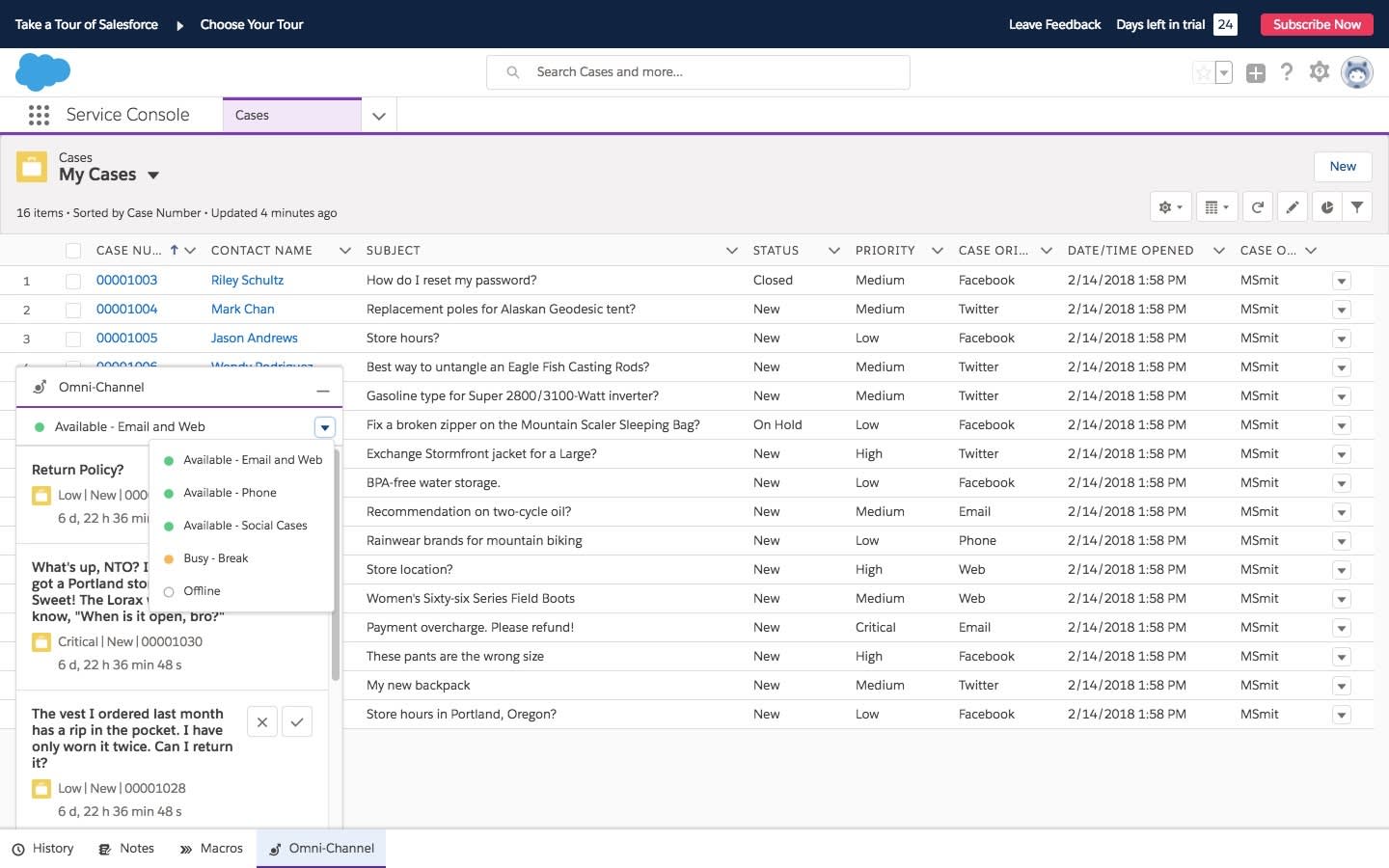 Reports and Dashboards
A report is a list of data organized in a way that tells you what you need to know. Want a list of all of your customers? Want to know how many customers reached out to you from Twitter? There's a report for each of those questions. In Salesforce, reports are kind of a big deal. Your data can be filtered, hidden, or shared, and can even be set to read-only so you don't have to worry about important information mysteriously disappearing.
A dashboard brings beautiful visualization to the data from your reports. A typical dashboard is made up of multiple components, like a bar chart, line graph, or a gauge (yes, like the one in your car). Each dashboard component has an underlying report, and a single report can be used in multiple dashboard components. Dashboards are highly customizable. It's easy to group different components together to tell a compelling story, such as how satisfied your customers are with your service, or how fast your support team is answering customers' questions.
In the next unit, we look at how all these features come together to help your whole team take customer service to the next level.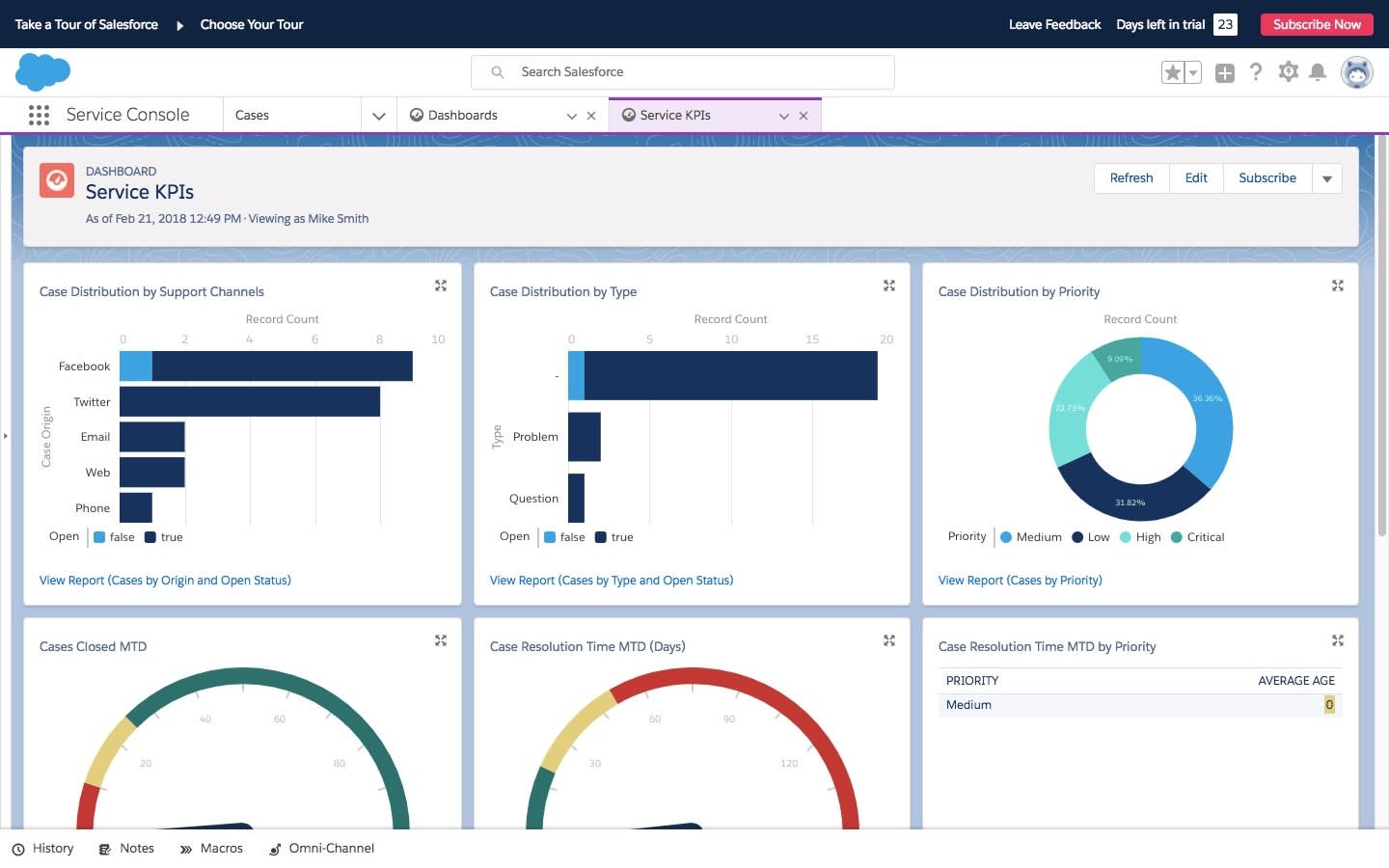 Resources