Find Your Way Around Essentials
After completing this unit, you'll be able to:
Summarize how to use the tools found on the Home page.
Navigate using the App Launcher and the navigation bar.
If you read the Sales Cloud Essentials Basics module (which we suggest you do before reading this one), then you remember our small business Trailblazers at Dreamscape Flowers. Dreamscape is growing its seedling shop into a full-fledged floral empire with Sales Cloud Essentials. Tracey, business owner extraordinaire, and Jay, her savvy sales rep, are using Essentials' crystal-clear walkthroughs, handy setup assistant, and easy-to-use interface to hit the ground running.
Let's take a look at the ins and outs of Essentials so you can do the same for your team!
Essentials Home is the first thing you see when you log in to Essentials. From Home, you can get your day started quickly by checking out your performance, events, and even the news related to the customers you have entered into your org.
When Tracey fires up Salesforce, the first item on her to-do list is to check on the status of any leads. Jay on the other hand, usually checks his tasks first. Problem? Absolutely not. You can personalize Essentials (and your process) to make it work for admins and business users alike.
Here's a screenshot of the Home page to get you oriented.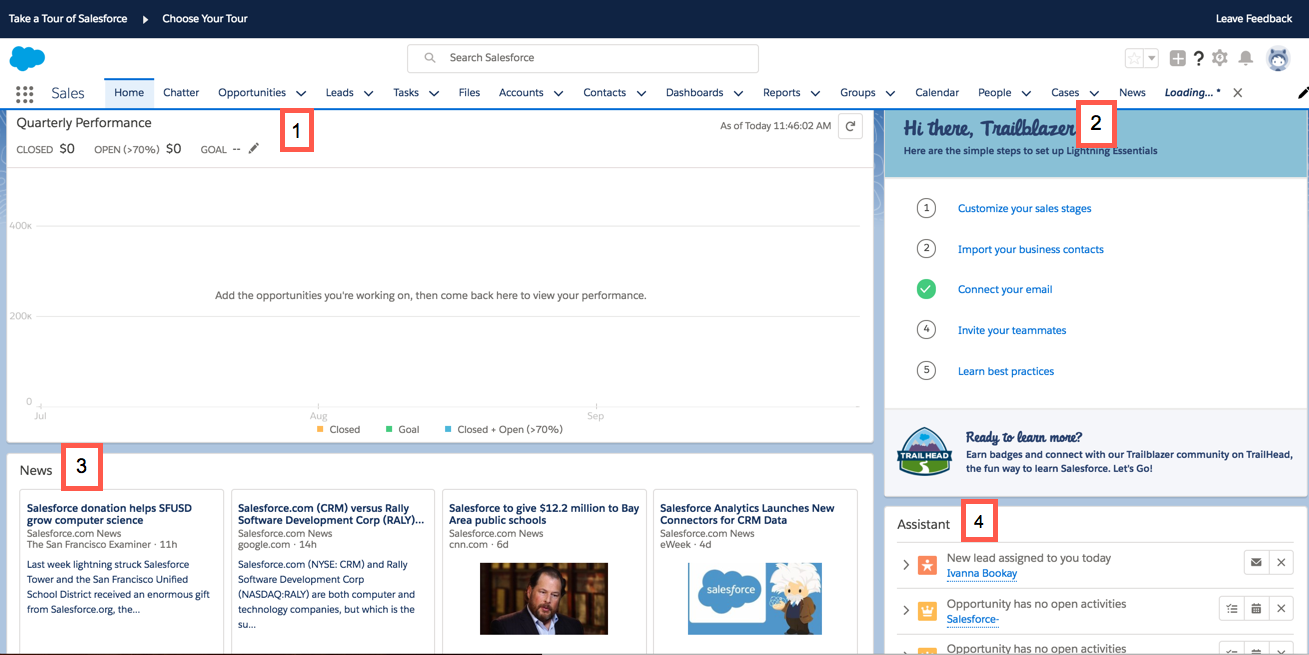 Let's check out some of the key parts of your Home page:
Performance Chart (1): Monitor and update your company's performance to goal.
Setup Assistant (2): Stay on track with setting up your org by completing five easy steps.
News (3): Get updates on important news about your company and your customers.
Assistant (4): Shows your highest priority tasks, like hot leads, overdue tasks, and inactive accounts.
Today's Events (5): Shows the next five meetings on your calendar today.
Today's Tasks (6): Shows up to five tasks due today.
Recent Records (7): Gives you quick access to your most recently viewed records.
Key Deals (8): View your top open opportunities in a convenient list.
At the top of every page in the platform, the navigation bar is waiting to take you wherever you need to go. Your navigation bar changes depending on which app you're using. Apps are an easy way to group certain functionality together. Essentials comes with some standard apps, including Marketing, Chatter, Service, and Sales. Depending on which app you're in, the objects will change, and the navigation bar with it.
The screenshot below shows the Sales app, with all the objects it contains displaying as tabs in the navigation bar. To view a list of your opportunities, for example, click the Opportunities tab.

Speaking of moving around in Sales Cloud, let's talk about how to access your Apps.
Essentials isn't all about the Home page (although it's pretty great!). Salesforce apps are what make Essentials the everything-you-need solution for your business. You can get to the App Launcher from any page, just click

.
Because your business does more than sell a service or a product, Salesforce created apps to help you meet those needs too. After you launch an app, you see the app name in the navigation bar. In the image below, you can see that the Service object includes different tabs than what you'd find in Sales.

Last but not least, to get to the Settings page, click

.
From here, Admins can change the home page layout, add users, and adjust App settings. In our next unit, you navigate over to the Setup Assistant to learn the ins and outs of Essentials.