Accelerate Channel Sales
Learning Objectives
After completing this unit, you'll be able to:
Explain how Sales Cloud PRM automates partner lead routing.
Explain how Sales Cloud PRM extends CRM functionality to accelerate channel sales.
Explain how Sales Cloud PRM streamlines quoting with Salesforce CPQ.
Automate Partner Lead Routing
Now you know that Sales Cloud PRM can accelerate sales, but how exactly does it do that? Let's get into the details, starting with automated lead routing.
With the Lead Inbox in Sales Cloud PRM, leads are routed to the right partner without email. With Salesforce, all of the data is stored on one system of record, so you can track the lead's activity in real time.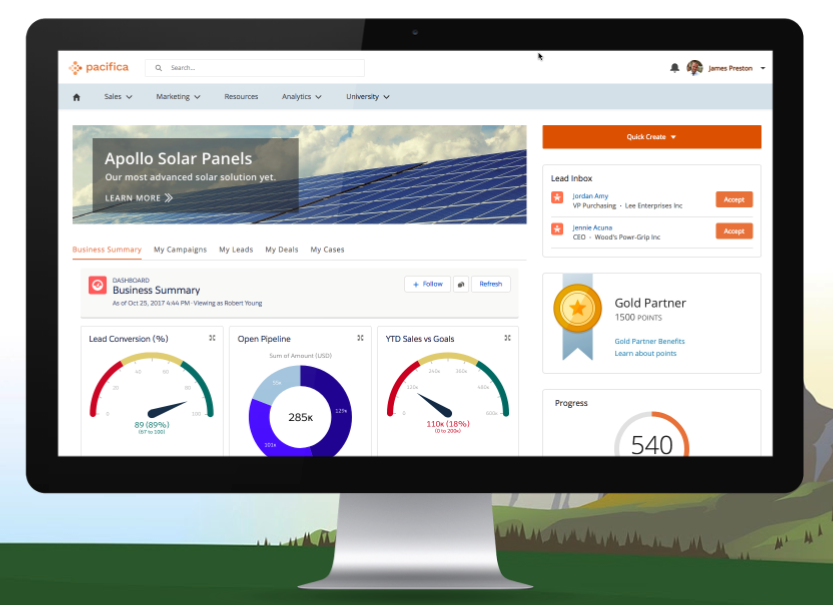 Manage Conflict on Inbound Deals
Managing channel conflict is a common pain point for channel sales managers. By having partners register deals that they bring in with Deal Registration, conflicts are minimized because Sales Cloud PRM logs the time the deal is registered and checks for duplicate deals. It also prevents internal teams or other channel partners from striking a similar deal with the registered customer.
Track Closure Rates
With prebuilt Lightning Reports and Dashboards in Sales Cloud PRM, vendors can track all of the leads and deals that their partners are working on and measure how long deals are in the pipeline and the rate at which they are closing. This gives vendors the ability to analyze their business processes and make improvements.
Get a sneak peek into how lead routing works in Sales Cloud PRM.
Extend CRM to Accelerate Channel Sales
Get a 360-Degree View of the Customer
Accounts, Leads, and Opportunities, which are your core CRM objects in Salesforce, are extended to your partners not only so they can gain the benefits of sales force automation, but vendors also gain insight into their end customers. These customers are often invisible in a nondigital environment because it is the partners who maintain the relationship, not the vendor.
Guide Partner Selling
Just like with Sales Cloud, Sales Path allows vendors to set sales stages that help guide new partners on the best way to sell their products and services while also creating a standard sales motion for easier reporting across all partners.
Automate Quoting with Salesforce CPQ
Collaborate on Business Objects
Getting real-time feedback on deals can dramatically improve the speed at which deals close, and that is why Collaboration on your business objects, like opportunities, is important. Collaboration allows vendors to provide key information to partners while also giving partners the ability to ask for information from vendors in context.
Make Quoting Easy for Partners
By adding Salesforce CPQ to your Sales Cloud PRM solution, you can extend automated quoting and renewal/subscription capabilities to your partners. Salesforce CPQ guides partners to optimal solutions with Guided Selling and allows them to build and update quotes easily with the Product Configurator. Partners can create professional-looking, branded proposals with a click or a tap.
Ensure Accurate Pricing by Program and Tier
With Discount and Approval Workflows, partners are able to get approvals for discounted pricing faster. If the discount meets certain rules, it can be approved almost immediately. If the approval needs to go through the vendor, workflows alert the specified approver the moment it is submitted by the partner, and the vendor can approve or reject the quote from anywhere on any device.
Pricing is accurate because partners only have access to the right price book for their program and tier level. No more digging through a long list of products and prices to find the right SKU.
Learn more about Salesforce CPQ.
Resources