Find the Right Settings and Get Help
Learning Objectives
After completing this unit, you'll be able to:
Access how-to information to set up NPSP.
Get help with NPSP.
Salesforce Settings or NPSP Settings?
As we mentioned, Nonprofit Success Pack (NPSP) is an app that sits on top of the Salesforce platform. While it is easy to say, it is much more difficult to show you exactly where the NPSP App ends and where the Salesforce platform begins. The truth is that the app doesn't so much "sit" on top of Salesforce as much as it "blends into" the platform. Sometimes, this blending can make it challenging to figure out where to set up or configure parts of the app or the platform or where to get help on a specific feature or functionality. For your users, this distinction won't really matter. It's all Salesforce or all NPSP to them. But for an admin, it can be helpful to understand that you may need to go back and forth between Salesforce setup and the NPSP settings depending on what you are trying to accomplish.
NPSP Settings is a tab in your org. It is the place to go to manage configuration unique to NPSP. You navigate to NPSP Settings by going to the App Launcher. 
1. Click the App Launcher (

) icon in the navigation bar.
2. Enter "NPSP settings" in the search box. As you type, the All Apps and All Items sections filter to show matching options. You must have admin permissions to access the NPSP Settings tab.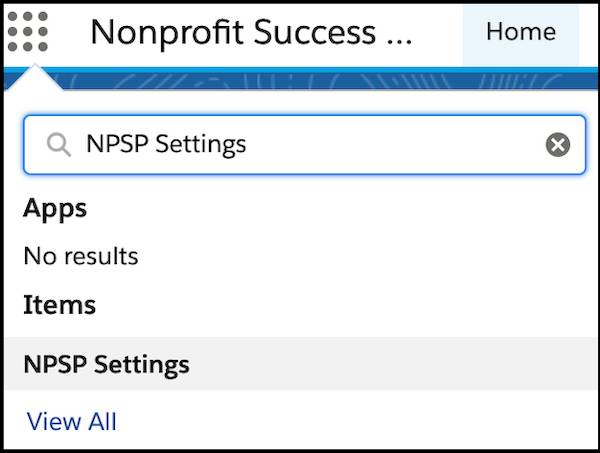 3. Click on the link to open the tab.
When you click the link, you land on the NPSP Settings home page. This page takes a few seconds to load, so practice some mindfulness while you wait.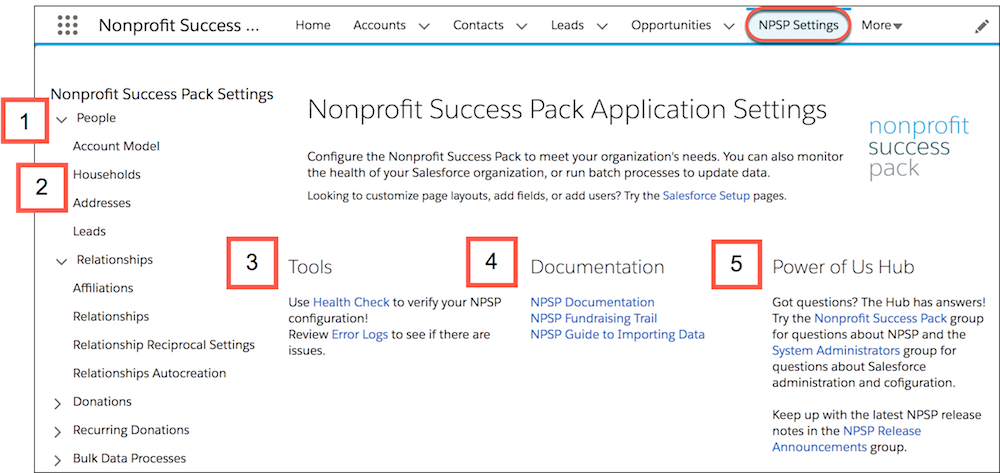 The NPSP Settings page includes navigation on the left side organized by the (1) type of object you want to configure like people or households. Open the main level navigation to see all the (2) settings options within that group. The NPSP Settings home page also includes sections for (3) NPSP Tools, (4) Documentation, and (5) the Power of Us community help.
NPSP comes out of the box with a series of default configurations that work great for many nonprofits, but the power of Salesforce (and NPSP) is its ability to flex to meet unique requirements. 
Once you have implemented NPSP, you won't likely spend a great deal of time in NPSP Settings. You will likely spend much more time in Salesforce setup—a.k.a. your happy place. 
Salesforce Setup: Your New Work Home
Setup is your one-stop shop for customizing, configuring, and supporting Salesforce platform features. Since there's so much you can do in the setup area, it's to your benefit to get comfortable with navigating it. You can get to setup from any page in your Salesforce org. From the gear menu at the top of the screen (

), click Setup. Let's take a tour of this important area.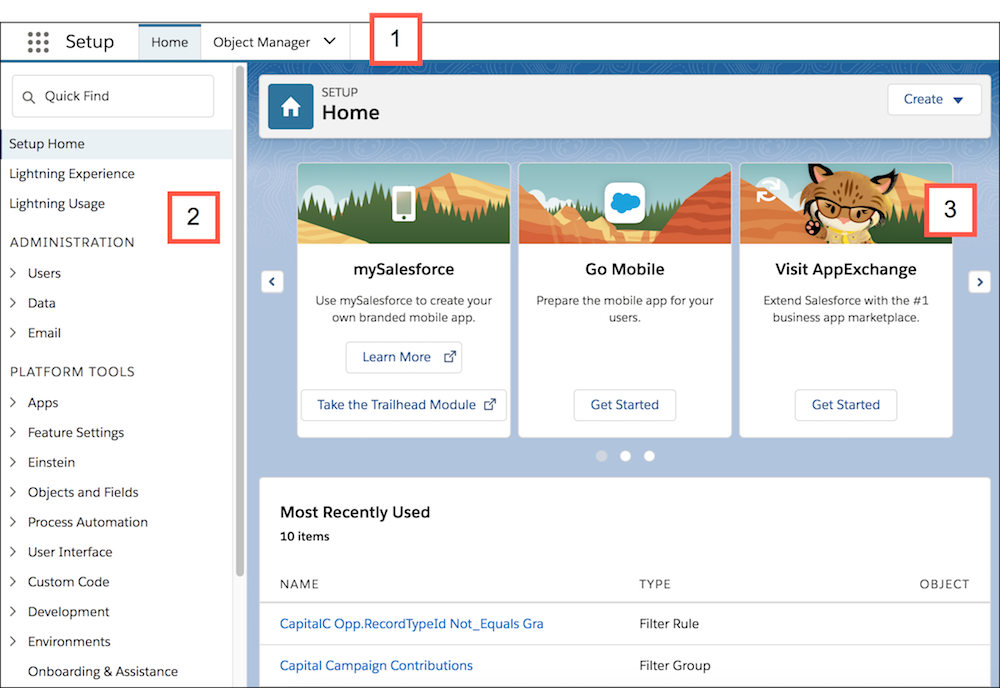 (1) Object Manager is where you can view and customize standard and custom objects in your org.
(2) The setup menu gives you quick links to a collection of pages that let you do everything from managing your users to modifying security settings.
(3) The main window is where you can see whatever it is you're trying to work on. Here, we're showing you the Setup home page.
The setup menu is the trickiest piece to navigate because there are so many different pages you can access. There are two ways to get where you want to go. If you already have an idea where to look, expand the appropriate menu and select the page you want. If you aren't sure where to look, use the Quick Find box at the top of the menu to search. 
Let's say you wanted to manage your user profiles. If you happen to know that profiles are in the Users menu under Administration, open that menu and click Profiles. Otherwise, enter "profiles" in the quick find box to search.
Your Learning Path as a Nonprofit Admin
As a nonprofit admin you're going to have to get comfortable navigating two worlds—the Salesforce platform world and the Nonprofit Success Pack world. It isn't one or the other, but a mix of both, sometimes more NPSP than platform and sometimes more platform than NPSP. This goes for getting help as well. You'll find lots of resources specific to NPSP, but sometimes you might need help with a product or feature that is unique to Salesforce and the platform. In order for you to be able to find what you need when you need it, you'll take advantage of a mix of resources.
The following always-on resources from Salesforce are available to everyone, and do a good job communicating basic functionality. You might need to do a little translation for use in a nonprofit context, however, since these resources tend to be designed for a sales audience.
Trailhead: Learn how to use Salesforce products through guided learning paths and hands-on challenges. (Yes, you're in Trailhead now, and this is a reminder to check out the wealth of trails written for nonprofit audiences.  Search for  Nonprofit Cloud and you'll find a number of trails to assist you and your end users.)
Salesforce Help: Find Salesforce training, help, and support, all in one place at help.salesforce.com. Every Salesforce.org customer has access to a Standard Success Plan including online technical support from Salesforce. Learn more about Salesforce Success Plans in the resources section of this unit.
Resources specific to Nonprofit Cloud are also available free to every Salesforce.org customer, including:
Power of Us Hub community: Ask questions, collaborate, and learn from nonprofit and Salesforce experts and customers.
NPSP help documentation: Product documentation specific to the NPSP app.
If you think your organization might benefit from 24/7 support, one-on-one coaching, and expert guidance, you might consider upgrading to a Premier Success plan at an additional cost.
There's so much more to learn about NPSP and how it records information about the people and organizations that help your organization achieve its mission—and many more trails to complete.
Good luck on your admin journey!
Resources