Take a Phased Approach
Learning Objectives
After completing this unit, you'll be able to:
Explain the benefits of a phased approach to implementation.
Describe the stages in a typical project implementation.
At this point, your organization should have a clearly defined vision for your Nonprofit Cloud project, a good sense of the potential value of a successful implementation, and organizational commitment in the form of time and resources. Right? If your "right" isn't quite as emphatic as you'd like, then please take a minute to review the Nonprofit Cloud Vision and Value Mapping and Nonprofit Cloud Readiness modules.
Prioritize Your Projects
Many nonprofits choose Salesforce because they want a single view of their clients, donors, and volunteers. That kind of unified experience often requires multiple teams and processes to move into Salesforce and the Nonprofit Cloud. Now, you can plan to move everyone in at once. But that kind of "big bang" approach adds complexity that can require additional resources upfront and slow down the time it will take for your organization to see an initial return on its investment.
Let's think about our implementation as constructing a dream house. You'd start by laying a solid foundation, on top of which the rest of the structure will stand securely. The same goes for planning your Nonprofit Cloud instance. The first phase of your digital transformation should solve a real, tangible problem acknowledged by all key stakeholders. It should serve as a firm foundation for growth. For many nonprofits, that base will be constituent relationship management–the tracking of constituent contact information and interactions. Once your foundation is laid, then you can effectively add on new rooms, such as donation and grants management, programs, marketing and communications, and more.
Of course, you could plan to build your dream house all at once. But from the time you break ground to the time you have finished construction, built the pool, put in the landscaping, chosen all the paint colors and finishes, well... It's likely to have required a serious amount of time, planning, and resources. Meanwhile, your family has been sitting on the same old couch, unable to enjoy any part of your new home.
With a phased approach, you can focus on creating a few extraordinary rooms, and then move in a couple family members to start living the dream. As folks use the space and get comfy, they let you know that the south facing rooms are super hot. Thankfully, because of your phased approach, you haven't purchased window coverings for the whole house, so you can order a different set of heat-blocking shades for future rooms. And your team can help support and manage any discomfort with this small group until the new shades arrive. As the temperature issue gets resolved, these folks start calling the rest of your family to tell them how amazing it is in the new house.
In other words, a phased implementation approach supports technical focus and the application of continuous learning. It also allows your organization to realize value more quickly by delivering benefit and minimizing change pain with a discrete group of users.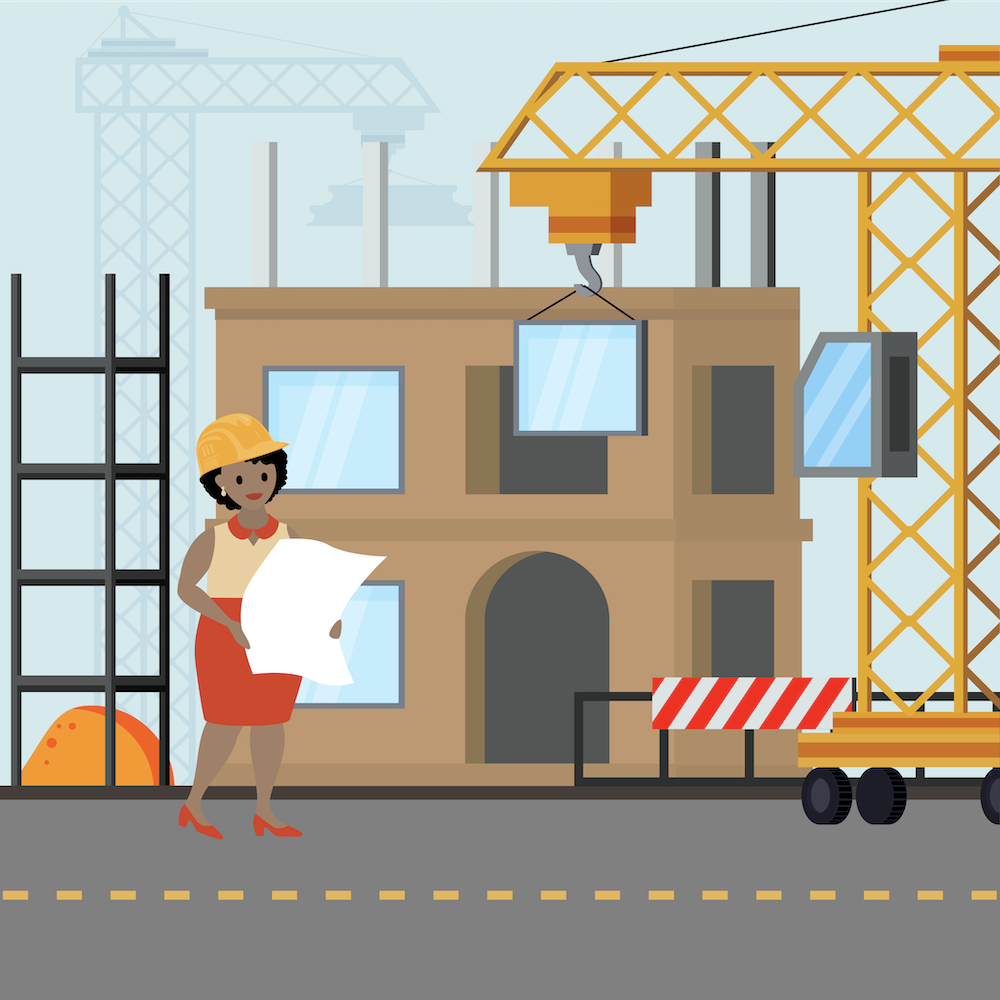 There may be a few instances where a phased approach might not make the most sense. If your current systems have complex and deep dependencies, for instance, sometimes unweaving them for a phased approach might not be most efficient. If you are working with a consulting partner, they can work through the options with you. 
If you choose a phased approach, you will want to prioritize projects that include some quick wins but that are also high-impact. Projects in that sweet spot will help spur user excitement and adoption. Once the high-level priorities are set, your implementation team can dig into the creation of a more detailed technical roadmap for each phase.
Let's take a quick look at how a fictional nonprofit, No More Homelessness (NMH), defined their project phases. NMH articulated their Nonprofit Cloud vision through a Vision and Value mapping process. As a mid-sized nonprofit looking to transform and see value sooner than not at all, a phased approach makes sense and they are ready to determine how to prioritize working toward their vision. They bring together their core group of key stakeholders, including their consulting partner, to create a high-level roadmap.
Having a centralized place to manage client, donor, and volunteer contacts will lay the foundation for a unified constituent experience and all the other parts of NMH's vision. They decide to start there and then evaluate additional projects according to how much value the initiative will bring, and how difficult or complex it will be to implement. To assess business impact and effort, they plot the projects on a quadrant, and then prioritize accordingly.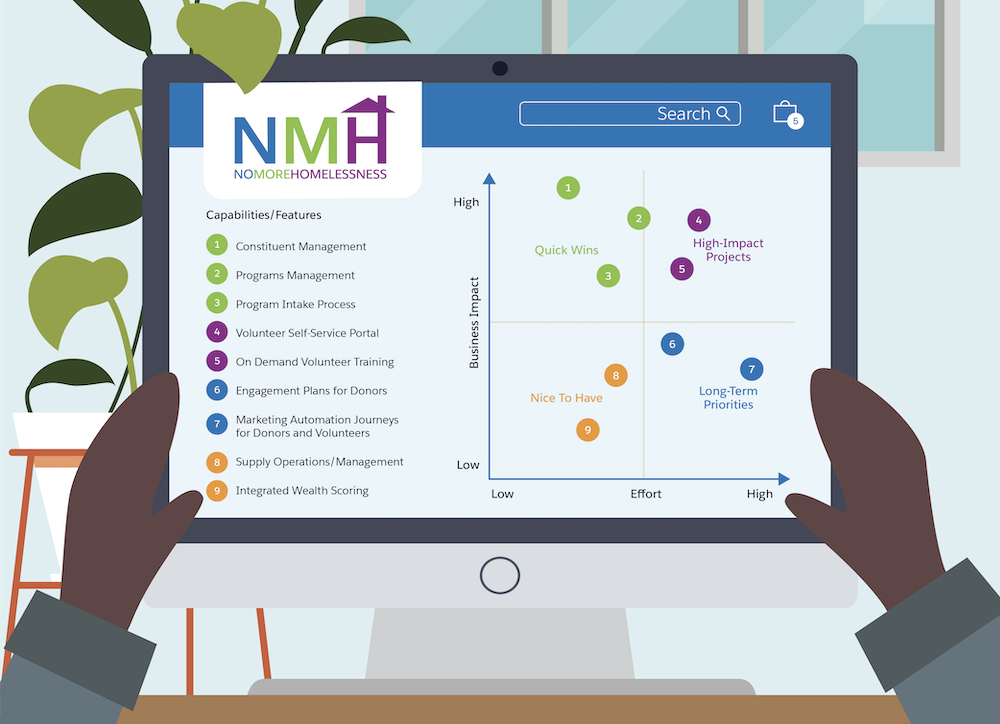 From their prioritization plotting, NMH is able to create a high-level roadmap. Your roadmap might be simpler or more complex than the NMH example. However, having this global view of the implementation will be critical to communicating project goals, objectives, and timelines. Your organization is on a journey, and you want clarity from the start to set the right expectations for how and where you are going. It also allows your implementation team to work efficiently through each phase as a distinct project, building on success and responding to failures, all while accelerating the time to value for some key stakeholders.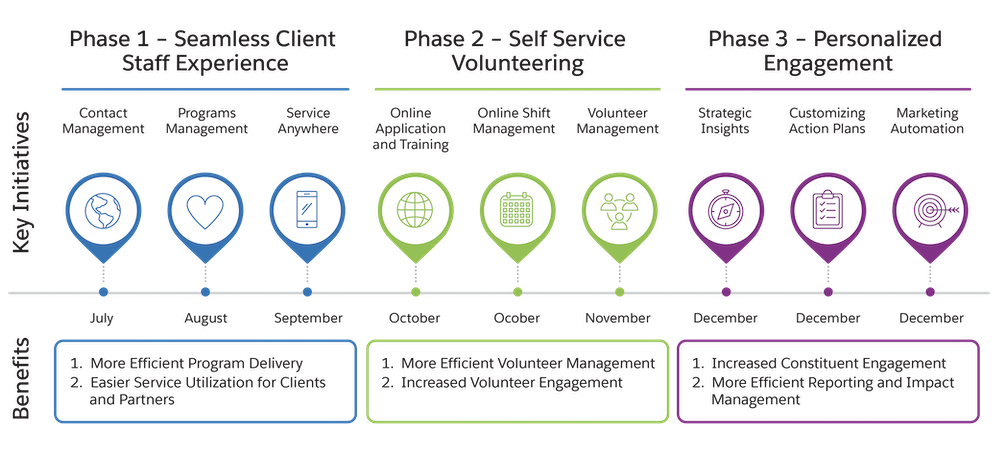 Work Through the Project Steps
For each of the high-level phases NMH has articulated, their implementation team (in NMH's case, their consulting partner) will lead them through a process that includes the following steps:
Plan: In this first step, often referred to as discovery and requirements gathering, the implementation team works to detail the workflows and goals of each functional area impacted in the first phase of development. This might include activities like business analysis, Story Mapping, the creation of User Stories, Iteration Planning, and/or Release Planning. For smaller orgs, this might include creating simple maps of critical org processes. At this point, the team should also define measurable objectives for the project.
Architect: This step combines high-level and detailed solution design. Activities in this heavy project management stage can include determining products, licenses, and other resources needed, mapping the data architecture, defining a data migration plan, creating a schedule, setting up environments, and creating an organizational change management plan.
Construct: The construct stage is where the implementation team develops, configures, and tests the solution as agreed in the architect stage. Again, for smaller organizations, this stage would include basic customization and configuration of Nonprofit Cloud and the importing of any legacy data. At the end of this stage, the solution is fully built and tested.
Validate: This stage is when your users get hands-on and test the solution to verify that it meets expectations. Final preparations to go live are also made during this stage.  Activities in this stage can include things like User Acceptance Testing (UAT), data validation, System Integration Testing (SIT), and resolving any bugs or defects.
Deploy and Empower Users: The deploy stage is when everything is moved to the "live" or production environment and users begin using the system. During this stage, the implementation team will drive user adoption through communication, training, documentation, and support.
Remember, the complexity and duration of each of these steps will depend on your organization's specific needs; the size, type, and quality of data you're migrating; and whether or not you need to integrate other systems with Nonprofit Cloud. Your team may work through these steps more than a few times as you manage discreet projects. In other words, these steps often happen in a continuous cycle of development and innovation.
If you're a small organization with simpler needs, we still recommend working through these steps, just in a more streamlined way.
Your staff will have important roles to play in all of these steps. And they will be absolutely integral to adoption and driving value long term. We'll dig into how you can manage governance and structure your teams for success in the next unit.
Resources