Own Your Learning Journey
Learning Objectives
After completing this unit, you'll be able to:
Name two roles that determine how you may interact with Salesforce technology.
Find resources for continued learning and improving your Salesforce knowledge.
The Roles We Play
We all juggle multiple roles in our lives, often switching between them throughout the day, and that truth is very clear to most nonprofit professionals. Even at organizations large enough to support teams with well-defined domains, there's always collaboration and responsibility sharing at a nonprofit. This is also true for your role and relationship to Salesforce.  
Sometimes roles in Salesforce are clearly delineated and sometimes they're not. The particular role or roles you have grant permissions to see and do different things with the technology. Roles also have different learning resources. Not everything is made for everyone, so it's helpful to know what those roles can be and know how to identify which one you're playing at any given moment. 
Admins and Everyone Else
There are two primary roles you should be aware of as you start working with Salesforce and begin your learning journey: admins and, what we often call in the technology world, users.  
Admins (or "Salesforce administrators" and "Salesforce system administrators," if you want to be formal) are people at your organization that manage Salesforce settings. They can change how Salesforce looks and what it does at a fundamental level. They have the ability to add new apps and customize existing ones. They manage who has an account and what and how everyone accesses Salesforce and your data. 
Users are everyone else. They primarily interact with Salesforce to manage the data an organization needs to function: constituent, donation, program, and campaign data, and all the relationships between these individual pieces of data. End users are usually all staff members, but board members, volunteers, and others can also be included in this category (depending on the license types the organization has). Access permissions can vary widely from user to user at the same organization, based on settings the admin configures. Don't be surprised if you see and can do something that a colleague can't.
Regardless of your role, you'll collaborate with the entire team to make sure Salesforce is working for you and everyone at your organization. Admins make the customizations and changes, but users are the people interacting with the technology to get their jobs done. Missing some information? Too many notifications? Need a new process flow or want to automate repetitive clicking? Set up a way for the whole team to be in communication about how things are working and what can be improved.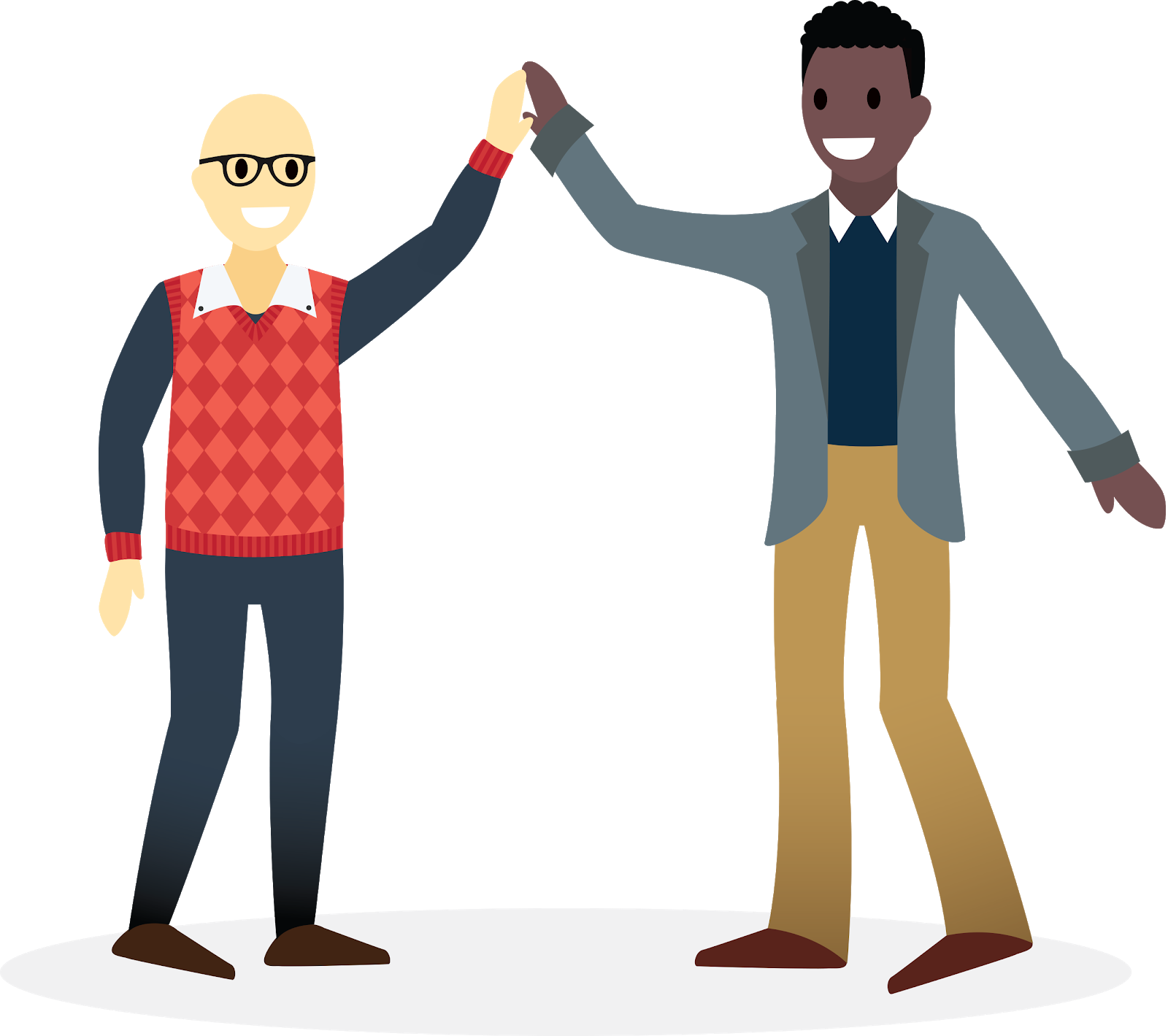 There's a lot of nuance in the Salesforce roles. But this is not a lesson on permissions and user types (if that's what you're after, look for a link to more information in the Resources section below). The reason we're telling you about this now is because the responsibilities are so different that even the resources to learn about Salesforce are different for admins and end users.
We do our best to say when information is for an admin or not, but we want to empower you to be able to recognize the difference yourself. Nothing is more frustrating than reading something and trying to figure out what's happening with your technology, and then discovering later that you can't find a setting because the manual was written for someone else. Let's avoid that. 
Choose Your Own Adventure
One of the most amazing things about Salesforce can also sometimes feel like the greatest challenge: it's extremely flexible and customizable. You can use the technology out-of-box, but you unlock the real power when you tailor it to your specific and unique needs. There's a lot to learn, but that's ok, because there are a lot of materials to help guide you through the learning journey. 
We encourage you, no matter your role, to prioritize learning. Everyone learns differently, so explore the resources out there to see what works for you. For most people, a combination of resources plus diving into the technology is a good strategy. And while it can't hurt to browse around, it's a good idea to go in with a game plan. Answer first for yourself what you most need to know, and then look for resources that can answer that question.
And know that you are not alone! There are online communities and real-life meet-up groups dedicated to sharing and exploring Salesforce technology together. We also suggest teaming up with someone else or forming a group at your organization to keep on the learning path. 
Trailhead
Trailhead is the fun way to learn—clearly. You're using it right now, so you know how great it is. In Trailhead, learning topics are organized into modules, which are broken up into units. To finish a unit, you need to complete a quiz that checks your knowledge or a challenge to test your Salesforce skills. Once you've finished all of the units in a module, you get a shiny new badge added to your profile.
You'll find something new to learn on Trailhead no matter if you've been using Salesforce for years or if you're just starting out. We've got content for admins and everyday users of NPSP.  
Webinars
The Salesforce.org team offers live webinars that cover what you need to know to get the most out of Salesforce and NPSP. Some webinars cover the fundamentals of setting up and getting started, as well as more advanced topics for organizations already using Salesforce. The webinars are geared towards admins, but they can also help end users understand the possibilities of NPSP.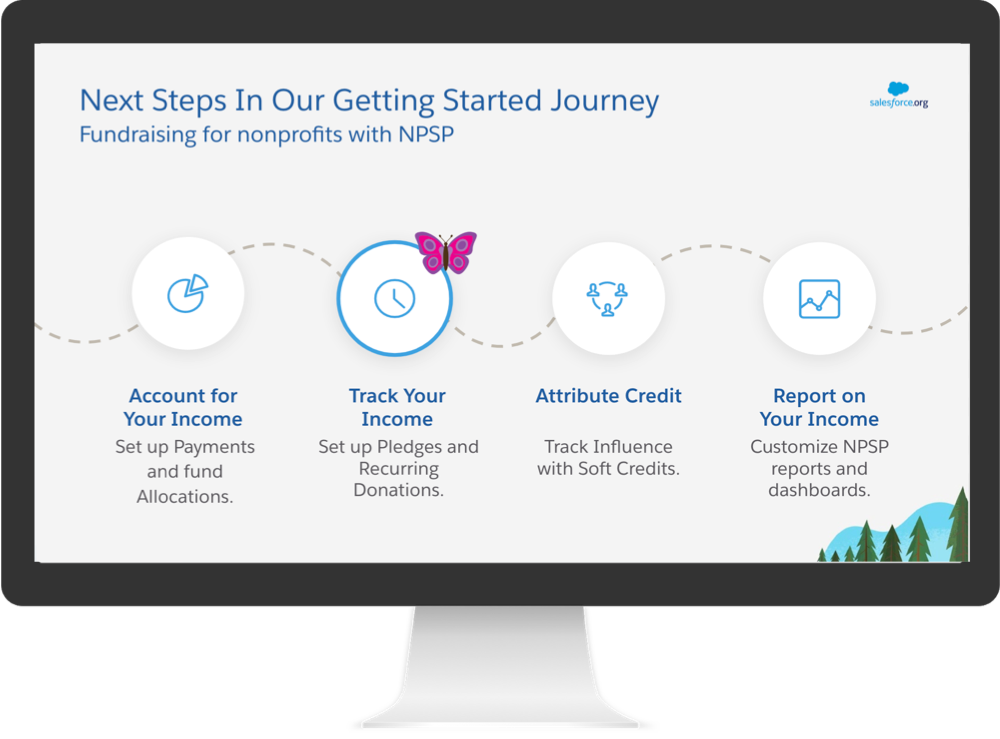 Webinars are free, but you need to register to attend. We do our best to offer sessions that work for different time zones, but don't worry if you can't make it. We also record the webinars so you can watch them online later. Look for a link in the Resources section below for more information. 
The Power of Us Hub
There's one special place that brings together all the resources you need: The Power of Us Hub. 
The Hub is the place to go when you get stuck and need an answer, when you want to talk to other people about how they customized an app, or when you're looking for resources specific to how nonprofits use Salesforce. It's the portal to Salesforce.org product documentation, how-to videos, webinars, and community groups of all kinds. 
You can search or browse the Hub for specific topics. You'll find a lot of great information and references in the NPSP Documentation. The documentation is mostly geared towards admins, but we encourage curious users to poke around, too. Community is central to learning Salesforce, so we encourage you to find a few Groups and get active. Or lurk. This is still the Internet, after all. 
Seriously, though. No matter your role at your organization, check out the community groups and join one or two that interest you. There are general groups, regional groups, and groups for tools and information specific to fundraising, program management, and engagement. It sounds cliché, but there really is something for everyone in the Hub. The documentation in the Hub is available to anyone, anytime, but you need to already have a Salesforce account through your nonprofit or school and then create a (totally free!) Hub account to access the community groups. Side note: membership in the Hub is free, but you must already have a Salesforce account to log in. 
But Wait...There's More!
We like to think of the Power of Us Hub as the one-stop-shop for all the resources you need, but there are other places you can go when you have questions or looking to learn. Most of what you'll find in these resources is for admins, but anyone that wants to learn more about the technology can benefit from them. 
Salesforce Help is the collection of general resources, including documentation and support, that can be accessed from a browser or directly from Salesforce. These resources focus on using the technology within the private sector, so you may need to translate some of the language for your nonprofit life. The Trailblazer Community Groups in particular are great places to go to ask questions and find answers. Many of the groups are active online but also host local events and regional conferences so you can meet others working with the tools in your area. Like the Hub community groups, the Trailblazer Community Groups require that you login to view and use them.
Every Salesforce.org customer has access to a Standard Success plan including online technical support from Salesforce, but if you think your organization might benefit from 24/7 support, one-on-one coaching, and personal guidance, you might consider upgrading to a Premier Success plan at an additional cost. When you purchase a Premier Success plan, you can sign up for Accelerators, private webinars created by a team of nonprofit experts and tailored specifically to your needs.
Salesforce.org is proud of the vast network of certified consulting partners that specialize in serving nonprofits. Partners are available for new implementations, small tweaks or major overhauls to existing technology, and ongoing training. Some partners also build apps that admins can install from the AppExchange to extend the functionality of Salesforce. 
With a little patience and practice (and some time with these resources), you'll master the skills you need to wield Salesforce technology efficiently, so you can focus on what you really care about: creating meaningful change by delivering on your mission effectively.  
Resources