Identify Target Prospects
Learning Objectives
After completing this unit, you'll be able to:
Summarize how to target prospects using NPSP.
Define Levels in NPSP.
Discover options for integrating donor research into NPSP.
Moves Management Overview
In nonprofit fundraising, "moves management" refers to the actions that an organization takes to move someone to deeper levels of engagement.  While this process looks different for every nonprofit, it is generally organized into the stages of identification, qualification, cultivation, solicitation and stewardship. "Moves" are all the activities that move a prospect through those stages to more meaningful engagement with an organization's mission.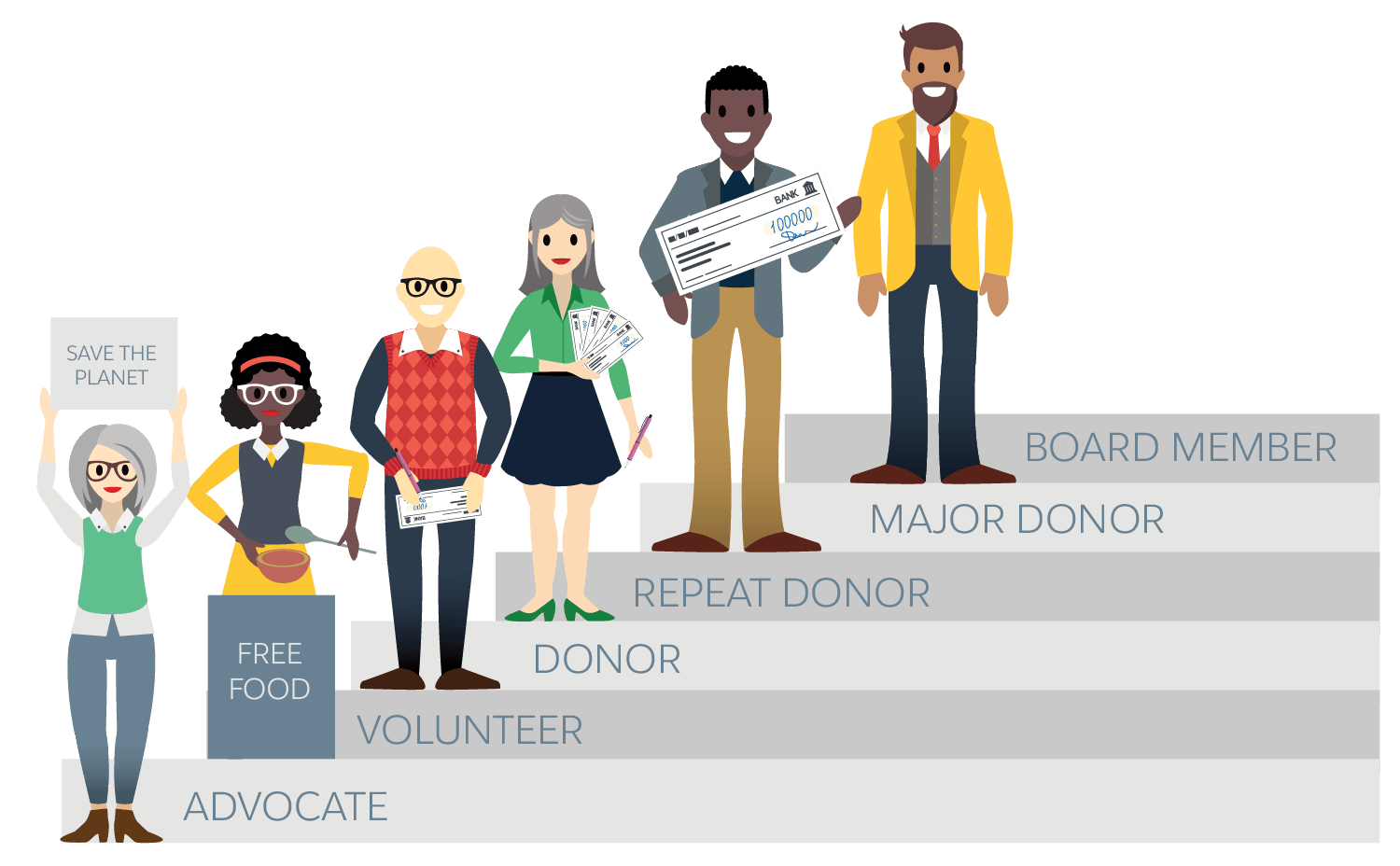 Let's check in with our (fictional) nonprofit No More Homelessness (NMH). They're a nonprofit social service organization with support programs for homeless adults. NMH raises a significant portion of their annual budget from individuals and moves management is the backbone of their major donor engagement strategy.
NMH's Director of Development, Aniyah Thompson, uses moves management to identify prospective donors, segment based on their giving potential or level of engagement, facilitate the nurturing of prospects, and analyze the results to drive improvements. NPSP provides a number of tools that help Aniyah more efficiently manage this process.
Identify, Score, and Segment Target Prospects
There are several different ways you can identify, score, and segment prospects in NPSP, but the first step in implementing moves management is to define the prospect groupings and criteria, ratings, and related processes that are most important to your organization.
After interviewing dozens of current donors and mining their current data for patterns of success, the NMH Development Team has defined a set of giving personas for their organization. Here is a simplified example using NMH's board member, Robert Bullard. His demographic information, goals, communication preferences, common objections, and perspective on homelessness are all captured:
NMH used the donor personas they created to outline plans of action for each type of prospect. The team shared these action plans with their Salesforce consulting partner who has customized NPSP to meet their needs using several key features, including Levels and Engagement Plans.
NPSP Levels
NPSP Levels are a simple way to track a constituent's level of commitment and engagement based on criteria such as total gifts or number of hours volunteered. Remember that NPSP has a large number of rollup summary fields? The rollups provide aggregate information, many of which can be used to define various levels. You can also use customizable rollup fields or formula fields to define Levels with more complex criteria.
Levels also work with Engagement Plans in NPSP so nonprofits are able to outline what, who, how, and how often to communicate with a constituent and keep them moving towards increased engagement. We'll look at Engagement Plans in more detail later.
This is how the NMH organization has defined their giving Levels in NPSP:
| | | |
| --- | --- | --- |
| Donor Level | Formula Criteria | Engagement Plan |
| Prospect | Total Gifts < 0 | Low Touch |
| Volunteer | Volunteer Hours Last Year > 0 | Medium Touch |
| Annual Donor | Total Gifts Last Year = 1 | Medium Touch |
| Repeat Donor | Total Gifts Last Year > 1 | Medium Touch |
| Major Donor | Last Gift > $1000 | High Touch |
| Lapsed Donor | Total Giving > $0, Total Gifts Last Year = 0 | Medium Touch |
And how might they appear on a contact record in the NMH org? Take a look (but remember your admin determines where this field will go, so it might appear in a different section on your contact record). NMH has included the Giving Level as a field in the Donor Research and Scoring section for each contact: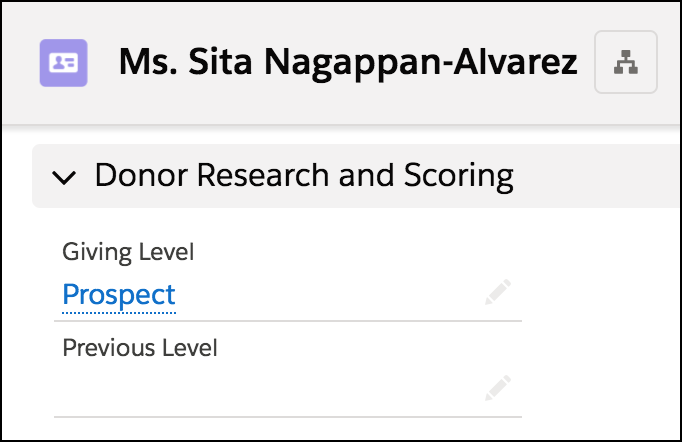 As the source field(s) change on your account or contacts, levels are automatically recalculated on a nightly basis. Due to the processing involved, levels are not applied instantly. Instead, Levels are updated as part of the nightly batch process that NPSP runs. So, if you add a donation to a contact, the level for that contact won't change in real-time. However, if you just can't wait, your admin can manually force an update of your Levels at any time.
Custom Fields and Apps
In addition to (or in place of) Levels, your organization might choose to add a custom Moves Management section to your contact or opportunity records. Custom fields in this section could include things like a 'Propensity to Give' score, a 'Status' field, and other donor research fields. No More Homelessness worked with their consulting partner to create some custom fields for their contact records, including a Propensity to Give Score, Total Assets, and Estimated Annual Charitable Giving.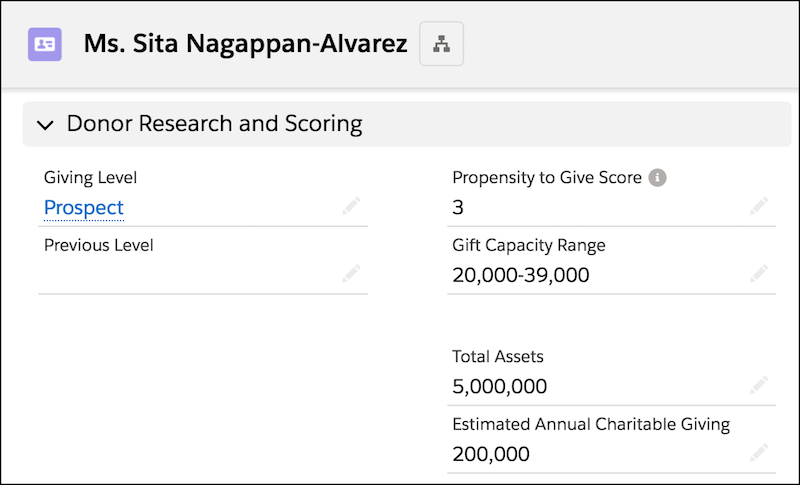 NPSP is highly customizable, so your organization may have implemented a custom moves management process. Check with your admin or a consulting partner if you think your organization might benefit from custom fields, unique scoring formulas, or other types of summaries.
Integrate Wealth Intelligence Apps from the AppExchange
Another option for identifying and rating prospects and donors in NPSP is integrating a third-party, wealth prospecting app from the Salesforce AppExchange. Many nonprofits already use these apps to uncover insights about wealthy donors and prospects. Some of these apps offer an integration with NPSP that allow you to bring wealth data and scoring onto your contact and account records. These apps provide the fields and formulas you need out-of-the-box so you don't have to build it yourself. Again, check with your admin to see if you're using a third-party app to support donor research and qualification process.
Whatever options you choose to identify, score, and segment your prospects in NPSP, the next step is to plan and track your cultivation activities. We'll take a look at that in the next unit.
Resources