Get Started with Einstein Next Best Action
After completing this unit, you'll be able to:
Explain what Einstein Next Best Action is and the problems it solves.
Describe the benefits of Einstein Next Best Action.
Explain the many use cases that can be applied to Einstein Next Best Action.
Today, companies have access to more customer insights than ever before. Managing and transforming this wealth of information into forward-thinking business decisions is crucial to not only survive, but thrive in any industry. Let's take a brief look at how we got here—how businesses have been consuming insights over the past 40 years.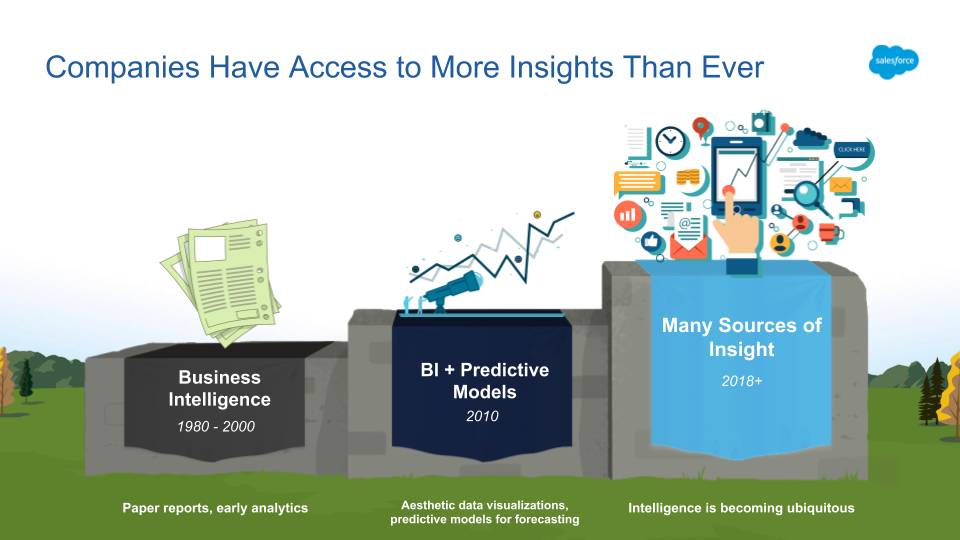 In the 1980s, when mainframes started becoming mainstream, they had hardly any capacity. In order for a business to analyze its crucial data, mainframes spit out a report that could be consumed by employees about once every month. These reports inspired the current term business intelligence, and they included important KPIs such as total revenue generated, number of closed deals this month, and more to help leaders understand what was happening in their business. From the 1990s to the early 2000s, reports started getting more robust. Businesses were able to digitally view reports, and dashboards for visualizing data were becoming popular.
Closer to 2010, businesses were combining business intelligence with predictive models to not only understand what was happening in their business, but why it was happening. With predictive models, businesses were also able to forecast how they would do in certain areas—for example, sales quotas per industry—so that managers could best staff resources.
Today, intelligence is ubiquitous. Lots of companies specialize in business intelligence or predictive models for every line of business, industry, or segment. Businesses also develop intelligence in-house with teams of data scientists or business analysts. We are surrounded by data, insights, and knowledge that can be consumed practically instantly. The chart provides some examples of the sources of insight we have at Salesforce and in our partner ecosystem.
| | |
| --- | --- |
| Salesforce | Partner Ecosystem |
| Interaction Studio | IBM Watson |
| Einstein Prediction Builder | Conga |
| Einstein Discovery | Cogito |
| Commerce Cloud Einstein | nCino |
| Commerce Cloud B2B | Google BigQuery |
Sources of insight can also include your business rules, tactics, and strategies for taking action for different scenarios. For example, as a business you might only engage customers with a particular discount if they reside on the East Coast or in California.
With so many sources of insights, challenges can arise. These challenges include:
Integration: How do I incorporate all my sources of insight into one view?
Delivery: How can each insight be shared with the right person, at the right time, and in the context that they can best understand?
Activation: Once a person is given an insight, how does he or she act on that insight quickly?
To lead the market, you need a unified hub for your sources of insight—an all-seeing eye across Sales, Service, Marketing, and other revenue-driving departments. You need clear decisioning on what to recommend, when, and on which channels—and Einstein Next Best Action offers just that.
Imagine you're an agent for a telecommunications company. You get a call from one of your long-time customers, Anna Van Loan, and pull up her contact page. You answer her question and log the update on the contact page. But before you hang up, on the right-hand side of your contact page, you notice an embedded Einstein Prediction Builder component saying Anna has a high likelihood of attrition. Because of that prediction, you see another component for Einstein Next Best Action that recommends setting her up on the auto-renew plan. You then ask if she's interested in the auto-renew plan because it can save her 20% off her phone bill each month. Anna is ecstatic and immediately accepts. You click Accept on the recommendation, sending a confirmation to Anna's email. She accepts and is set up with the auto-renew plan. You verify this by reloading her contact page, and the Auto-Renew field is automatically checked.
Congrats, you just made a customer much happier and kept her business! 
For the first challenge of integration, with Einstein Next Best Action, you can integrate Salesforce and non-Salesforce data, business rules, action strategies, tactics, predictive models, and more of your business insights in one place. Never again will you have to bring up an Excel spreadsheet of the predictive models your data analyst has created and compare it side-by-side with a dashboard in Salesforce. 
For the second challenge of delivery, you also need a way to get each insight to the right person's hands quickly and in a consumable format for that individual. 
Einstein Next Best Action lets you define recommendations in a way that is easy to consume for different sets of people, right where they work. Recommendations can include anything from reminding your service rep to say "thank you" to customers in the US or "gracias" to customers in Mexico at the end of every call to recommending that the renewals agent send an offer to a customer who is likely to buy an add-on service. 
Once a coworker or employee receives a recommendation, they need a way to act on it quickly. 
Going back to the example of offering auto-renew to Anna Van Loan, without Einstein Next Best Action, the agent would have to complete a manual process to get her the offer. With it, all the agent has to do is click Accept. Lightning Flow (a capability within Salesforce) will automatically package and send the offer email to Anna so that the agent never has to leave the contact page, saving time and staying in context. 
Here are some examples of the types of recommendations you can surface.
| | | | |
| --- | --- | --- | --- |
| Sales | Service | Marketing | Commerce |
| Send a notification to customer that contract is expiring | Send CSAT survey to customer who just called in | Put a campaign on hold based on poor predicted performance | Send customer with low engagement an email detailing highest recommended products |
| Upsell product or service to customer who meets requirements | Upsell product or service to customer who meets requirements | Send custom offer to customer based on likelihood to engage | Send different offers to different groups of customers based on average order value |
| Recommend how to allocate resources based on sales forecasts | Send an offer to customer with high-attrition risk | Send offers to customers who represent brand well on social media | Package bundled product recommendations based on purchase data |
| Remind if there's a new hot lead or a promise to follow-up with a customer | Send customer an inspection notice if items have a high chance of needing repair | Send discount to customer who abandoned cart on website | Send proper engagement to customer based on likelihood of returning an item |
| Send custom proposal to prospect based on likelihood to engage | Send custom engagement/message to customer with high chance of escalating case to social media | Recommend to add a particular customer to a specific campaign | Recommend to engage with customer based on length of time on website |
Independent software vendors (ISVs), most of whom are part of our Appexchange ecosystem, can also build on top of Einstein Next Best Action to surface recommendations specific to their customers' line of business. Here are some examples.
| | |
| --- | --- |
| Salesforce ISV/Partner | Einstein Next Best Action Use Case |
| nCino | Built for financial services clients and recommends anything from term loans to reminders to play golf with an account based off of predictive models created from Einstein Discovery. |
| Cogito | Voice-analysis during a customer service call to detect customer sentiment and provide real-time recommendations to the service rep on how to best engage with the customer. |
| Conga | Sifts through customer contracts and provides key recommendations to contract managers to make sure that  language, dictation, and terms are conveyed properly. |
You can easily try out Einstein Next Best Action and see how much of a difference it can make. Just go to your Setup page, click the Process Automation dropdown on the left, and then click Einstein Next Best Action.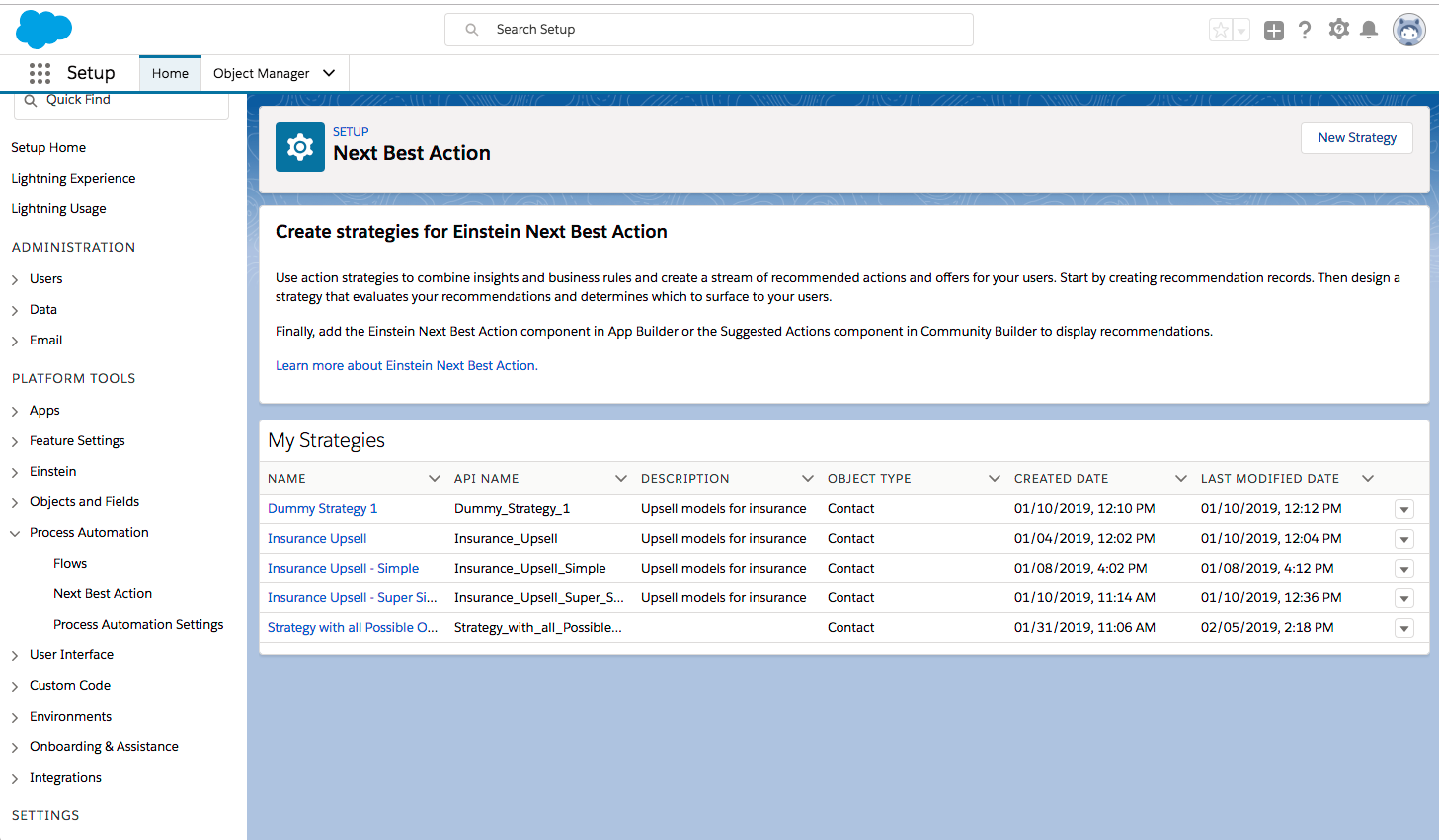 In the next unit, we peek behind the curtain to see how Einstein Next Best Action works.