Join the Partner Community
Learning Objectives
After completing this unit, you'll be able to:
Define Salesforce Ohana and Salesforce Advantage for Partners.
Identify the value of the Partner Community.
Join the Partner Community.
List the steps of the consulting partner life cycle.
Get to Know Your New Ohana
If you're here, it's probably because your business wants to be a Salesforce Consulting Partner. A Salesforce Consulting Partner is a company that's authorized by Salesforce to develop and deliver custom solutions, project implementations, and integrations. Salesforce Consulting Partners must meet specific criteria to maintain their partnership.
There are many benefits to being a Salesforce Consulting Partner. A recent IDC report outlines the major economic benefits for companies in the partner community. You're part of an ever-growing economy built on top of the Salesforce platform. And that's awesome, but that's not the only benefit.
As a Salesforce Consulting Partner, you're part of our Ohana.
In Hawaiian culture, Ohana represents the idea that families—blood-related, adopted, or intentional—are bound together, and that family members are responsible for one another. At Salesforce, our Ohana is a deep-seated support system we nurture inside our company.
Our eight core values—trust, customer success, innovation, giving back, equality, wellness, fun, and transparency—are what guide us every day. And it's not just our executives. Every Salesforce employee does their part to contribute to Ohana culture and build a family around the people we work with.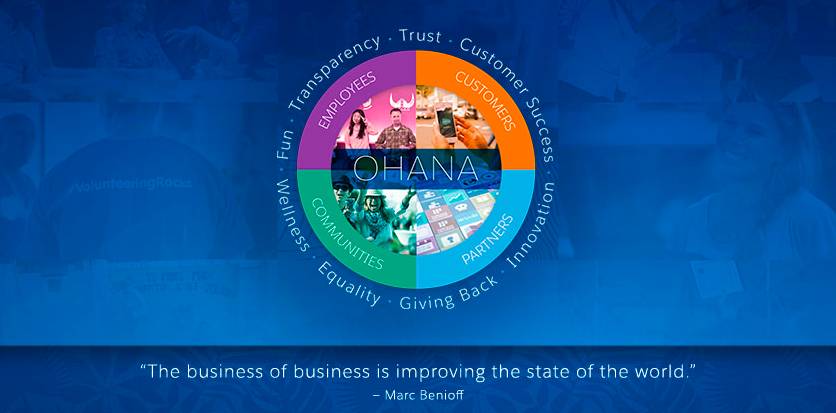 We want to create an environment where you can be successful and build amazing things on our platform. No matter who you work with as a partner, trust that we want to help you do work that you're excited about and proud of. This idea is what we call the Salesforce Advantage. We're not just a CRM, we work together with our partners to build outstanding businesses.
So welcome to the Partner Community, and welcome to the Salesforce Ohana. We're excited to have you.
The Purpose of the Partner Community
One of the best parts of the Salesforce Ohana is that you have access to a huge community of people. Both Salesforce employees and other partners can help and support you on your journey to create and sell your solutions and services.
The Partner Community is your one-stop shop for education, enablement, and engagement. Here are some of the things you can do in the Partner Community.
Learn how to plan, design, build, sell, and distribute your apps and Lightning components. A lot goes into taking an idea to marketplace. And the Partner Community has a wealth of resources, such as instructional videos and in-depth documentation, to guide you on that journey. If you're looking to expand your Salesforce expertise, we also have an extensive online training catalog. The catalog includes certification prep courses, role-specific training for your team, and information about the latest in Salesforce technology.
Collaborate with other consulting partners who are building on the Salesforce platform. When we say community, we mean it. The Partner Community lets you meet and learn from consulting partners who've built successful businesses on the Salesforce platform. As you gain experience, you'll have the opportunity to share your knowledge with others.
Engage with Salesforce experts. In the consulting partner program, you're never on your own. Each week we host office hours in the Partner Community, which give you a chance to engage directly with our experts in sales, marketing, and security. It's also where you can open cases and communicate directly with our dedicated Partner Support team.
Discover new features, products, and programs. We're always looking for ways to make partners more successful. The Partner Community is how we share these developments and show you how to integrate them into your business.
Sounds pretty good, doesn't it? If you haven't joined the Partner Community yet, now seems like the perfect time to do so.
Join the Partner Community
To join the Partner Community, you need a Salesforce account. If you don't have an account, sign up for a free Developer Edition org. You'll receive org credentials that you can use to join the Partner Community.
Go to partners.salesforce.com.
Click Join Now then Join the Partner Community.
Click Log In with Salesforce using your org credentials.

If you're a new partner, click Join Partner Program, fill out the form, and then read and accept the Partner Master Agreement. You'll receive an email confirmation, but if you don't get it right away don't worry. It can sometimes take a few days for a brand-new partner request.
If your company is already part of the Partner Program, click My Company Is Already a Partner. If we can find your company, we'll email your Partner Community admin to get your account set up. If we can't find your company, a case is created and someone from Salesforce will work with you to resolve the issue.
Once you've received your email confirmation, you're ready to get started with the Partner Community. Explore the resources and forums available to you.
Get On a Roll with the Consulting Partner Life Cycle
The consulting partner life cycle refers to the five phases that consulting partners move through when building a Salesforce practice. The five distinct phases of the life cycle are: plan, build, sell, market, and manage.
Throughout the course of this module, we'll cover each of these phases in detail. We know you're busy, so let's jump right in and talk about planning.
Resources