Get Started with Consultants on AppExchange
Learning Objectives
After completing this unit, you'll be able to:
Describe the consultants listed on AppExchange.
Describe the Salesforce Partner Navigator program.
Differentiate between Salesforce Partner Navigator levels.
Return of the Superhero Admin
The AppExchange Basics module regales readers with the story of how you became an AppExchange superhero. As an admin at Ursa Major Solar, you learned to navigate AppExchange, find, and install mission critical solutions. You saved the day by increasing Sales Cloud user adoption.  
It's been 3 years since you started at Ursa Major Solar. Your Salesforce admin career is even sunnier than it was on day one. You've aced one important project after another, while enjoying the pace of back-to-back challenges. 
Your latest challenge is a Service Cloud implementation project. Sita, Ursa Major's CEO, personally asked you to prepare a high-level project plan, including resource needs. She wants the project completed by the end of the next fiscal quarter. 
No matter how you look at it, there's a serious problem. Ursa Major doesn't have enough people to complete the project by Sita's deadline. 
So today we're back to help you build a new superhero skill. In this module, you learn how to find a consultant on AppExchange who can help Ursa Major implement Service Cloud.
Who Are the Consultants on AppExchange?
Before you start your search, let's make sure that when we talk about consultants on AppExchange we're talking about the same thing.
Consultants on AppExchange are: 
Trusted Salesforce partners who join forces with our customers to select, implement, and support exceptional solutions, no matter the industry.
Superheroes too!
There are more than 1,700 consulting companies on AppExchange. All are keen to help you solve your business challenges.
How Can Consultants Help You?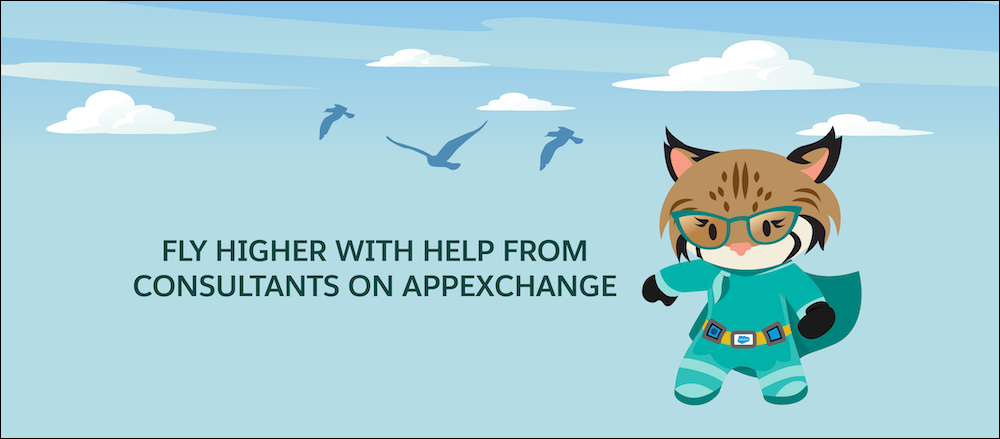 There are more than 12 Salesforce product areas, 10 industries, and two services that consultants can specialize in. Do the math and you quickly realize the potential variety among consultants. That's good news. It means there's a consultant out there who can help with virtually anything you need help with. Here are a few examples to inspire you to think about how consultants can help on your projects.
Cloud implementation: Consultants implement Salesforce products, such as Sales Cloud and Service Cloud, so you can better engage and retain customers.
Managed services: Consultants provide your company with professional services, such as administration, analytics, and support. These services are provided with the flexibility of a recurring, renewable contract.
Product development outsourcing: Consultants bring your app idea to life. They partner with your company across the app development lifecycle, from design and building to marketing and sales.
For more inspiration, have a look at The ABCs of Consultants.
How Consultants Become Superheroes
Luckily, it doesn't take radioactive spiders or a distant home planet to create superheroes. At Ursa Major Solar, you became a superhero by learning to navigate AppExchange and install solutions. Consultants become superheroes by earning Salesforce product and industry certifications and successfully completing projects.
And a consultant's superpowers are measurable. The metrics we use are Salesforce product certifications and project completions, plus customer satisfaction scores. Certifications indicate the depth and breadth of product knowledge within a consulting company. Project completions tell us about the consulting company's delivery capacity.  Satisfaction scores tell us how happy a company's customers are.
Salesforce tabulates these metrics as part of Navigator. As consultants earn certifications and the company they work for completes successful projects, the company becomes eligible for Navigator distinctions. It can then rise up through the levels, starting at Level I Specialist, then reaching Level II Specialist, and ultimately Expert.
Navigator Level
Consulting Company Expertise
Level I Specialist
This consultant possesses the knowledge to deliver customer success in a product or industry. For a specific product or industry vertical, this means:

Earn one or more certifications. (Products only.)
Complete three projects in the past two years.

Earn an average customer satisfaction (CSAT) score of 4.2 or greater for those projects.

Level II Specialist
This consultant has the knowledge and experience to deliver on complex projects in a product or industry, while maintaining high levels of customer success. For a specific product or industry, this means:

Earn five certifications. (Products only.)
Complete 10 projects in the past two years.

Earn an average CSAT score of 4.4 or greater for those projects.

Expert
This consultant is a thought leader in a product or industry. They can handle the largest and most complex projects and achieve the highest standards of customer success. For a specific product or industry, this means:


Achieve at least 50 percent of relevant Level II specializations.
You can easily find out where a company is on its Navigator journey. Later in this module, when we look at a consultant listing on AppExchange, we review the company's Navigator achievement details. That includes the company's current product and industry specializations, as well as their Navigator level. We publish this information and update it quarterly to help you find the right consultant for your Salesforce implementation.
Now you know who the consultants on AppExchange are, how they help customers, and how to quantify their expertise. You're ready to develop a strategy to find your ideal consultant. 
Superheroes Strategize First
When you became a superhero, you learned that a little strategizing up front goes a long way toward finding an AppExchange solution that makes your users happy. The same holds true when you're looking for a consultant. To develop an AppExchange strategy for finding a consultant, ask yourself these questions.
Stakeholder needs—What business challenge do you want the consultant to address? Make sure that you meet with your stakeholders to understand their needs and expectations.
Areas of expertise—What skill sets are essential for project success? Do you need help with a Salesforce product? Are you trying to solve an industry-specific problem? Determine what types of expertise are must-haves and which are nice-to-haves.
Timeline—When do you want the company to start and what's your project completion timeline? Make sure that the company is available when you need it.
Company size—What size company do you want to work with? In Salesforce terms, a small consulting company has 1–10 certified experts, a medium has 11–100, and a large company has more than 100.
Location—Where do you want the company to be located? Do you want a local company to regularly work side-by-side with you? Do you need help across globally distributed offices?
Answer these questions in terms of Ursa Major Solar's requirements, and you've got your AppExchange strategy.
Criterion
Requirements
Stakeholder needs

Provide superior customer service.
Resolve customer issues faster.
Increase customer satisfaction.

Areas of expertise

Salesforce Platform
Service Cloud
Call center integration

Timeline

Complete the Service Cloud implementation by the end of the next fiscal quarter.

Consulting company size

Small, medium, or large? You prefer medium.
Small companies can't always provide the required expertise.
Large companies frequently prefer longer-term projects.

Location

Keep it local.
Ursa Major Solar is based in the southwest United States.
You prefer a consulting company that has an office nearby.
It's time to find a consultant for your Service Cloud project. Let's head over to AppExchange to apply your strategy to your consultant search.
Resources