Add Next Best Action to Your Contacts
View Recommendations on Contact Pages
You've completed all the work of building a prediction, creating recommendations, and creating and applying a strategy. Now display the Next Best Action recommendation on each Contact's page. This way, every time you look at a Contact, you'll see an appropriate recommendation.
From the App Launcher (), find and open VeloMateo. (If you're viewing the Strategy Builder, you may have to click Back.)
Change your list view to VeloStars Membership if it's not already set to that.
Click any contact.
Click and then choose Edit Page. This takes you to Lightning App Builder.
Drag the Einstein Next Best Action component over to the side of the page.
Make sure that the Action Strategy is set to VeloStars NBA Strategy.
Maximum Recommendations Displayed should be set to 1. In our case, setting the number of recommendations to display to 1 isn't actually necessary. This is because you already set up your strategy so that recommendations are based on fully distinct categories (predictive values higher than 30, those between 20 and 30, and those below 20), meaning only one recommendation is possible per range. So a contact with a score of 45 is going to get only the recommendation for the 30-and-over range. If there were overlap between categories—if one prediction was for over 30 and another for over 20, for example—then someone with a score of 45 would get two recommended actions. The point here is that you can display as many recommendations as you like. In most cases, however, you'll probably just want to see one.
Drag Einstein Predictions under Einstein Next Best Action.
Make sure the prediction is set to VeloStars_Membership_Likelihood
Click Save.
Click Activate.
Click Assign as Org Default, and then Save.
Click Back.
You should see the Contact you chose, now with a Next Best Action on display. If Back didn't take you back to a Contact:

From the App Launcher (), find and open VeloMateo to see your contacts. (If you don't see them, click the Contacts tab and then the VeloStars Membership list view.)
Click any contact. You should see a recommended next best action (with graphic).

By the way, this isn't the only way to view Einstein Next Best Action results. You can also see them via an API to display them in a Classic page, a Customer Portal page, or an external website.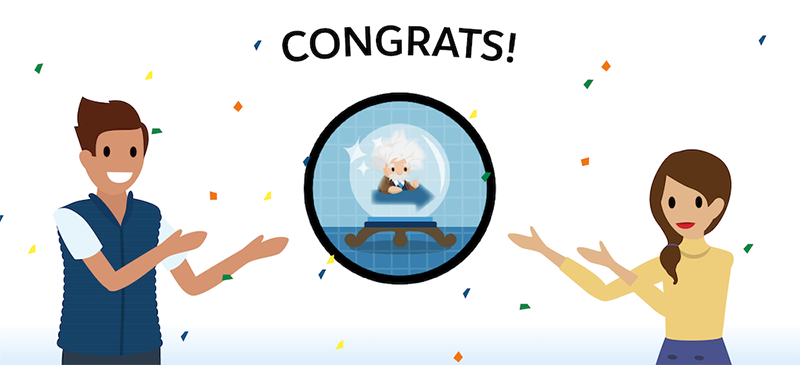 Congratulations! You've:
Defined and built predictions with Einstein Prediction Builder
Created recommendations
Created a strategy
Added Next Best Action to your contacts
Now go impress your friends and family with your Einstein Prediction Builder and Next Best Action skills.