Explore Lightning Experience Features for End Users
Now that our app is available in Lightning Experience, let's check out what this app looks like. Along the way, we explore some of the end user features available in Lightning Experience—with some basic user training, your users can take advantage of these right away.
All of your Lightning apps, including your Classic Apps that are marked as Visible in Lightning Experience are listed in the App Launcher. The App Launcher is also where your users can access all the items they have permissions to use, whether or not they are included in a Lightning Experience app. Navigate to the Dreamhouse Classic App in Lightning Experience using the App Launcher.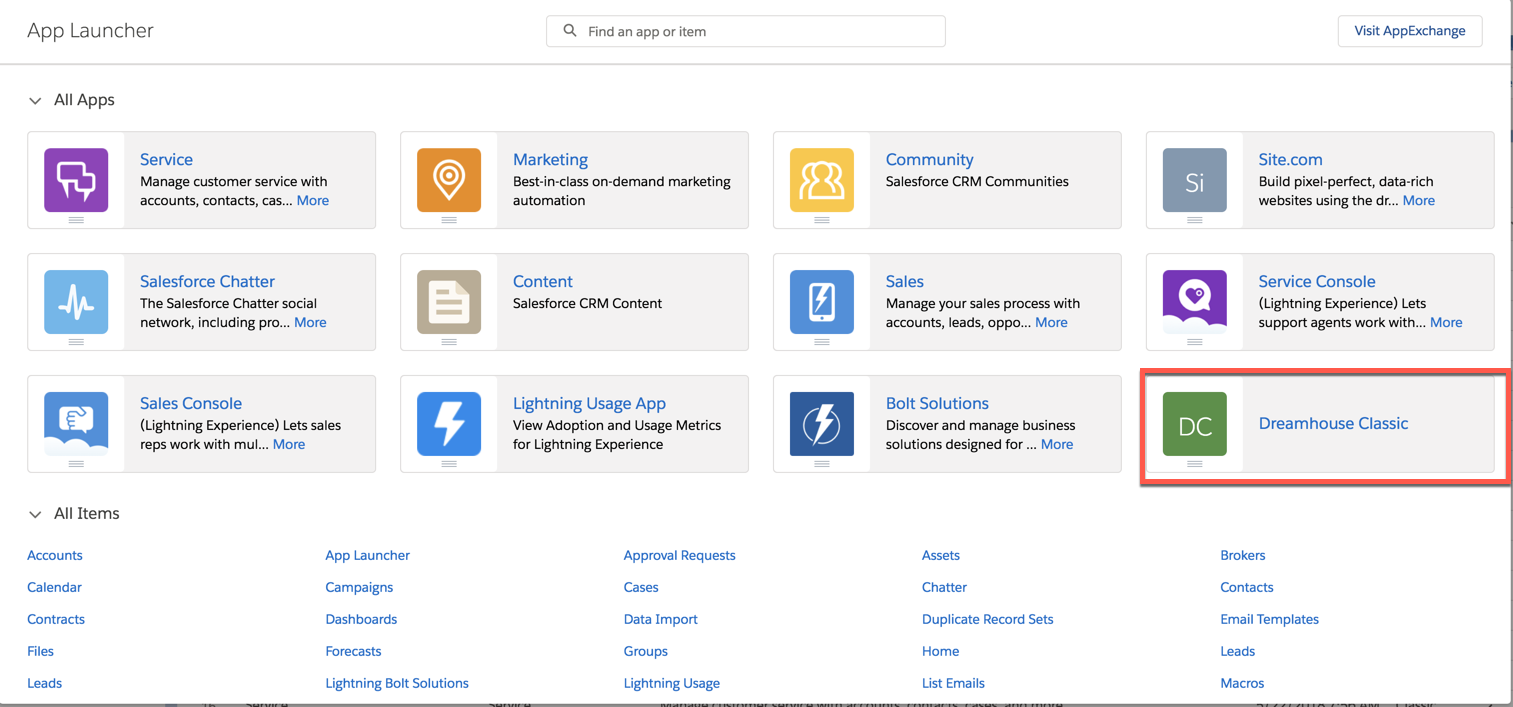 Click  to access the App Launcher.
Click Dreamhouse Classic.
Now that we are in the Lightning Experience view for the Dreamhouse Classic app, let's get oriented to the new experience and navigation, starting with Chatter. 
Click the Chatter tab.
In the side navigation, check out the following:

Company Highlights. Company Highlights show trending, new, and popular posts from across your organization even if you're not following the related records.
Chatter Streams. Chatter Streams is where your users can create curated lists of records and people to follow. They can create up to five Chatter streams that combine posts from different feeds and different feed types. Combine feeds from people, groups, and records, like your accounts, opportunities, and cases.
Let's create a Chatter Stream:
Click the + sign next to Streams.
Enter the Stream Name: Top Properties and Brokers
Next let's add a few properties and users to our stream.
In the Records to Follow field, click  to open the menu and select Properties.

Enter 121 Harborwalk Drive in Search Properties and select 121 Harborwalk Drive.
Repeat this step and add 127 Endicott St.

Click  again to re-open the menu and select People.

Enter Angela Agent in Search People and select Angela Agent.
Repeat this step and add Randy Realtor.

Click Save.
With your  brand new curated Chatter Stream you can quickly get to the relevant updates for a specific set of records, even if you don't follow those records.
Lightning Experience has expanded search functionality. When you know which object you want to search, start typing the name of the object in the search box. You have the option to limit your search to that object. This feature works only for your most frequently used objects, objects in the navigation bar, and Chatter. You can search one object at a time. Let's explore Search in Lightning Experience. 
Click Search Chatter and more... Notice that in Lightning Experience your recent items now appear in the dropdown from the global search bar.
Enter Accounts in the search box. You have the following options:

Search the string "Accounts."
Search within your current item (Chatter).
Define your search to the Account object.

Select Limit Search to Accounts.
Enter Edge in the search box.
Click Edge Communications to view that account record.
Next, let's search for a property.
Click Search Salesforce.
Enter Properties in the search box.
Select Limit Search to Properties.
Enter Brattle in the search box.
Click 48 Brattle St. to view that property record.
If you're familiar with customizing tab sets in Salesforce Classic, you'll like the way you can personalize your navigation with Favorites. Favorites let you quickly access important records, lists, groups, dashboards, and other frequently used pages in Salesforce. They're similar to bookmarks in a web browser but better, because your favorites are available no matter which browser or computer you use to log into Lightning Experience.
While viewing the property record for 48 Brattle St., in the header, click  to add the current record to your Favorites list.
You can manage Favorites right from the Favorites menu. Click  next to the Favorites icon and click Edit Favorites. From here you can rename, reorder, or remove favorited items.
Click Done.
Phew! That was a lot of features to walk through, but well... that's just how great Lightning Experience is. Next we roll up our sleeves and get serious with customizing our business processes and report charts for Lightning Experience.