Embed a Tableau CRM Dashboard in a Home Page
Find a Dashboard to Embed
The CEO likes and uses the dashboards in Analytics Studio, but she's not exactly excited about having to open Analytics Studio every time. Because you know how to embed Tableau CRM dashboards, you can smooth out that "bump" and make the CEO smile.
Let's see which dashboards are available for embedding.
In your Tableau CRM-enabled Developer Edition org, from the App Launcher (

), find and select the Analytics Studio app.
In Analytics Studio, click All Items in the left-hand column, then open the DASHBOARDS tab. You see a list of all dashboards. DTC Sales is the one that the CEO uses the most.
In the Title column, click DTC Sales. The DTC Sales dashboard appears in a new tab in Analytics Studio.
The DTC Sales dashboard isn't just the CEO's favorite. Salespeople and their managers use it regularly as an indicator of large-scale trends.
Embed a Dashboard in a Home Page
Because DTC Sales is used by so many in the sales department, embedding the dashboard in the Sales home page makes sense to both you and the CEO.
From the App Launcher (), find and select the Sales app.
In Sales, click the Setup icon at the upper right, and then click Edit Page.
In Lightning App Builder, drag Tableau CRM Dashboard component from the list on the left to the lower part of the Quarterly Performance component.If the DTC Sales dashboard doesn't appear where you want it, drag it to another location.
In the properties menu on the right, use the Dashboard dropdown list to select the DTC Sales dashboard.The DTC Sales dashboard appears, but only part of it.
In the properties list, change Height to 750. If your browser window is narrow, some of the dashboard labels might be scrunched horizontally. Feel free to update the dashboard to fit your needs.
Activate So Users Can See Your Work
Activation makes your revised page available to your users. If a page isn't activated, you can work on it without users seeing your changes. When you're ready, you can activate the page.
Click Save in the upper right.
In the Page Saved dialog box, click Activate. (If the Activation dialog box doesn't appear, click Activation in the upper right.)
In the Activation: Home Page Default dialog box, click Assign as Org Default.
Review the setting and click Save
To set app and profile settings, click Activation... again. Select App Default or App and Profile.
After activation, Click Save in the upper right.
In Lightning App Builder, click Back in the upper right to return to the Sales Home page.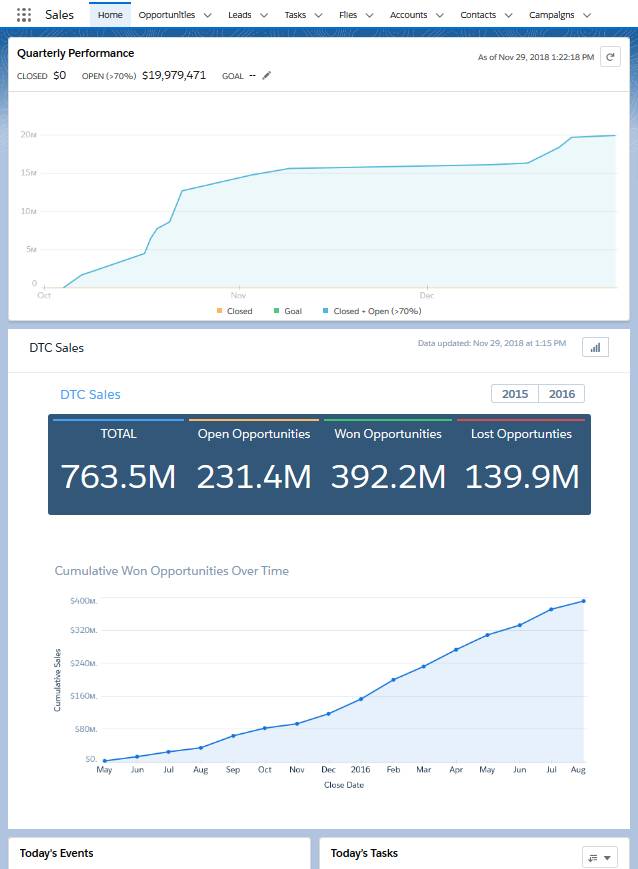 The DTC Sales dashboard is now available to everyone who uses the Sales home page. (They might need to refresh the page to see the updated version.) And every time she looks at the home page, the CEO smiles.