Set Up an Einstein Bot
Enable Einstein Bots
With your bot requirements met, you are ready to enable Einstein Bots.
Within Experience Builder, click and select Salesforce Setup. 
From Setup, enter Einstein Bots in the Quick Find box, then select Einstein Bots.
In the Settings area:

Click the toggle next to Einstein Bots to turn it On.
Review terms, and click the I'm authorized by my company to accept these terms checkbox to accept them.
Click Try Einstein.
To provide your customers with a menu of options for interacting with your Einstein Bot, click next to Bot Options Menu and select Edit.
Select the Enable Einstein Bots Options Menu checkbox and click Save.
Create a New Einstein Bot
You're well on your way to creating a chatbot to support Ursa Major Solar's customers. Ready to create your first bot?
From Setup, enter Einstein Bots in the Quick Find box, then select Einstein Bots.
Click New.
The first screen asks you to select the type of bot to build. Select Start from Scratch and click Next.
A setup wizard walks you through a few screens to gather basic information about the bot, including:

Bot Name
Greeting
Main Menu Options

Let's name our Einstein Bot Jana and and select the bot's default language. 
Click Next.
Enter a greeting message that identifies your bot by name and makes it clear that it's not a human. For example: Hi, I'm 'Jana', a digital assistant. How can I help you?
Set up a menu for your customers with common issues or questions you want your bot to handle. Let's enter Order Related in Menu Item 1 for any questions related to a customer's order. Let's add Appointment Related in Menu Item 2 for any questions related to scheduling.
Click Next.
The bot wizard asks to link to an existing deployment. We'll be handling this later, so click Next.
Click Proceed to build your bot. 
Click Finish.
Good work! Your bot now has a name, a greeting, and a menu.
Meet the Bot Builder
Now that you've built your bot, let's check out the Einstein Bot Builder overview page. It includes the bot's name and description, a place to train your bot to recognize what customers want, and settings that let you customize the bot response delay time. Let's take a minute to get acquainted with this page.
Click

 and select the Overview page.
To store chat transcripts (including customer data) in the conversation log, click the pencil icon next to Log Conversations. Select Store Einstein Bots conversation data, and click the check mark to save.
In this project, we work within the Dialogs, Entities, and Variables tabs.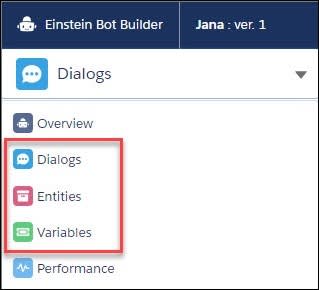 Select Dialogs.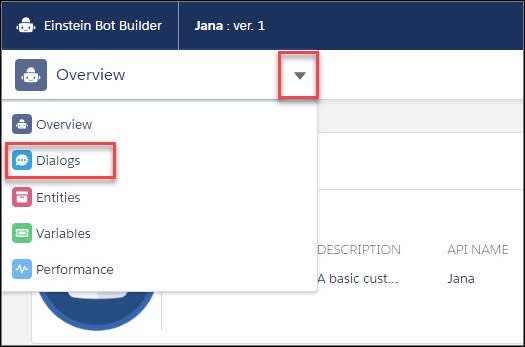 This is the Dialog page. Dialogs are conversation snippets that control what a bot can do.
Click Welcome on the left side menu. These are the prebuilt dialogs (1). Notice that Welcome is set as the "Home" dialog. This indicates where the bot always starts. We don't work with "Confused" in this project—just know that it's a fallback mechanism for when a bot cannot identify what a customer would like to do (also known as intent).
You see that the bot wizard set up our welcome Message (2) and created the Next Step (3) flow to our Main Menu. This section is where we indicate the next step after this dialog. You can set it to Show a menu, Start another dialog, Transfer to an agent, or Wait for customer input, which implies you will use NLP to identify customer intent and start the next dialog.
After the Welcome dialog, the bot immediately goes to the Main Menu dialog (4).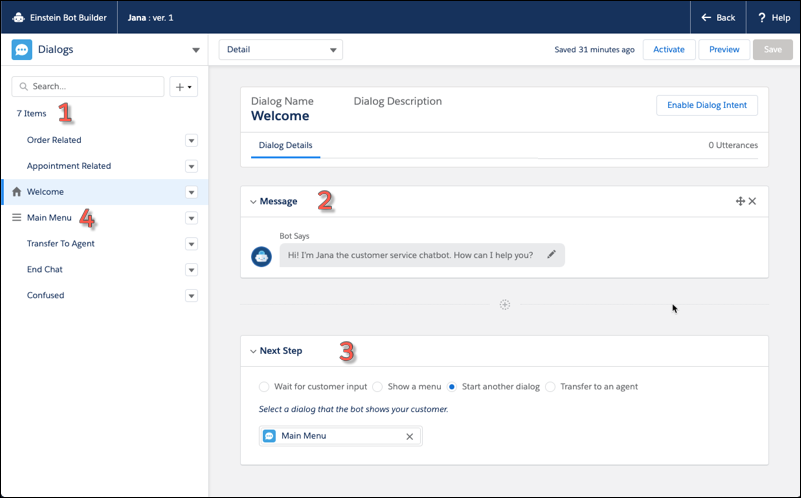 Click
between the Message and Next Step sections, and you can see that dialog steps are built from:
Messages—communicate information to the customer using text.
Questions—ask for customer input and store that information.
Actions—access Salesforce automation tools such as Apex code, Flows, outbound email, or Object Search.
Rules—add conditional logic based on customer data and perform actions such as transfers, setting variables, or ending the chat.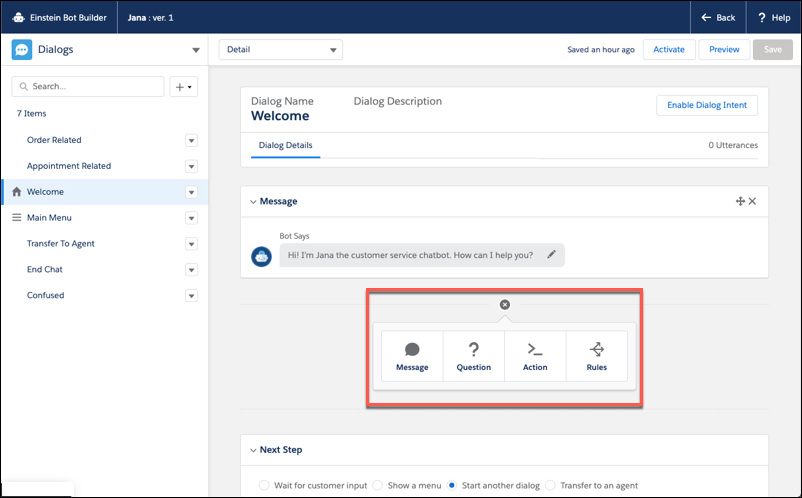 Create a dialog step of each type to review the features in more detail, and use the icons in the top right to clone or move dialog steps. Click the X on each dialog step to remove it. Your dialog should only have the original message dialog step for this project to move forward.
We won't check any of your setup. Click Verify Step to go to the next step in the project.