Create a Salesforce Environment
In this project, you'll:
Set up your Salesforce environment.
Create a data model with different field types and relationships in Salesforce.
Authenticate and fetch Salesforce data from the conference management application built using Lightning Web Components Open Source.
Before you take the steps in this hands-on project, make sure you complete the project Build Your First Application with Lightning Web Components Open Source. The work you do here builds on the concepts and work you do in that project. 
Ready to start this project? If you've already created a Trailhead Playground, open it now by scrolling down to the bottom of this page and clicking Launch, follow the steps below under Get Your Username and Password, then click Verify to complete this step. 
If you have not yet created a Trailhead Playground, continue on and follow the instructions in this step.
To create a new Trailhead Playground, scroll to the bottom of this page, click the down arrow next to Launch, and select Create a Trailhead Playground. Once the Trailhead Playground is created, click Launch to open the Playground.
Most of the time, you won't need to know the username and password of your Trailhead Playground. However, for this project, you need to know them, because you'll be logging in to Salesforce from an external application that is the conference management app built in the previous project using Lightning Web Components Open Source.
If you see a tab in your org labeled Get Your Login Credentials, great! Follow the steps below. 
If not, click
  to launch the App Launcher, then click Playground Starter and follow the steps. If you don't see the Playground Starter app, check out Find the Username and Password for Your Trailhead Playground on Trailhead Help.
Click the Get Your Login Credentials tab and take note of your username.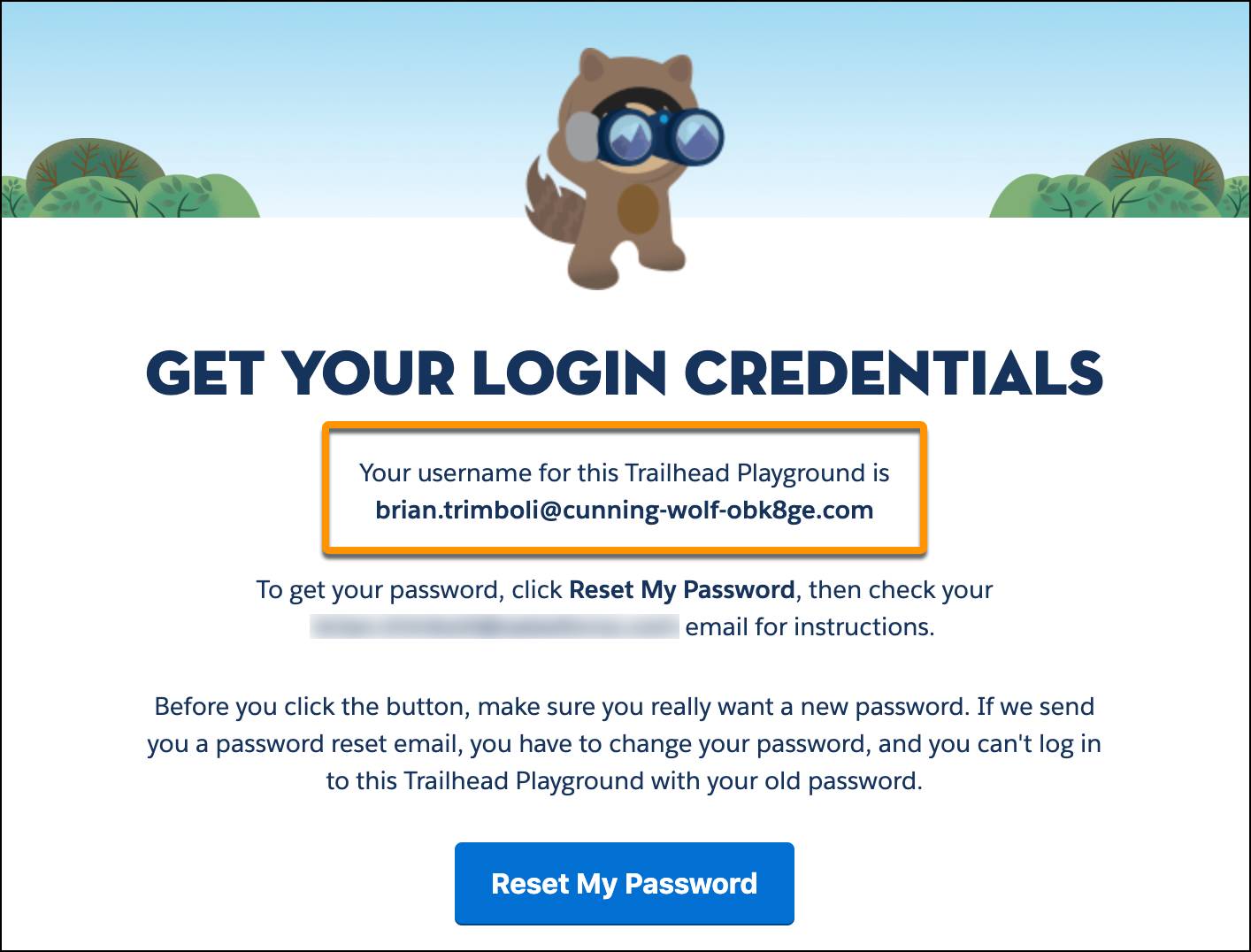 Click Reset My Password. This sends an email to the address associated with your username.
Click the link in the email.
Enter a new password, confirm it, and click Change Password.
Whenever you try to access Salesforce APIs from an IP address that is outside your company's trusted IP range, you need a security token. Here's how to generate one.
In your Trailhead Playground, click your profile picture, and click Settings from the menu.

From the list of available options, click Reset My Security Token, then click the Reset Security Token button on the page that's displayed.

You'll receive an email with the security token. Make a note of this token.
You've successfully created and set up a new Salesforce environment and received your security token for accessing Salesforce APIs. Up next, create the data model in Salesforce to store the session and speaker details needed for the conference management app.