Customize the Help Menu
Learning Objectives
After completing this unit, you'll be able to:
Explain the benefits of customizing the Help Menu.
Decide what to add to a customized Help Menu.
Customize the Help Menu for your org.
Made for Troubleshooting
The Help Menu is one of the more versatile in-app guidance mechanisms. Use it to help users during onboarding by providing a spot for getting started resources. Or, use it to point users to in-depth reference topics for a deeper understanding of a feature.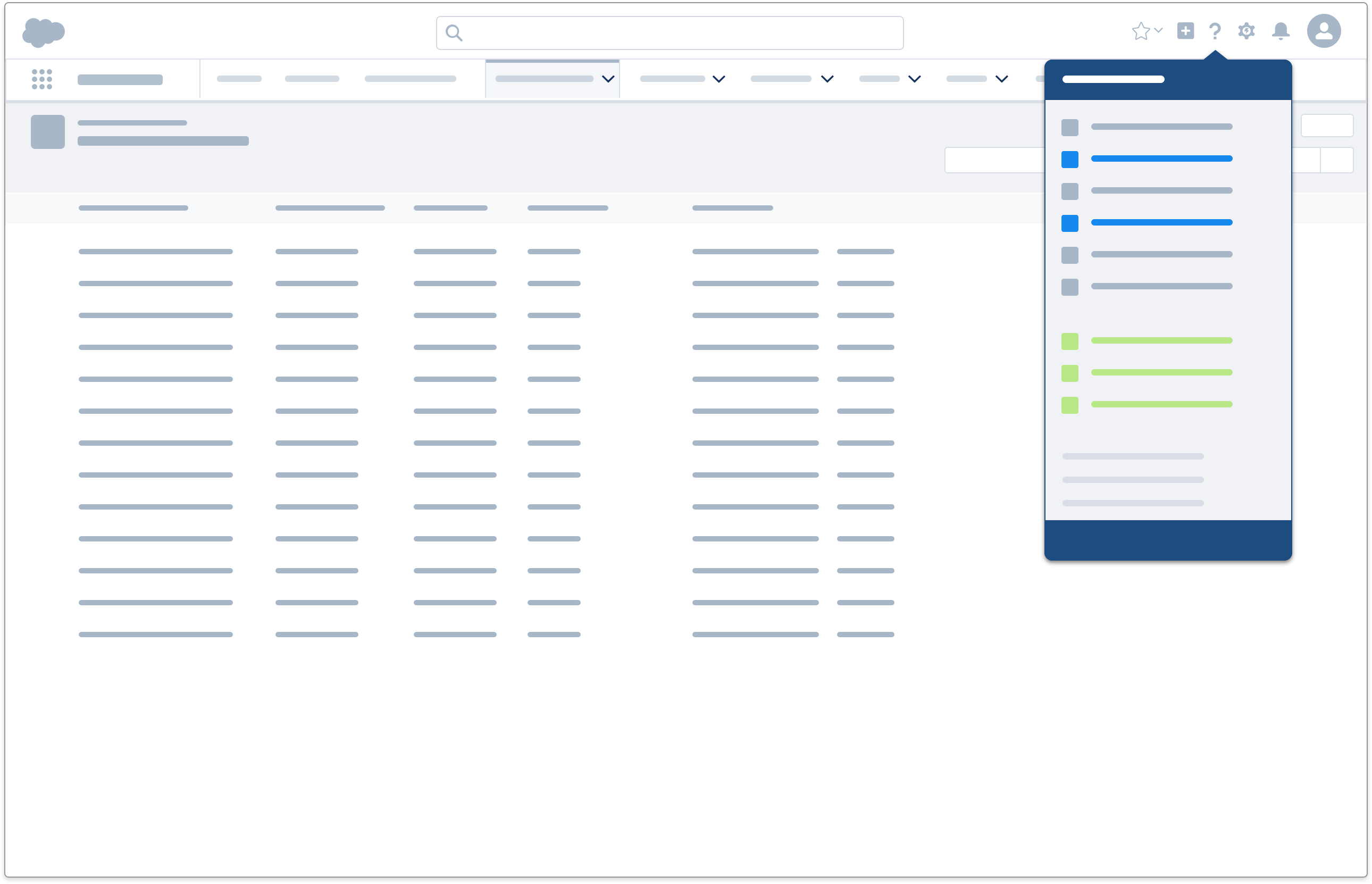 The main purpose of the Help Menu is to provide help and to support troubleshooting. The Help Menu is perfect for this purpose because it uses a common pattern found in most apps. When you click the question mark in the header, a dropdown menu appears with contextual help chosen by Salesforce and, potentially, your own custom help.
Users with specific questions or issues are often motivated to seek out help, but reluctant to leave their workflows. And we don't want them to spend too much time searching for an answer. We want to help them get an answer and get on with the task at hand.
When Salesforce chooses what help resources to surface in the contextual Help for This Page section (where each page can have different resources), we usually start with the most specific resource and end with the most general resource. That way, answers to common questions are at the top of the list and easy to access. Then, if users are interested in learning more, they can peruse the other resources. You can hide Salesforce-created resources that aren't helpful to your users.
Making the Help Menu Your Own
It's simple and quick to add your own custom section to the Help Menu so it appears on all pages throughout the app. Even if you have an internal wiki or shared folders, quick links inside the app mean your users spend less time digging around for answers.
The possibilities of what to add are endless. Here are just a few ideas from the Salesforce community.
Onboarding or training wiki
FAQ about using Salesforce or working with customers
Price sheet or product list
Company dictionary or glossary
Support guide
A Trailhead trailmix
myTrailhead
Think of all the time you could save by preventing emails from users asking similar, easy-to-answer questions. Instead, spend a small amount of time to customize the Help Menu and empower users to find the information themselves.
Your custom help section is global, meaning that the same section appears on every page of the app. Therefore, it may need to include onboarding, help and troubleshooting, and deeper learning. Although you can't add contextual help for each page, there are some ways to order global help resources to optimize global help sections. Consider ordering your resources from most to least specific, such as common questions or tasks first, followed by links to general training, and then onboarding. To avoid including too many resources in the Help Menu, consider linking to a parent resource that has links to other related resources.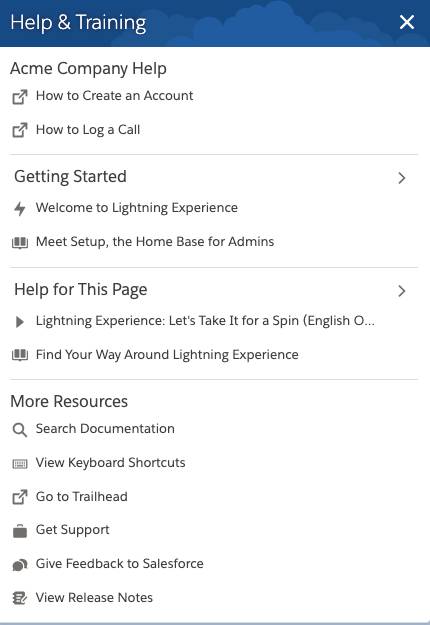 Help and troubleshooting content should be accessible, clear, and empathetic. A good help experience acknowledges that a user may feel lost or frustrated, but always offers options for solutions, maintaining a confident and optimistic tone.
Customize the Help Menu
Ready to get hands-on with Help Menus? If it's not still open, launch your Trailhead Playground now to follow along and try out these steps.
If you're not already in Setup, click and select Setup.
In Quick Find, enter help, and then select Help Menu.
In the Section Title Label field, enter Acme Company Help. Salesforce recommends naming the section so users understand that the resources are custom help for your org or company. Labels appear as you've entered them; they are not translated.
Add a custom resource:

In the Label field, enter Sales Tips.
In the URL field, enter https://www.acmecustomhelp.com/pdf/salestips.pdf. You can add up to 15 resources. Items are listed in the Help Menu in the order that they appear on the setup page.

Save your changes.
Turn on Customize the Help Menu.
Now that you're familiar with two of the most common user engagement components, let's bring together the information you've learned to craft a user engagement journey.