Create a Trailhead Playground
After completing this unit, you'll be able to:
Create a Trailhead Playground.
Explain the difference between a Trailhead Playground and a Developer Edition org.
A Trailhead Playground is an org you can use to complete hands on challenges, and try out new features and customizations. Much like a real playground, a Trailhead Playground lets you play around and make customizations without impacting anything else (in this case, your production org).
The only difference is that in a playground, playing means swinging from the monkey bars and riding the merry-go-round. In a Trailhead Playground, it means writing Lightning components and creating new custom objects. Which, if you ask us, is just as fun!
You can do almost anything to your Trailhead Playground, and it comes with set of Trailhead-specific data that you can use when completing challenges. Trailhead Playgrounds have some limits, but for the most part they give you the same customization options as a production org. And although you can outgrow a real-life playground, your Trailhead Playground never expires, as long as you keep using it.
If you're used to trying out new Salesforce features and playing around in a development environment, you might already have a Developer Edition (DE) org. A DE org is an org that we provide for free to test new features and implementations in Salesforce without affecting a production org.
A Trailhead Playground is like a DE org, but specifically for Trailhead. Trailhead Playgrounds come with Trailhead-specific data, and a pre-installed unmanaged package that we use to test your hands-on challenges. Additionally, My Domain is already active in every Trailhead Playground. My Domain is required to create custom Lightning components and set up single sign-on (SSO) in an org. To learn more about My Domain, check out this knowledge article. To learn how to activate it in your production org, see the User Authentication module.
If you'd rather use an existing DE org, though, we understand. Just choose Log in to a Developer Edition from the dropdown in any hands-on challenge, and enter the credentials for your DE org. Once you've linked your DE org to your Salesforce account, you'll be able to launch it from any hands-on challenge.
Once you've created a Trailhead account with your Salesforce account or a linked social account we've done all the hard work for you! A Trailhead Playground is created automatically and linked to your Trailhead account.
If you've completed a hands-on challenge before or you already have a Trailhead Playground or linked DE org, you'll see a dropdown menu instead. To create a new Trailhead Playground, click the dropdown and select Create a Trailhead Playground. And that's it! Now you have an org that you can use to complete hands-on challenges and projects, and test new features and code. Note that if you're using Trailhead in a language other than English, your playground still needs to be set to English when you're working on hands-on challenges. Otherwise you may run into issues passing challenges.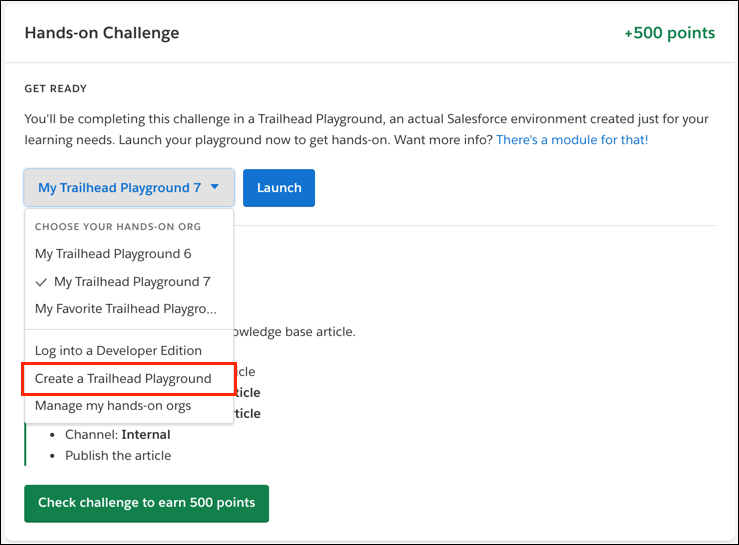 Once you have a Trailhead Playground linked to your Trailhead account, you can launch it from any hands-on challenge by clicking Launch.