Learn About the Global Goals
Explain what The Global Goals are.
Define the deadline for The Global Goals.
In September 2015, world leaders agreed to the Sustainable Development Goals. These are 17 Global Goals with the ambition of ending extreme poverty, inequality, and climate change by 2030.
Check out this cool video that explains the Global Goals, introduced by the talented Emma Watson (yes, we' re Harry Potter fans too).
Each of the 17 goals are broken down into 169 targets, which both explain the goal and help to focus efforts. A target is an action: a specific, measurable, and time-bound outcome that contributes directly to reaching a goal. Finally, each target is measured through one or more indicators. There are 230 indicators in total, which help with accountability.
That' s a lot of goals, targets, and even more indicators to digest, so here' s a quick overview of each of the goals.
No poverty —End poverty in all its forms everywhere.
Zero hunger —End hunger, achieve food security and improved nutrition, and promote sustainable agriculture.
Good health and well-being —Ensure healthy lives and promote well-being for all at all ages.
Quality education —Ensure inclusive and equitable quality education and promote lifelong learning opportunities for all.
Gender equality —Achieve gender equality and empower all women and girls.
Clean water and sanitation —Ensure availability and sustainable management of water and sanitation for all.
Affordable and clean energy —Ensure access to affordable, reliable, sustainable, and modern energy for all.
Decent work and economic growth —Promote sustained, inclusive, and sustainable economic growth; full and productive employment; and decent work for all.
Industry, innovation, and infrastructure —Build resilient infrastructure, promote inclusive and sustainable industrialization, and foster innovation.
Reduced inequalities —Reduce inequality within and among countries.
Sustainable cities and communities —Make cities and human settlements inclusive, safe, resilient, and sustainable.
Responsible consumption and production —Ensure sustainable consumption and production patterns.
Climate action —Take urgent action to combat climate change and its impacts.
Life below water —Conserve and sustainably use the oceans, seas, and marine resources for sustainable development.
Life on land —Protect, restore, and promote sustainable use of terrestrial ecosystems; sustainably manage forests; combat desertification; halt and reverse land degradation; and halt biodiversity loss.
Peace, justice, and strong institutions —Promote peaceful and inclusive societies for sustainable development; provide access to justice for all, and build effective, accountable, and inclusive institutions at all levels.
Partnerships for the goals —Strengthen the means of implementation and revitalize the global partnership for sustainable development.
The first goal, no poverty, marks the continuation of the Millennium Development Goals ambition to eliminate extreme poverty. The final goal, partnerships for the goals, emphasizes a continued commitment to work together in order to achieve progress for all. The order of the other goals doesn' t signify priority, since each goal is critical and interdependent.
To dive into each of the Global Goals and understand the actionable targets we recommend you check out the World' s Largest Lesson and the Global Goals websites.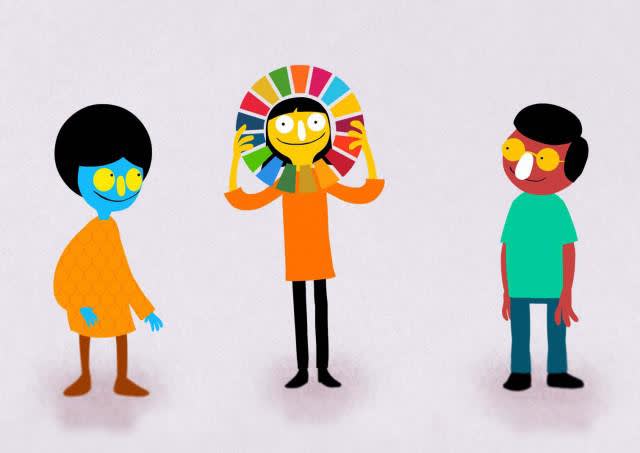 The Global Goals are designed to be universal, integrated, and inclusive.
Universal: Eradicating extreme poverty and building a sustainable future are challenges all countries face. Unlike the Millennium Development Goals, which only applied to the developing world, the Global Goals are universal.
Integrated: The Global Goals cover all three dimensions of sustainable development (economic, social, and environmental) with an underlying consideration for people, planet, peace, prosperity, and partnership
Inclusive: The Global Goals pledge to leave no one behind, meaning that no goal is met unless it' s met for everyone. That means putting the needs and interests of the furthest behind first.
So why do the Global Goals matter? Our world is more innovative, connected, and fast-growing than ever before. We can only solve global challenges like poverty, inequality, and climate change by working together. The Global Goals provide the framework for that to happen.
A Unified and Unifying Plan of Action
The Global Goals focus global development efforts on common objectives. It' s essential for development work to be oriented in the same direction in order to focus on what really matters and ensure no one is being left behind. The Goals can be achieved with enough political will, investment, and action at all levels, from NGOs, business, and citizens.
Holding Governments Accountable
The Global Goals are a way to hold governments to account, with each of the 193 UN member states agreeing to the framework. Citizens, including educators, youth, and even children, can play an important role in monitoring how goals are implemented and putting pressure on governments to ensure the most marginalized groups are reached. Your participation in teaching the goals to students and encouraging their support is a vital part of this effort.
Bringing the World Together
The Global Goals are built on the idea of partnership. Achieving the goals is impossible without the cooperation and participation of everyone. The goals were created by the people, for the people through one of the widest participation processes in history. Civil society (people like you simply getting involved) played an important role in the design phase of the goals—over 500,000 people participated through debates and consultations.
Universality
The Global Goals concern each and every one of us. The 2030 Agenda for Sustainable Development adopted by world leaders in September 2015 at an historic UN Summit, demonstrates that for all our cultural, economic, and political differences, we all share certain ideals and rights universally. The Global Goals are an opportunity to change the world for the better, but they depend on action. Specifically, they depend on joint, sustained, and early action.
To dive deeper into the Global Goals, check out this handy FAQ.