Maintain Your Tableau CRM Certification for Spring '21
Learning Objectives
After completing this unit, you'll be able to:
Identify the maximum number of groupings for fields in Explorer.
Describe the new features in the Einstein Discovery user interface.
Explain the type of machine learning that random forest algorithms follow.
Describe how to maintain model accuracy with performance notifications.
Explain how to automate the calculation of dataset predictions in Einstein Discovery with templated apps.
Salesforce Certification—Special Maintenance Policy
Starting with Spring '20 release cycle, all certifications now require the completion of one maintenance module per year. Learn more about your maintenance requirements by reviewing the Certification Maintenance Schedule.
Of course, we know you want to keep your skills up to date and learn about the latest features throughout the year. This module contains lots of great info about the Spring '21 release, which you can explore without worrying about deadlines. In the Spring '21 release, Salesforce introduced a number of great feature enhancements. You review some of the more important ones for Tableau CRM in this module.
Einstein Analytics Is Now Tableau CRM
Einstein Analytics has a new name. Say hello to Tableau CRM. Everything about how it works stays the same, just with that snazzy new name. When Tableau joined the Salesforce family, we brought together analytics capabilities of incredible depth and power. Tableau CRM offers the best experience for native analytics inside Salesforce CRM products. Tableau CRM continues to combine artificial intelligence (AI) and business intelligence (BI), and Einstein Discovery continues to have tight integration with the platform. 
You'll see the old name in a few places as we work through the updates.
Group Data by up to Six Fields in Explorer
Analyzing large datasets often requires more data groups. You can now group your data by up to six dimensions or date fields in explorer charts and tables. Previously, you edited Salesforce Analytics Query Language (SAQL) queries or JSON files to include more than four groupings for your data.
Discover More Insights with a Reimagined, Intuitive Interface
Navigating through insights and model metrics has never been easier with the new interface for Einstein Discovery and Einstein Data Insights. The features you know and rely on are all still there, just easier to find and use. As you open story insights, you're welcomed with AI-powered insights on the first screen. The streamlined story interface means your insights are easier to discover, with features that reveal potentially overlooked insights, such as comparing story versions at a glance.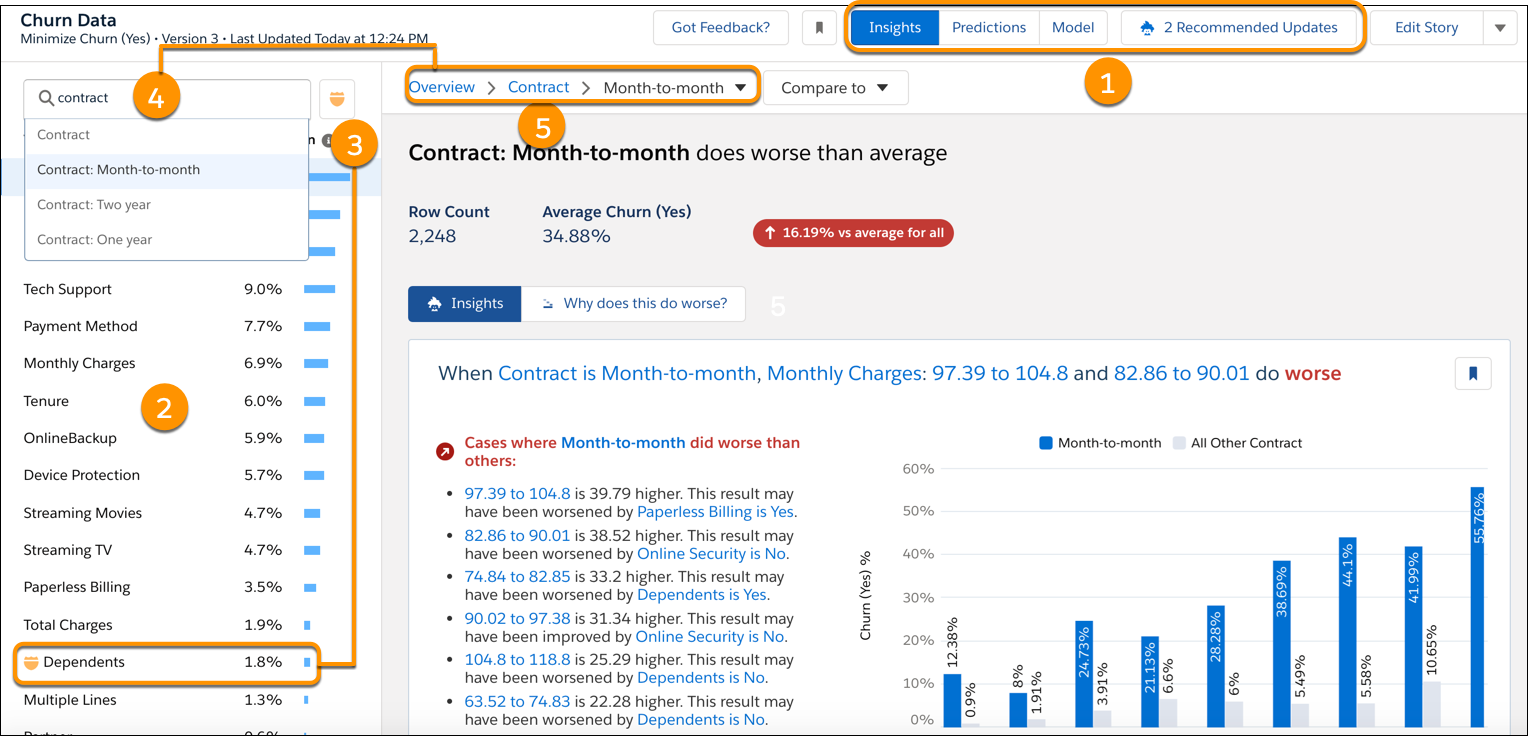 The consolidated story header (1) enables you to navigate between the insights produced as part of the story. Variables are ordered by correlation (2), visibly indicating the key drivers in the story. Click the shield icon (3) to view selected sensitive fields and any bias/disparate impact in the story. Use the dropdown menus (4) to surface and compare insights which automatically reveals more insights you can open using the breadcrumb trail (5).
Build Accurate Models Using Random Forest Algorithms
Einstein Discovery adds a fourth type of model based on a modeling algorithm known as random forest. Einstein Discovery uses this supervised learning algorithm to create highly accurate models through multiple decision trees, randomization, and proprietary optimization techniques. 
To use the random forest algorithm, you create a story with a random forest model, then compare its metrics with other types of models to determine whether this algorithm provides better accuracy for your story.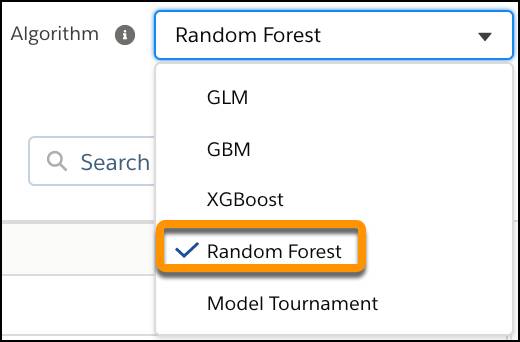 Get Automated Model Deployment and Dataset Scoring with Templated Apps
If you haven't tried the latest Einstein Discovery template apps, you're missing the quickest way to prep, load, and analyze common use cases with just a few clicks. The latest updates offer an end-to-end workflow, enabling you to focus on story customizations instead. 
Template enhancements replace the manual and complex process of model deployment. They automate the calculation and creation of dataset prediction fields to identify rows that meet an outcome goal. 
Create a new story using a template in just a couple of steps.
In Analytics Studio, click Create and select Story.
Select a template and click Continue.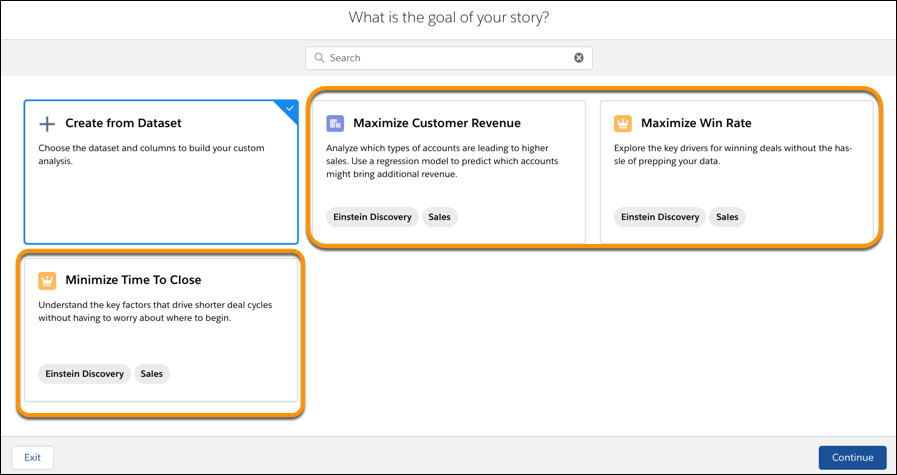 3. Follow the guided prompts to name and create your story. Once you complete the steps, it takes Tableau CRM a few minutes to create the story.
Maintain Model Accuracy with Performance Notifications
Prediction notifications alert you when it's time to retrain your model with more recent data that reflects current circumstances. For even the best-designed models, performance can decline over time. Models drift when characteristics in the real-world data diverge from the training data used to build them. The result? Prediction accuracy drops, which can adversely affect the business decisions that depend on those predictions. 
In Model Manager, view a model that uses automated prediction fields, then click Notify me if this changes.
Package, Promote, and Distribute Your Predictions
With packaging support, Einstein Discovery makes your prediction models more portable and shareable than ever before. Now you can build and test your model in a sandbox environment and, when it's production-ready, promote it to your production environment using change sets. 
You can also build and train models using your own data, then distribute them to others—within or outside your company—using managed or unmanaged packages. That way, customers enjoy the benefits of your models' predictions and improvements without needing the data to train the models themselves. Einstein Discovery supports both first-generation packaging (1GP) and second-generation packaging (2GP).
When you're ready to promote a prediction from your sandbox environment to production, use a change set. 
From Setup, in the Quick Find box, enter change set, and select Outbound Change Sets.
To create an outbound change set, click New, enter a name and description, then click Save.
Click Add To Change Set to add your Discovery prediction model to your change set.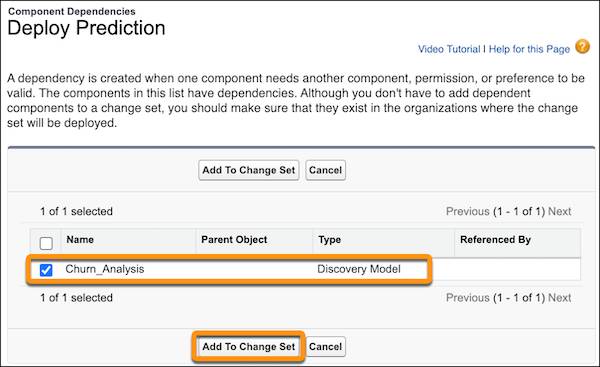 Copyright
Rights of ALBERT EINSTEIN are used with permission of The Hebrew University of Jerusalem. Represented exclusively by Greenlight.
Resources