Measure Student Engagement Success
Learning Objectives
After completing this unit, you'll be able to:
Identify reporting tools available for success.
Discuss reporting capabilities and significance.
Report on One-Stop Metrics
Reports help you analyze and act on your Salesforce data. You can examine your data, display it, and share the resulting insights with others. Thoughtful, well-planned reports will answer a question and help with everyday work and future planning.
In the context of Service Cloud, Salesforce reports can help gauge the service needs of your students and how well your current methods are delivering results. Here are a few of the metrics you can report on with Service Cloud reporting.
Case opens and closures
Time to case closure
Case trends
Variance in case origin (for example, more cases come from email than social)
Who asks what (case variation by major, demographic, etc.)
At the risk of repeating ourselves, a major advantage of reporting is that once your data is turned into a report, you can make informed, actionable decisions based on the story your data reveals. For example, once you understand your case volume, you can improve available resources to ensure cases are closed quickly and effectively. When your reports help you discover your top services and reveal seasonal trends, you can create topics and front load timely and targeted communications to inform and support your student community. And if you're armed with a clear view on the time it takes to resolve cases, you can examine your current processes and make improvements with case complexity in mind.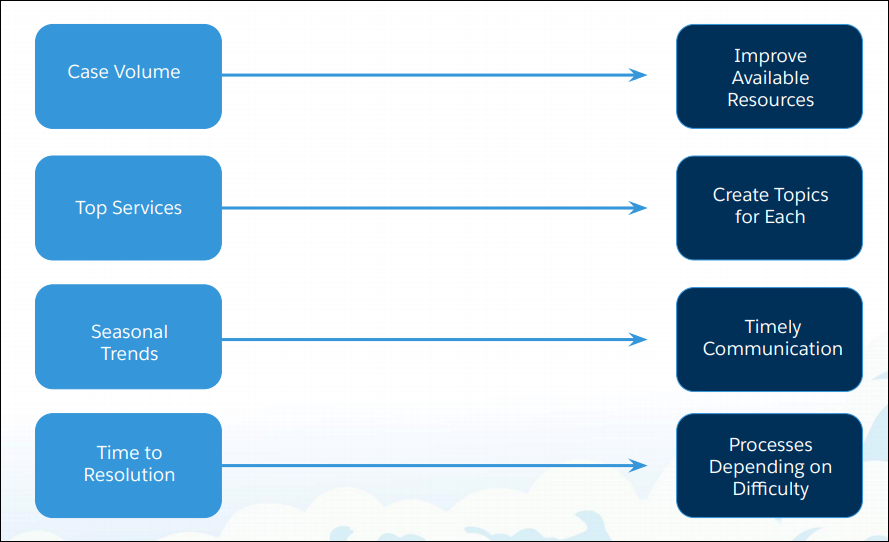 Thomas Caldwell, the Director of Academic Advising at Cloudy College, wants to create a report called Case Reasons that helps him identify patterns in the cases his advisors are dealing with.
 Follow these steps to create a report like Thomas's (Optional).
From the Reports tab, click New Report.




Choose Customer Support Reports, then Cases.




Click Continue to see a preview of the report.


In the preview, add Status and Priority fields to the report's columns.




With Status and Priority on the report preview, remove Open and Closed columns because they display the same data as the Status column.




To see the elapsed time on cases in days, change the Units filter to Days. Age on an open case is the time from creation to the present, and age on a closed case is the time from creation to when it's marked closed.




To organize cases by status, click Group Rows by This Field on the Status column.




Click Run.




Name the report Case Reason, then add it to Public Folders. If no public folders exist, create one.


Click Save.


With this information in hand, you can tackle basic reporting on your team to identify patterns in cases and take action to improve student services at your institution. Head to the Resources section to further develop your reporting skills.
Resources