Manage Applications with Admissions Connect
Learning Objectives
After completing this unit, you'll be able to:
Describe the key features of Admissions Connect.
Explain how Admissions Connect makes application management more efficient.
What is Admissions Connect?
Admissions Connect is a recruiting and admissions tool that streamlines application review, drives applicant engagement and facilitates collaboration across teams. Built on the EDA framework, Admissions Connect helps teams meaningfully engage applicants and effectively manage admissions processes.

In this unit, we see Admissions Connect in action as we reunite with Cloudy College recruiter Marquis Bryant and meet two new fictional friends: student applicant Marla Gianni and Cloudy College admissions officer Regina Visser. Marla is one of Marquis's recruits and she's applying to the Computer Science undergraduate program at Cloudy. Regina is a member of the committee that will review Marla's application.

Like more than a million students each year, Marla is using the Common App to submit her college applications. Admissions Connect is integrated with Common App so right from the start, Marla's application data is seamlessly available to Cloudy College reviewers in Admissions Connect once she submits her application in the Common App. 
Keep Students on Track with an Application Checklist
Now that Marla's application is in the system, Marquis can see which sections of the application she has completed in full, and which sections still need some work. The application checklist helps Marquis support Marla to make sure any missing items are added to her application ASAP.

Task and Document Requirements
Right now, Marla's application is 75% complete. From the application checklist Marquis sees that Marla's application is missing one letter of recommendation, and she needs to complete the Activities section.

Document requirements are just what you might expect: they let the applicant upload letters, transcripts, personal essays, or any other files that need to be attached to the application. Marla needs to upload a Letter of Recommendation from her internship.

Task requirements are for information that gets stored in fields, like date of birth or other basic applicant details. Tasks can even be used to track things like paying an application fee. Marla is missing information about the activities she participated in during high school.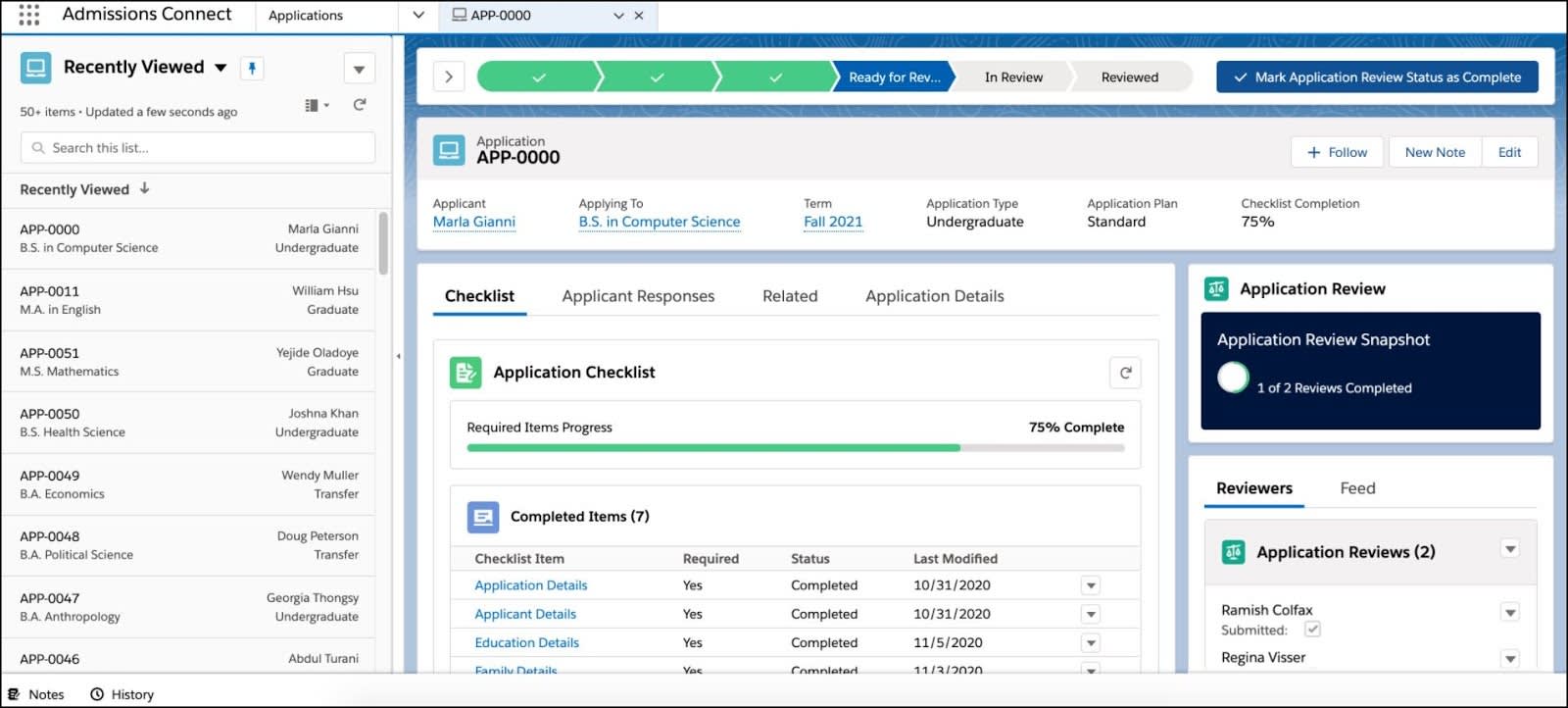 Marquis sends Marla an email to remind her about the missing items. 
Review Applications in Admissions Connect
Marla uploads the missing document and fills out the  information about her extracurriculars. Her application checklist shows her application is 100% complete and the status for her application is now Ready for Review.

There are two ways for reviewers to access applications with Admissions Connect: within the app itself or from a portal. As an employee of Cloudy College, admissions officer Regina starts her review from the Admissions Connect app. Like many institutions, Cloudy includes people from outside the institution, like alumni, in application review committees. These reviewers access Admissions Connect from an assigned application review page in a portal. These secure review pages provide the same streamlined review experience for external reviewers while providing them access to only the information and permissions they need.

Regardless of how reviewers access the application, the single scrollable view in Admissions Connect makes it easy to review the entire application. Reviewers have a complete and accessible view of each applicant, all on one page. No need to toggle between multiple tabs or click out to different programs or windows to view application sections or documents. The review experience also takes the frustration out of viewing PDFs that have been attached to the application. PDFs show up directly on the review page and are easily flipped if they need to be reoriented or searched for keywords.
Submit Comments and Recommendations
Regina reviews Marla's application and can easily navigate between the sections and included documents. She's now ready to submit her reviewer comments and recommendations. Without leaving the page, she includes her comments and recommendations. Regina thinks Marla's application is strong and that she'd be a great candidate for admission to Cloudy College. Once she submits her admissions recommendation her application review record is saved. This feedback is now available for the rest of the review committee to see.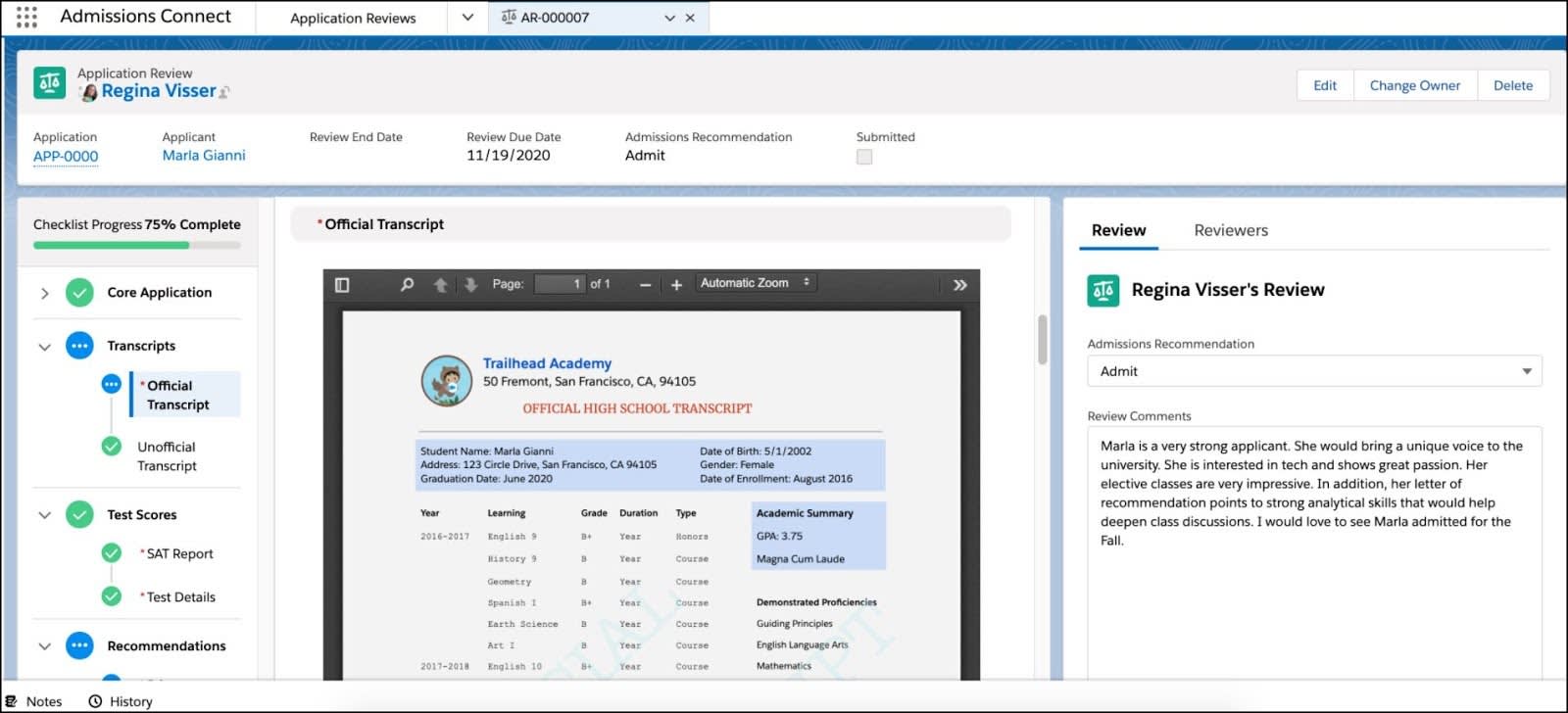 Get a Holistic View of Your Recruiting Class with Reports and Dashboards
Because Admissions Connect is built on EDA, Admissions Connect users also get to take advantage of the power of Salesforce reporting. With reports and dashboards, your institution can:
Keep tabs on your entire recruiting class.
Customize your dashboard with the reports that are meaningful to your school or specific program.
Track application trends, stay up to date on application status and make informed decisions based on metrics.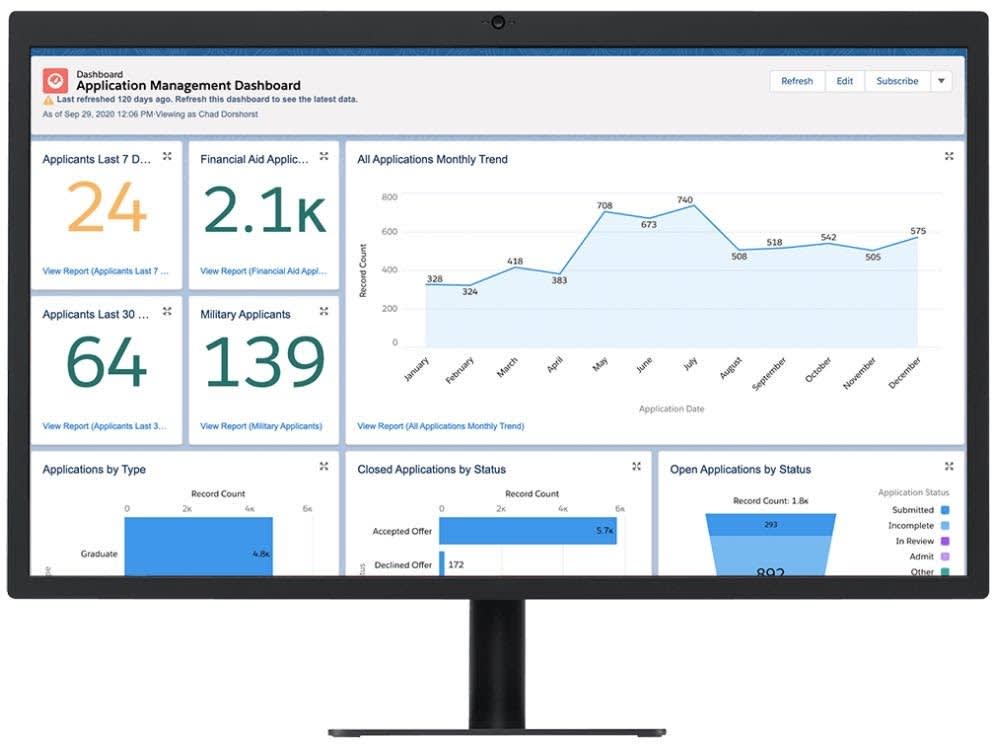 Admissions Connect helps teams meaningfully engage applicants and streamline admissions management -- all on one trusted platform. Because of Admissions Connect, Cloudy recruitment and admissions teams are spending less time on manual processes, and more time building relationships.

Thanks to the streamlined review process provided by Admissions Connect, decisions can be made quickly. Great news! The other reviewers agree with Regina and Marla is offered admission to the Cloudy College School of Computer Science. Congratulations, Marla!
Resources