Equip Recruiters On the Go with Salesforce Mobile
Learning Objectives
After completing this unit, you'll be able to:
Describe the benefits of a custom home page.
Explain how Salesforce mobile tools support recruitment efforts.
While application season is in full swing, Cloudy College recruiter Marquis is still busy connecting with prospective students. In his duties as a recruiter for Cloudy College, Marquis is an ambassador for the school. Because he's meeting with prospective students at various off-campus events, he needs tools that empower him to log information and respond to questions while he's on the go. He also needs to be able to trust that the updates he makes in the field will be synced and accessible once he's back in the office. Education Cloud provides these resources to Marquis, supporting him as he carries out the important task of being the face of the institution to many potential Cloudies. In this unit, we'll follow a day in the life of a recruiter and see how Marquis leverages Education Cloud while he's on the road.
Custom Home Page
In Salesforce, the home page is what a user sees first after logging in. The concept of the home page is "easy access to relevant information = increased efficiency." This page can be customized to highlight information particularly relevant to each user. The home page is customized through the use of the Lightning App Builder and should reflect the most used components for a particular user or role.

When Marquis worked with his Salesforce admin to customize a Home page for himself and other Cloudy recruiters, he considered the functionality he navigates to most often. Here are some of the components he decided to add to his Home page.
| Home Page Component | How it helps Marquis when he's on the go |
| --- | --- |
| Funnel report | An overview of overall applicant yield in his region |
| Prospect by source report | Review of how prospects find their way to the Application page |
| Activity timeline | At-a-glance access to his daily schedule of events, appointments, scheduled phone calls, and list of to dos |
| Campaigns and campaign members | A quick view into prospecting campaigns and how they are performing |
| Opportunities | Marquis can track and review applications in progress |
| Recent items | Easy access to his recently viewed records |
This custom Home page helps Marquis be more productive whether he's on the road or in the office. It centralizes all the tools he needs most in one place, and he can access it on his mobile device or laptop. In a role like Marquis' where every moment counts, timesavers like the custom Home page are a huge advantage. Today for example, Marquis starts his day by reviewing his Activity Timeline, which shows that he's representing Cloudy College at two college fairs at high schools. They are located a few hours south of campus, so he's got to get a move on.
Salesforce Maps
While every recruiter probably has a map app on their mobile device, Salesforce Maps is so much more than a tool for turn-by-turn driving directions. In addition to directions and travel times, Salesforce Maps allows users to create optimized routes from one point of travel to the next. Salesforce Maps also puts the power of Artificial Intelligence (AI) at recruiters' fingertips by helping them prioritize their schedules based on key information like Einstein Score and Pardot Score.
The two college fairs Marquis is visiting today are being hosted at different high schools in neighboring counties. With Salesforce Maps he can optimize his route planning in order to be set up at each fair on time, without having to leave the first one too early.

Salesforce Maps is supporting Marquis on the ground in real time today, but it first came into play weeks ago when the recruitment team started planning this season's travel and events master schedule. When deciding which fairs and other events the Cloudy recruiters would attend, the recruitment team used Salesforce Maps for map visualization of Pardot scoring and grading to determine which schools to visit.
Lightning Mobile
Just as Lightning Experience has revolutionized Salesforce on your desktop, Lightning Mobile takes Salesforce beyond its previous limits on your mobile device. It's a free and easily accessible tool that's available to every single Salesforce user. It's also platform agnostic, available to iOS and Android users. Plus, it has offline functionality for those times when you can't be connected to WiFi. And just like Salesforce Lightning Experience on your desktop, Lightning Mobile is fully customizable.

At today's college fairs Marquis meets students who are brand new to exploring Cloudy, and he also chats with several students who are already in the system as prospective students. He uses Lightning Mobile to pull up their records so he can have meaningful conversations right on the spot, instead of jotting down names and promising to follow up. In one instance, he pulls up a student's record to see what their extracurriculars are as they chat about scholarships. Later he's able to alert a student that something is missing from their application and that a deadline is looming. Marquis also updates prospect records in real time while at the fair, which his colleagues back in the office can see and act on when necessary.
Activity Management
Because so much action happens while Marquis is out of the office for recruitment efforts, it's critical that he can keep track of everything while it's fresh in his mind. Salesforce helps him document and log the tasks he executes and centralizes this information so he and other team members can view it in real time. Marquis can log phone calls and emails and document events like information sessions or meetings with prospective students.

Activity timeline is a Lightning component that you can add to your home page to keep track of everything coming up or look back at past tasks and events. Remember, Marquis added this component to his custom Home page because it helps him manage his upcoming schedule and account for the work he's completed while traveling.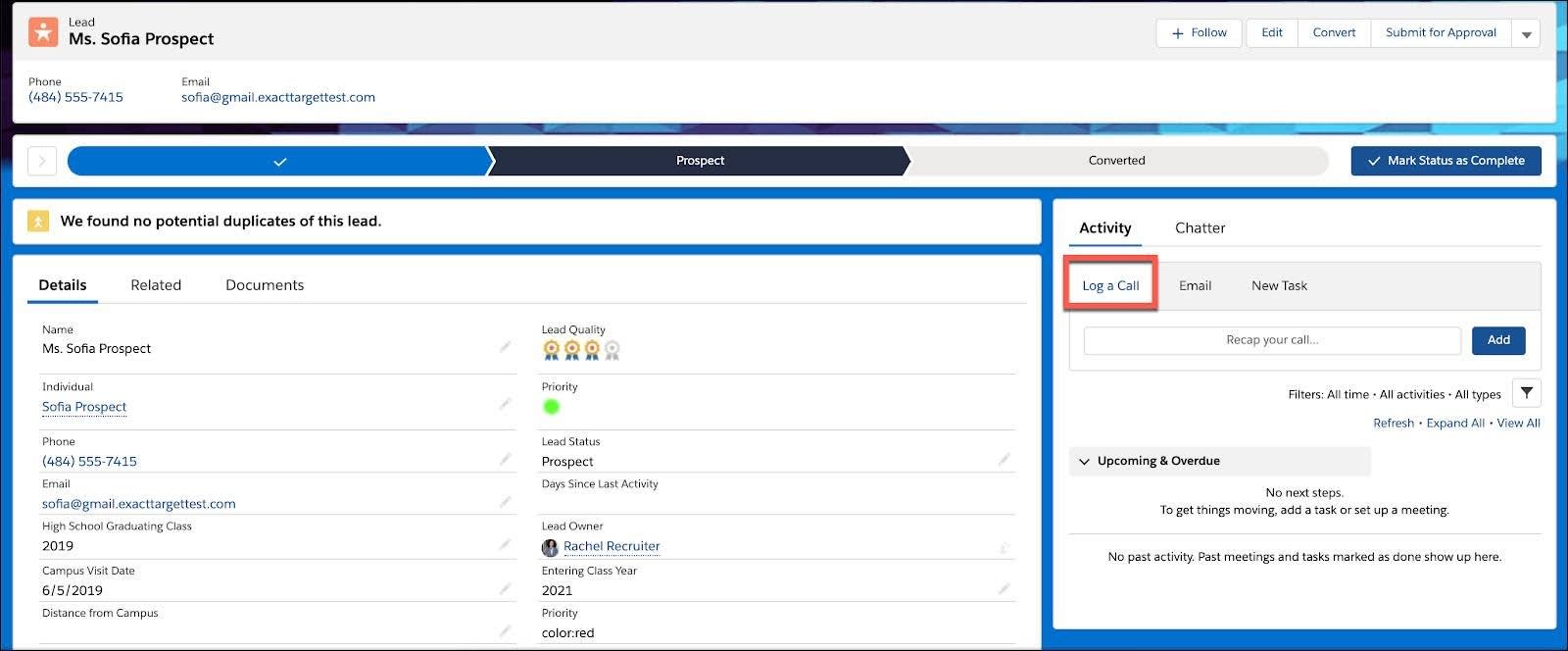 When Marquis has wrapped up the second career fair, his day still isn't done. He's got a phone interview scheduled with a prospective student. Marquis will log this call and it will show up in his activity timeline.

Follow these steps to log a call:
Navigate to Activity and click Log a Call.
Record relevant notes and information about the call.
Click Save.
Documenting and tracking tasks and events is necessary for organization and productivity, and reporting on those tasks and events can inform upcoming recruitment strategy and scheduling. For example, Marquis and the rest of the recruitment team at Cloudy have found that keeping accurate logs empowers them to produce accurate reports on activities, which helps their team assess the value of how recruiters' time is spent, and where the team might need to allocate more resources.
Path
Path is a process overview feature that is designed to reduce stress and confusion when tracking applications throughout the admissions process. With Path, Marquis can see where each application stands at any given time and which step is next. With the help of a Salesforce administrator, Marquis' recruitment team created custom stages in Path. This means that he and the other recruiters now have access to key fields and guidance (see more on these below) that support them each step of the way. Path keeps recruitment teams focused so they can get the right information at the right time to keep an application moving towards admission.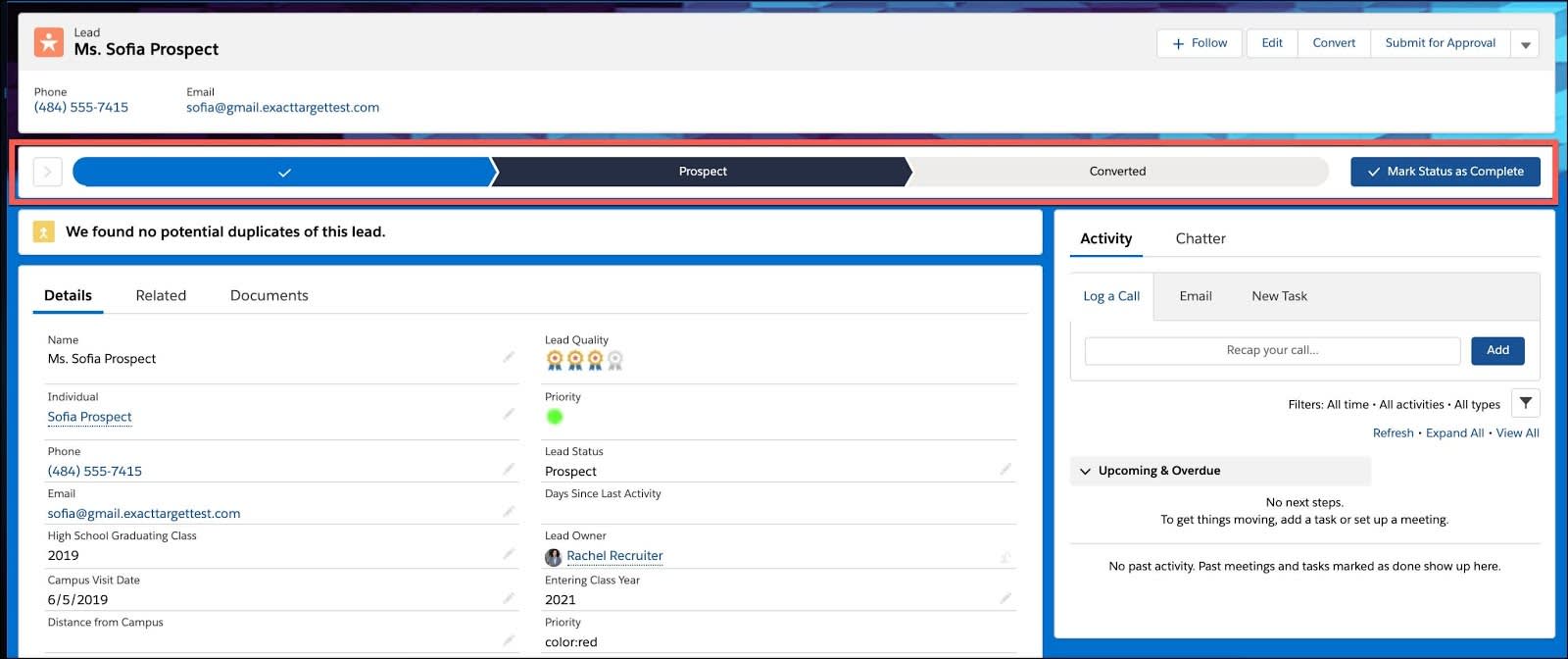 Key fields and guidance are available at each step of a prospective student's path to ensure data entry is consistent and actions taken are properly aligned.
Key fields help your team identify what key information they need to gather at any given step in the process.
Guidance then supports your team members by suggesting the questions and strategies that are most likely to lead to success and movement to the next stage.
When he's out on the recruiting trail, Marquis can access Path on his mobile device and help prospective students move to the next phase in the application process because he knows exactly which step they're on and what's holding the application back from advancing. With key fields and guidance, he has the support he needs to help students overcome obstacles that may come up as they work to complete their application. Path also gives him the insight he needs to reassure excited applicants when an application is in a review stage and no further action is needed from them at the moment.

When all the hard work pays off and an application is completed and an admission offer is accepted, Marquis and his team can celebrate—with confetti! When a path is completed, marking the final step as closed can trigger a quick confetti to commemorate a job well done.

Marquis finishes his day in the office. As he knocks out a few final tasks, his director stops by his desk to discuss how the career fairs went and thank him for the work he's been putting in. She knows how impactful Marquis has been in Cloudy's recruitment efforts because she can see all of the recruiters' activities on the activity timeline on her custom Home page. The recruitment team has a busy season ahead and Marquis is grateful he can rely on his teammates, strong coffee, and the mobile toolkit he's found in Education Cloud.
Resources