Take Social Customer Service to the Next Level
After completing this unit, you'll be able to:
Describe some advanced strategies that continually improve social customer service.
Identify Salesforce reports that measure effectiveness.
Describe the benefits of using Command Center to measure cross-functional performance.
OK, so you've got an amazing social customer service strategy in place and it's delivering results. What are some more advanced tactics you can use to create truly outstanding customer experiences? Here are some ideas.
Reward advocacy. Using Salesforce Social Studio and Social Customer Service together, you can easily identify your biggest fans. Why not give them a virtual pat on the back by featuring them in your customer community?
Participate in industry discussion. Start intelligently creating service cases based on opportunities to jump into industry conversations. Automatically route each case to the most appropriate person in your organization. Use Social Studio reports to measure their impact.
Incorporate next-best offers into your social customer service strategy. When it's appropriate, nothing says "we care about you" more than a personalized recommendation dropped into a service interaction. Eighty-seven percent of top marketers alert their service teams to special promotions and offers (Salesforce 4th Annual State of Marketing Report). Einstein AI helps you intelligently identify the next-best offer for a customer.
Suppress marketing efforts aimed at customers who have open service cases. Eighty-one percent of top marketers suppress marketing efforts to customers who have open service cases (Salesforce 4th Annual State of Marketing Report).
Create service cases based on recommendation requests or negative competitor mentions. Use your best judgement on when it's appropriate to jump into these conversations, but you'll often find people asking for personalized recommendations for products, or complaining about some competitor product attributes. If you think that you'd be a welcome voice, create proactive service cases from this style of social listening, and jump on in!
If you monitor the results of your social customer service strategies, you'll spot opportunities to improve. You might find inspiration for new social customer service strategies, too.
You can measure a lot of things in Social Studio and Social Customer Service. Here are some suggestions.
Tie what you measure to hard business metrics. Likes and followers aren't as important as response time and customer satisfaction.
Focus on quality over quantity. It's simpler to have a smaller number of truly meaningful measures to focus on and will assist in honing your focus.
Measure what will truly make your business remarkable.
Here are some ideas for the most important measures to track, but remember that every business is unique. 
Response time, so you know how quickly you're responding to customers.
Inbound volume, to make sure you're staffed appropriately at all times.
Open cases on social, to track your team's workload.
Case close time, which helps you understand how long it takes to resolve a question. This will really help you come up with solutions to improve processes or establish better training.
Customer satisfaction through surveys, because your customers often have the best ideas on great ways to improve your social service! Plus, who doesn't love showing off a high score?
A great way to start exploring these numbers is to use the Social Studio Engagement Report.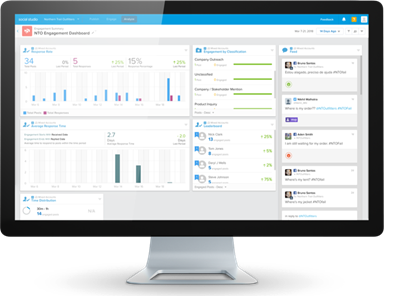 The Engagement Report helps you measure the effectiveness of your community management and customer service efforts, and you can tweak it to suit your needs. 
We've already talked about the importance of working on your social media strategy with your friends on the marketing and sales teams. The perfect tool to bring everyone together to measure your collaborative success is the Salesforce Command Center.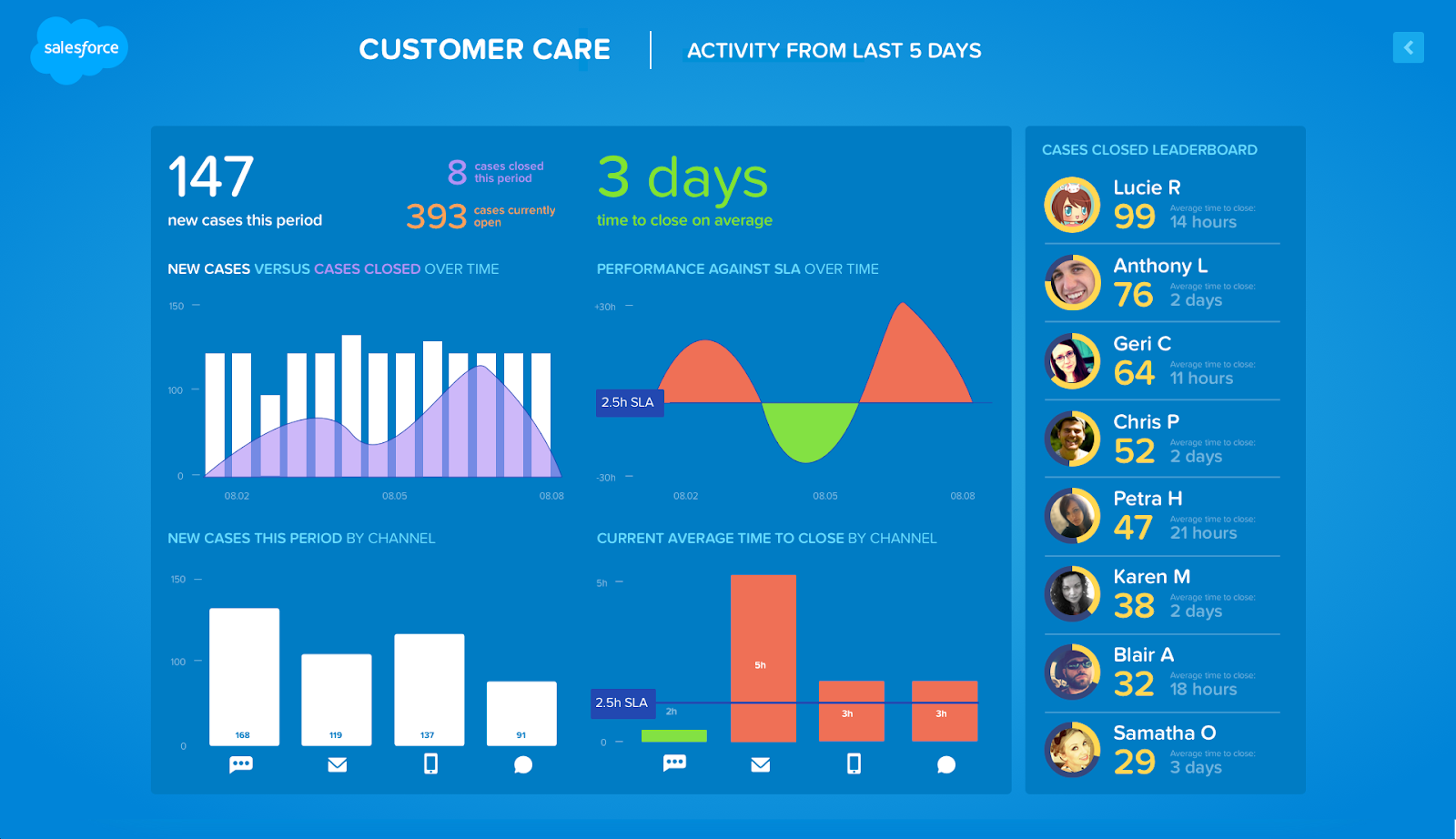 Typically run on large-screen displays, Command Centers visualize business data from sales, service and marketing. It's the perfect way to see how each team's results impact your collaborative efforts, celebrate your collective successes, and identify opportunities for improvement.
Your social customer service stats are shown alongside social listening data about your brand, your latest sales numbers, and the performance of your digital marketing efforts. This digital centerpiece, with your branding, helps you easily explain the numbers that matter to your executives. Pretty cool, huh?
By implementing some of the advanced strategies above, interrogating your results with the right reports and collaborating on the customer experience with Command Center, your social customer service will be set for success.