Deliver Engaging Social Customer Service
After completing this unit, you'll be able to:
Explain the benefit of serving your customers on their preferred channel.
Describe the benefits of Salesforce Social Customer Service.
List ways to collect your customer's social personas and connect them to their customer details.
Now that you understand why social media is important to customer service, let's take a look at how you can use it to build that incredible customer experience. For starters, you want to consider technology that enables you to do social marketing at scale, like Salesforce Social Studio. You also want to think about wowing your customers with an outstanding social service experience, using Salesforce Social Customer Service.
These two products work perfectly together, ensuring that everyone in your organization is on the same page.
Let's look more closely at Social Customer Service. Unlike most other social media management products, Social Customer Service helps your contact center deliver a consistent experience across service, marketing, and sales. Everything is connected to the customer record. That's the power of the Salesforce Customer Success platform.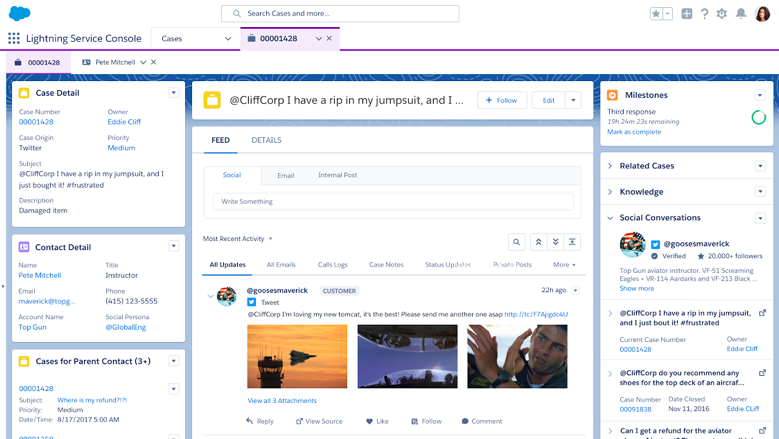 How can you use Social Customer Service to win over your customers?
It improves the productivity of your contact center. It's much easier to handle multiple social enquiries at once compared to traditional emails or phone calls.
You can manage unexpectedly large social media responses to a big promotion. No sweat. You can easily scale up and down with automation to intelligently prioritize service enquiries.
You can surprise and delight customers by using social listening for proactive customer service. You can automatically prioritize the most important posts to focus on.
You can ensure your customers are satisfied by having a single view of their activity across every channel (not just social) in one place.
Let's take a look at Social Customer Service in action.
The secret sauce of Social Customer Service is that it's part of the wider Salesforce Customer Success platform. Your customers have the same customer service experience across Twitter, Facebook, Instagram, phone, email, live chat… you name it. If a customer picks up the phone to call you, you instantly see their social media conversation history. It's also easy to transfer a service question from social media to a different channel and seamlessly manage your customer's experience.
It's quite common for contact centers to adopt social customer service strategies in isolation from other departments. But a truly customer experience–driven social media strategy brings sales, marketing, and service together. When these departments work together toward shared goals, the customer experience improves and all departments see better results.
When service, sales, and marketing work together, you can coordinate activities for the customer's benefit. For example, marketing can decide to pause social media marketing while a customer has an active service case open, or your sales team can identify VIP customers and route those customers' service queries to a VIP team for white-glove service. Working together on a social media strategy produces better results for everyone—most importantly, your customers. 
As you form your strategy, think about things from the perspective of your customer. Customers can prefer to use the phone call for one situation and Twitter for another. If your customers have a different experience on social media than they do on a phone call, they can become frustrated. Ensure that your customers receive a consistently positive experience over multiple contact methods for a single issue. 
How do you connect social personas to customer records? That is a very common question.
It helps to think about the business challenge rather than the technology challenge. Your customers might be wary of consenting to share their social personas with you, so it's extremely important to clearly demonstrate the benefits, and to explain why you're asking for their social persona information. 
The good news is that many companies have already faced this challenge, and we can learn from their success. In the 2000s, organizations used a variety of methods to collect their customers' email addresses. You can use many of those same methods today to collect social information. Here are some effective strategies.
Add social sign-on to your website, and automatically link social accounts to customer records.
Run promotions, benefits, or discounts to encourage customers to link their social accounts to their customer record. The ROI for this strategy tends to be pretty great.
Consider the moments a customer interacts with anyone at your organization. This can include events like redeeming in-store offers, signing up to a loyalty program, responding to a promotion… these are all opportunities to link your customer's social persona to their account.
When customers contact you through social media, use that one-to-one interaction to link their social personas to their customer account.
Before you know it, you'll have the information you need to deliver amazing customer experiences across all service channels.