Administer Social Studio
Learning Objectives
After completing this unit, you'll be able to:
Navigate Social Studio.
Manage roles and users.
Navigate Social Studio
Now that you've got an idea of what Social Studio is, it's time to get into the fun stuff. We're going to take a look around Social Studio and show you where to find all the tools you'll fall in love with. 
In this module, we assume you are a Social Studio administrator with the proper permissions to manage users, workspaces, social accounts, and topic profiles. If you're not an administrator for Social Studio, that's OK. Follow along to learn how your administrator would set up your company's Social Studio account. Don't try to follow these steps in your Trailhead Playground. Social Studio isn't available in the Trailhead Playground.
To log in to your Social Studio account, navigate to https://socialstudio.radian6.com.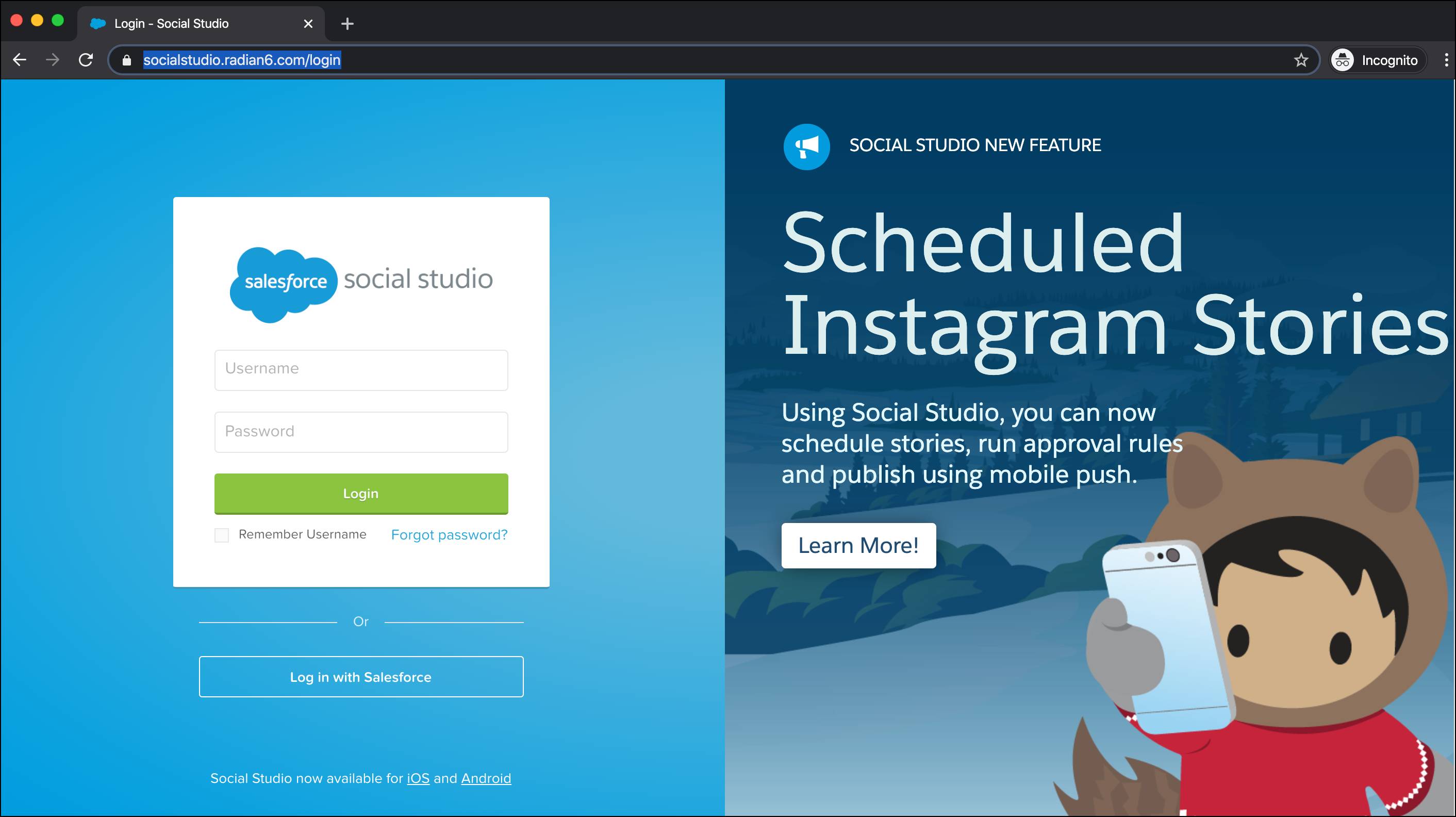 Similar to the Lightning Experience navigation bar in Sales Cloud, the Social Studio main menu navigation is easy to use and gives you a consistent way to navigate in the app. As a Social Studio admin or user, you'll become familiar with the main interface and workspaces. Outside of your individual workspaces, your main navigation tabs are:
Workspaces—a central place for managing content.
Performance—where you access all of your engagement reports.
Page Assist—access help as you navigate around Social Studio and get context-sensitive information on what you are doing in the app.
Workspaces
Let's start by exploring workspaces. This view is the first thing you see after you log in to Social Studio. You'll spend most of your time inside the Workspace tab—it's where you schedule posts, approve content, add users, and more. You can always add more workspaces to your Social Studio account and share them with other team members. 
Performance
The Performance tab includes two categories of predefined reports: Post reports by social network and specific social network account reports. Use these reports to measure how content is performing (either in real time or past performance) and view analytics. You can customize and download these reports.
Page Assist
Access Page Assist by clicking on the question mark. This opens an in-app drawer for searching all documentation and seeing Social Studio recommended documentation for the area of the application you're currently using. Page Assist helps you right when you need it.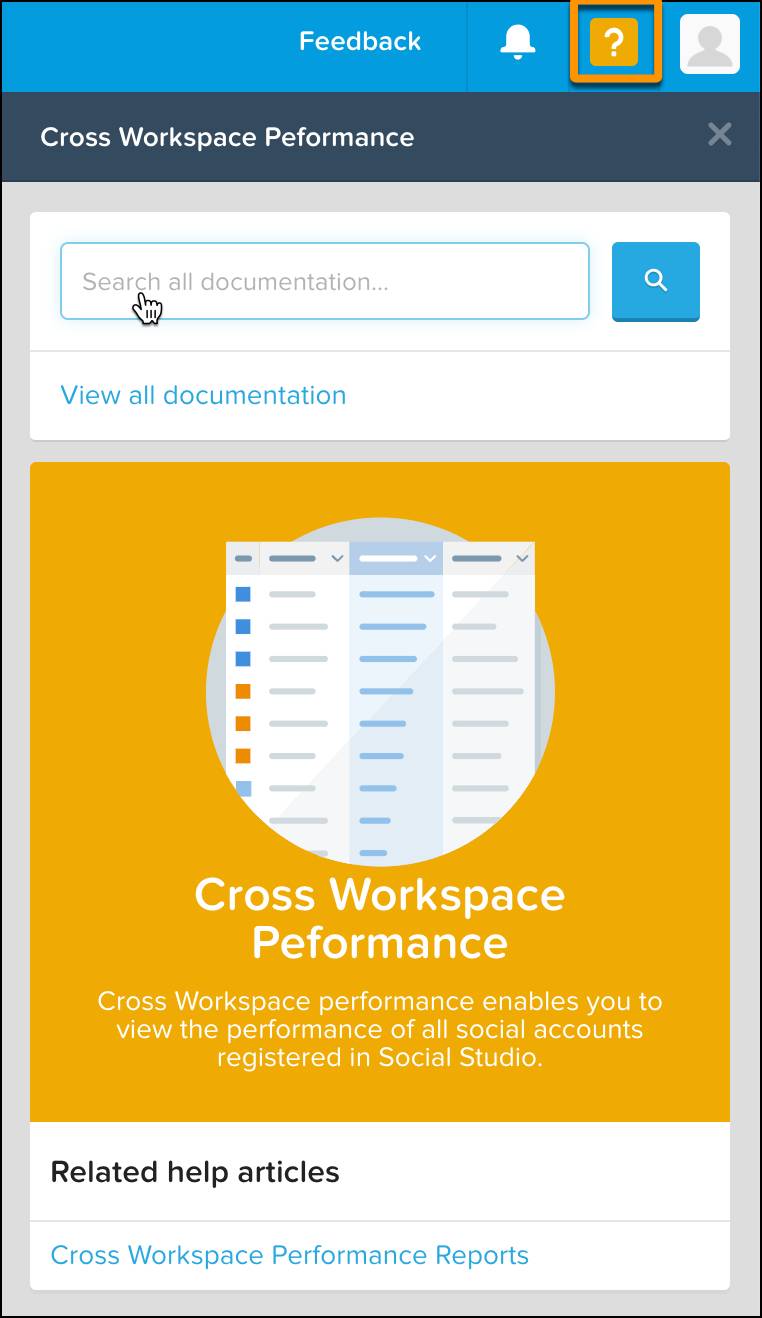 Now that you're familiar with Social Studio's navigation, let's review user roles and permissions. 
Get to Know Users and Roles
The top-level structure within Social Studio is referred to as a tenant. Workspaces exist within the tenant. You can use your Social Studio account with any number of workspaces. Social Studio users can belong to as many workspaces as you'd like, and you can customize each workspace by authorizing social accounts for it. This diagram shows the relationship between your Social Studio tenant and the users and workspaces it can contain.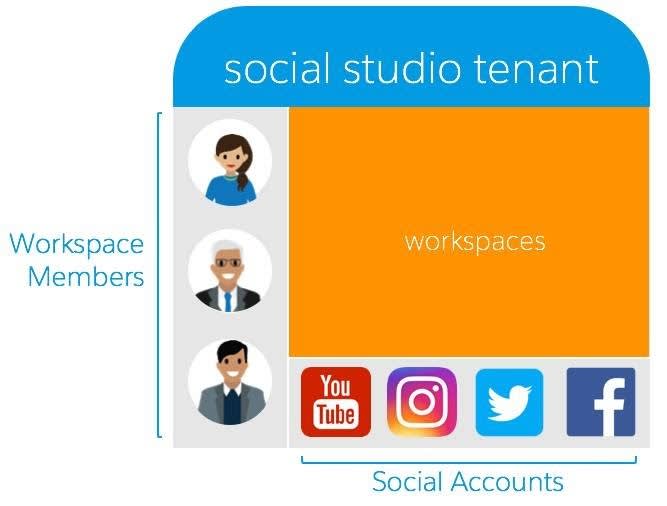 There are two ways that access is assigned in Social Studio: user roles and workspace member roles.
| Role Type | Description |
| --- | --- |
| User Roles | Allows for provisioning and user creation, and defines admin actions a user can take in a tenant. |
| Workspace Member Roles | Defines the actions a user, called a member, can take on social accounts and topic profiles within a workspace. |
User Roles and Permissions
As a user, you have only one user role assigned in your Social Studio tenant. However, the workspace member role that you or any other Social Studio user is assigned can differ depending upon the workspace. 
Your user role defines the kinds of actions you perform in a tenant. It also contains permissions for resource management inside your Social Studio tenant. There are four types of user roles: Admin Only User, Super User, Full User, and Basic User. Let's take a closer look at each type.
User Roles

Permissions

Admin Only User


Create, edit, and disable all types of users
Add Basic, Full, and Super Users to any workspace
Create, edit, and delete social accounts
Manage and edit organization settings
Can't create content or engage with content

Super User


Manage all users and settings
Edit and view all workspaces
Add social accounts
Create, edit, and delete all macros

Full User


Edit their own user settings
Create workspaces and edit or delete them
Add social accounts
Create, edit, and delete macros

Basic User


Edit their own personal information
View content in workspaces of which they are a member
View and edit posts they created
Apply macros to posts
Workspace Member Roles and Permissions
Workspace members are users in a workspace and can contribute content to social accounts. Members can belong to one or more workspaces. Your assigned workspace member role determines your permissions and access. 
Workspace Member Role

Permissions

Admin


Manage users, social accounts, permissions, settings, and labels
Create Publish macros
Publish content to all accounts
Create approval rules

Contributor


Publish and Engage with any social account in the workspace
View access to any social account in the workspace

Limited Member


Publish and Engage rights granted on an account-by-account basis by workspace admin
View content within a specified workspace, including the calendar and performance
View and manage personal information and anything shared with them
These workspace member roles are important as they control how users can contribute inside a workspace—something to keep in mind as you create new workspaces, which we cover in the next unit. Stay tuned!
Resources