Add Topic Profiles
Learning Objectives
After completing this unit, you'll be able to:
Describe topic profiles.
Create a topic profile with filters.
Topic Profiles
Marketing Cloud Social Studio uses topic profiles for monitoring the discussions of your company's social accounts and broader conversations. Topic profiles are important as they collect and group social posts across the web and are used throughout our social products. A topic profile includes three main components. 
Keyword groups—Define groups of keywords used in social posts to filter what posts are included or excluded in your topic profile.
Filters—Refine the social posts included in your topic profile by selecting specific languages, media types, and regions.
Source groups—If needed, select an RSS feed, Twitter handle, or URL to define specific sources for your topic profile. You can also include all content, exclude all content, or include only keyword matched content from these sources.
Create Topic Profiles and Keyword Groups
You can create a topic profile from the Social Studio Admin page, the Analyze Dashboard, or Workbenches.  
Once you have a topic profile created, you also need to add a keyword group to help gather better results. You can create one keyword group or multiple groups based on your use case. For example, you might want one keyword group for your brand and one for your competitor. 
Keyword Logic
The key to effective topic profiles and specifically keywords is to create unique keyword groups using logic operators. It's important to understand the differences between these operators so you can use them to your advantage. Let's take a look.
Operator

Description

AND

The results contain keyword1 and keyword2. Both keywords are present in the result.

For example, to listen to outdoor enthusiasts who are discussing your brand, use the AND+ operator to enter camping AND+ your brand name. Repeat this by combining hiking and your brand name, and so on. This operator returns all posts that contain both keywords together or separate but within the same post.

OR

The results contain either keyword1 or keyword2. The OR operator is implied when you add multiple keywords within one keyword group field, unless you specifically choose a different operator.

For example, if you are building a topic profile to understand how people are discussing the outdoor industry, enter the keyword camping and the keyword hiking. This returns all posts that contain the keywords camping OR hiking.

NOT or EXCLUDE KEYWORDS

Results include only keyword1 but not keyword2.

For example, if you are building a topic profile about the outdoor industry but don't want results for a specific product that you don't sell, enter camping NOT- campground.

Combined Logic using OR, AND

Combines the two operators for use in the and contains field. It also pairs the AND logic with OR. This option returns results with keyword1 OR anything with keyword1 AND keyword2.

For example, camping OR camping AND tent.

AND CONTAINS KEYWORDS

Use this field to add a second list of terms. Any terms in your original keyword list match with one or more terms in AND CONTAINS. Use the logical operator to match several generic terms with your brand, company name, or products.

For example, rather than entering multiple combinations of keywords with your brand name in the first keyword field, use this field for your brand name. Doing this ensures that all posts that include keywords you entered in the first keyword field are combined with your brand name (or combinations of your brand name) that you enter in the AND CONTAINS KEYWORDS field.

Practice with the Trailhead Simulator
Let's see this in action as we use the Trailhead simulator to create a topic profile and keyword group for the NTO team. As a reminder, the Trailhead Simulator is different from a Trailhead Playground. The simulator doesn't store your progress. If you close your browser, the simulation starts from the beginning each time you launch it. Use the navigation controls at the bottom of the simulator to get back to where you left off. For the best experience, view the Trailhead Simulator on a laptop or desktop computer.
Also note that not everything is clickable in the simulator, just the steps that are laid out below. When you click in the wrong spot, highlighting shows you where to click.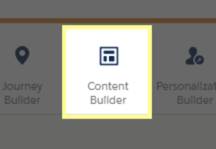 Add Topic Profiles
Launch the Trailhead Simulator and click Begin.
From the Social Studio App, click the Profile icon in the upper right corner, then select Admin.
From the Admin page, click + Add New in Topic Profiles.
Under Create Topic Profile, type NTO Topic, then press Enter or Return.
In the Keyword Group 1 field, type NTO Products, then press Enter or Return.
To help you analyze the data that your topic profile returns, select a keyword group type from Competitor, Brand, or Industry.
Click the Type dropdown field, then select Brand.
Next, we add keywords under Contains Keywords:
Click + Add Keywords, then type NTO. Press Enter or Return.
Click Done.
Follow these same steps to add Northern Trail.
Then under And Contains Keywords:
Click + Add Keywords, then type Hiking. Press Enter or Return.
Click Done.
Click +, then type Camping. Press Enter or Return.
Click Done.
Now click Create Keyword Group.
Once a keyword group is completed, you can also add filters for languages, media types, and regions. Let's practice these steps.
To add a language filter, click Languages.
Deselect Select All.
Next, select languages to include in the topic profile.
Select English and French.
Click Save.
Then select media types to include in the topic profile.
To add a media type filter, click Media Types.
Deselect Aggregator and Buy/Sell.
Click Save.
Select geographic regions to include in the topic profile.
Click Regions.
Deselect Select All.
Select United States and United Kingdom.
Click Save.
Finally, source groups can help fine tune your topic profiles by only displaying sites you want to include (or possibly exclude) from your results. To include or exclude feeds from specific sources, follow these steps. 
Click Add/Remove Source Groups next to Source Groups.
Select Facebook and then click Save.
Click Save Topic Profile.
Great job, you've completed the simulation and are ready to add topic profiles! 
Optimize Topic Profiles
To get the most out of your created topic profiles, follow these tips.
Refine your data. After you add keywords, validate your results to ensure the topic profile is relevant and minimize noise (off-topic posts). See how people are discussing your brand and modify your topic profile.
Enhance keyword groups with proximity.  When entering a keyword, enter ~ before finalizing. Then to adjust the proximity, click ~0. Use the slider to set the proximity up to 20 words apart. For example, setting the proximity at 5 means that both keyword1 and keyword2 appear in the post within 5 words of each other.
Remove or modify generic keywords. If you use abbreviations or acronyms for keywords, you can get off-topic posts due to duplicate meanings. For example, instead of adding "IT" for information technology, add a modifier like "Healthcare IT" to specify the keyword.
Reduce load times. Avoid long strings of keywords or using more than 60 keywords in a topic profile. Don't use more than 30 'DOES NOT CONTAIN' keywords in a topic profile. Avoid short, common keywords or exclusion words, such as "and" or "the" or "it."
Use source groups as needed. These are available at the tenant level of your account. Set the source groups to public to let everyone in the organization use them.
Consider filters. Refine the regions, languages, and media types.
Audit your topic profiles.  Minimize the number of topic profiles and audit their use cases to avoid data duplication. If you create a topic profile for a limited use, consider ways to reuse it. Deactivate ones you no longer need.
Now that you understand topic profiles, let's get sentimental. In the next unit, we explore the sentiment model.
Resources