Create SMS Messages in Journey Builder
Learning Objectives
After completing this unit, you'll be able to:
Add an SMS activity into a journey.
Review SMS performance in Journey Builder.
SMS in Journey Builder
According to our recent State of Marketing study, we found that 40% of customers won't do business with a company if they can't use their preferred channels. And 69% of customers expect a connected experience. Tackle this expectation using strategic, multichannel journeys in Journey Builder. In this unit, we review the SMS activity in Journey Builder and how you can enhance your new and existing journeys using SMS. 
Entry Source and Personalization
Where to start? The beginning of course. For Journey Builder the beginning is the entry source—or the audience—for your journey. To use SMS in Journey Builder, you need to confirm that your entry source (often a data extension) includes a normalized phone number (country code + phone number with no dashes or parentheses). This is required data in your data extension before you can use SMS in Journey Builder. 
You can also use the Journey Builder entry source attributes to personalize your SMS messages. Journey Builder first attempts to pull the attribute value from your journey's entry source. 
For example, the welcome journey for Scott's Restaurant uses an entry source of a filtered data extension, named Scott's New Customers. This data extension includes a phone number and first name fields. If you add personalization (say Scott's wants to use a customer's birthday in a message), Journey Builder attempts to pull the attribute value from the contact record in the MobileConnect demographics table. If no value is found, the default value is displayed. So be sure to set a default value.
Create SMS Activity in Journey Builder
Let's follow along as Simone from Scott's adds an SMS activity to her welcome campaign in Journey Builder. After selecting the currently running welcome journey in Journey Builder, she first makes a new version of the journey. She has determined that she wants to send a text if the customer hasn't clicked on the first email message. So she adds an engagement split after the first email and then she selects and drags the SMS activity to the canvas. After clicking the SMS activity to begin, she adds an activity name and description: "Scott's welcome text." Then she clicks New Message.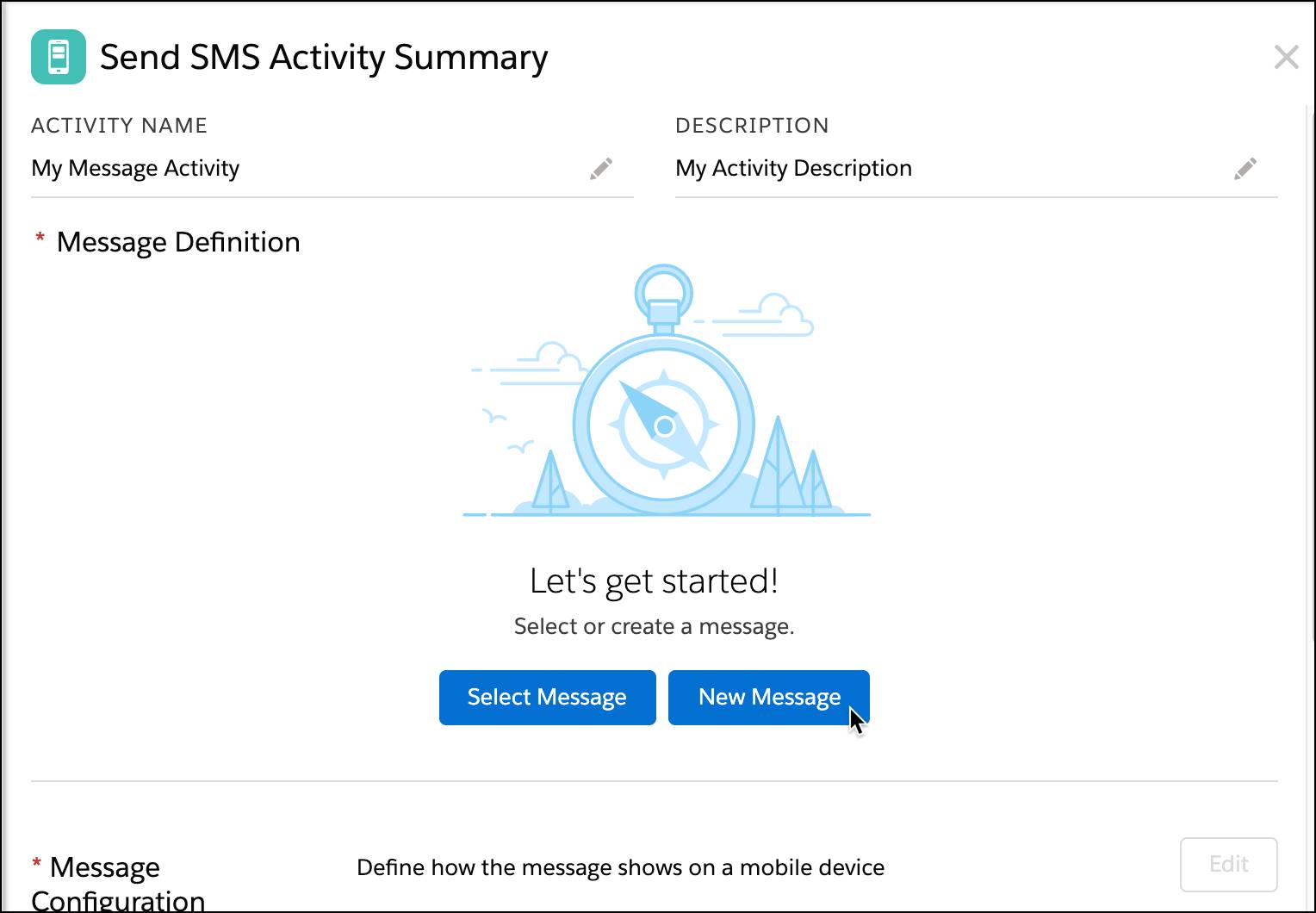 From the next screen, Simone adds the full text message that include Scott's restaurant website. She decides to shorten the company URL so she clicks Shorten URL (1), and then Apply.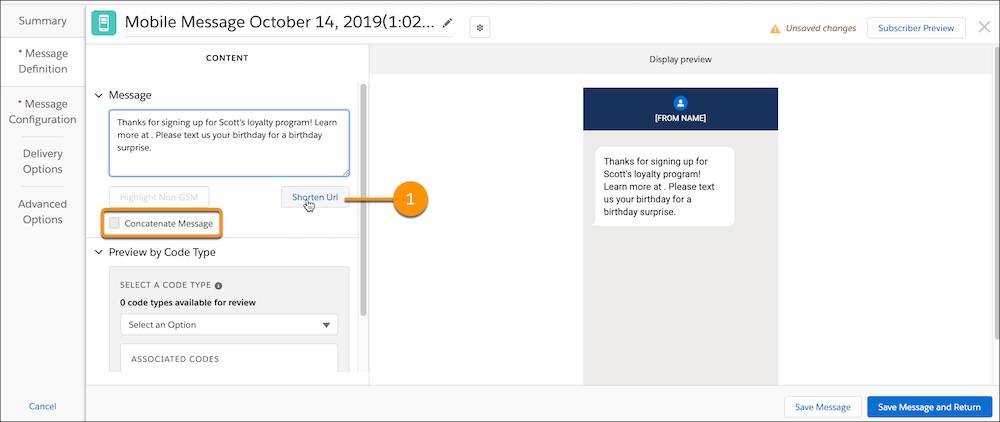 Notice the Concatenate Message checkbox in the Content pane. This allows you to send multiple messages as one long message. Concatenation only displays when you select a short or long code for a location that allows concatenation. This feature is not supported in the US, but you can learn more on the help page, Message Concatenation.
Simone reviews her work and then clicks Save Message and Return. From the Send SMS Activity Summary screen she can edit the message, select a different one, or create a brand-new message.
She is happy with the message selected, so she clicks Edit next to Message Configuration. From this screen she selects the customer short code to send the message from and she accepts the opt-out policy. When done, she clicks Delivery Options.
She sets a blockout window from 10:00 PM to 8:00 AM and then reviews Summary. Finally, she previews the message by clicking Subscriber Preview. Once satisfied, she clicks Done.

And with that, Simone has added an SMS message to Scott's welcome journey. She then tests the journey before activating.
Journey Builder SMS Analytics
In addition to running a standard report, once a journey is active, you can view quick performance analytics by clicking the SMS activity in a running journey. From this screen, you can see the delivery rate of the messages sent or click View Details to see goals and ecommerce data (if available). You can also click Summary under the dropdown to view more information about the SMS.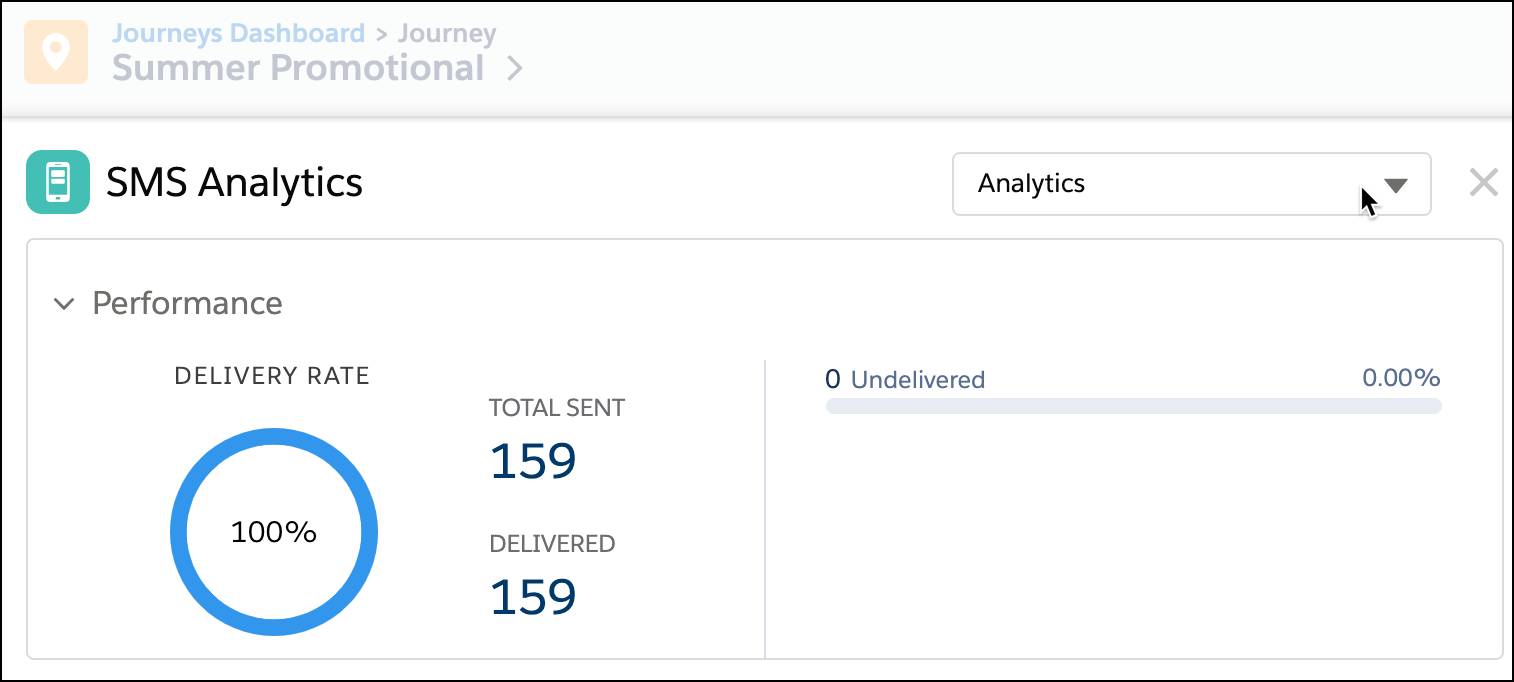 In this module, you have implemented SMS, created messages in MobileConnect and in Journey Builder, and you have analyzed performance. You are all set to explore the world of SMS sending. Show off your new acronym skills with your BFF (best friend forever) and go forth and impress your customers with timely, relevant text messages. E123 (easy as 1-2-3). 👍
Resources