Discover Slack-First Service
Learning Objectives
After completing this unit, you'll be able to:
Explain how Slack supports your service teams and processes.
Describe how Slack helps maximize team effectiveness.
Explain how Slack helps service teams resolve customer escalations and cases faster.
Slack Is Where the Future Works
Slack is your company's virtual headquarters. It connects everyone in your business and supports the way people naturally work together—in real time or not, in person and remote, structured and informal.
It's where conversations come together, information can easily be found, collaboration is seamless, and your team's favorite apps are connected in one place. Slack encourages knowledge-sharing across the organization and gives everyone direct and instant involvement with ideas—and the people who have them. 
Slack helps you across three main pillars.
People: Slack is the simplest way for teams to move fast, stay aligned, and feel connected.
Partners: Access the world's largest and most secure network for business collaboration.
Systems: Centralize business processes to deliver the shortest path from data to action.
In short, Slack is where the future works.
Introducing Slack-First Service
In today's world, companies need to meet their customers where they're at. Gone are the days where a customer would call your company, navigate a complex phone tree of choices, and wait on hold for assistance. These days, customers may contact you through a wide variety of channels, including phone, email, text, chat, social media, your website, a chatbot—the options are extensive, and the list continues to grow.
But behind all of those technologies, there are two humans—your customer and your customer service professional—who need to connect. For that connection to happen, you need to transform your service organization into a connected service team. 
Now, you've probably already invested in helping your customer service professionals build the skills needed to wow and delight your customers. This includes skills like:
Empathy
Active listening
Persuasive speaking skills
Communication skills
Adaptability
Patience and compassion
Problem-solving skills
Time management
These skills are essential for any customer service professional to be successful, but they're also necessary for any company looking to offer Slack-first service. That's because any modern service organization not only is managing a case load from across a myriad of channels, they're also handling specialized inquiries and situations on a daily basis, including:
Conducting research and investigating support issues
Providing customer feedback to the product organization
Writing bug reports for engineering teams
Collaborating on customer escalations, complex issues, and critical incidents
Providing personalized service for key customers
The complexity of today's customer service needs—from monitoring multiple channels to providing customer feedback to collaborating on urgent or complex issues—requires a modern solution for connected service. And all of this is underscored by our changed world, where customer expectations are higher than ever before, and building customer loyalty is crucial for your long-term success. Service professionals have to be adept at finding answers quickly, solving problems for customers, and bringing the right experts in at the right time. 
In this new landscape, Slack can help your service team work even more efficiently. When everyone collaborates in Slack, they're using a tool that is: 
Optimized for streamlined interactions with members of the customer service organization and extended team members, including product, engineering, and other teams
Integrated with CRM, so that everyone has visibility into account information, order history, and support case history
Searchable to find answers and knowledgeable experts quickly, to resolve customer issues faster
From collaborating with internal experts to troubleshooting in real time, your customer service professionals need access to answers and experts on demand, as well as customer information, including past orders and support inquiries. Slack provides both that access and visibility. This is what it means to think Slack-first for service.
When the connection between your customer and your service professional happens, customer satisfaction grows and your customers are happier.
Resolve Cases Faster Using Slack
Slack is not only a powerful tool to unite your customer service organization, it also works seamlessly to bring in all necessary players, from supporting departments to external stakeholders. Within Slack, you can create designated, organized channels where service team members can readily discover important information and connect with the right people. All of this is built right into Slack, where you can create service-related workflows and automation, and take advantage of native integrations to support the service use case.
Slack provides a central place for everyone in your customer service organization to collaborate on customer inquiries and resolve issues. You can also bring in experts from related departments at the appropriate times. For example, if your customer service professionals notice a theme in feedback from customers, they can share it with the product team, amplifying the voice of your customer and getting the feedback to the right team. Creating a workflow for notifications—and integrating Salesforce to view and take action on case records right in Slack—makes this process even more efficient and trackable.
Because Slack is fully searchable, your customer service professionals can search across files, messages, and channels to find relevant content, documents, and answers to common inquiries. They can message experts across your company, reducing the overall time to resolution. 
Finally, Slack helps you bring external stakeholders, such as customers and partners, into important conversations via Slack Connect (available as part of every paid Slack plan). A customer service organization can create channels and invite in key customers or partners to provide personalized service, and collaborate and troubleshoot issues in real time.
With Slack, supporting players can come in and out of service channels as necessary, so they can participate at the right time. For instance, a workflow might alert your engineering team when there are a certain number of cases about a new feature. That way, your engineering manager can engage at the right moment.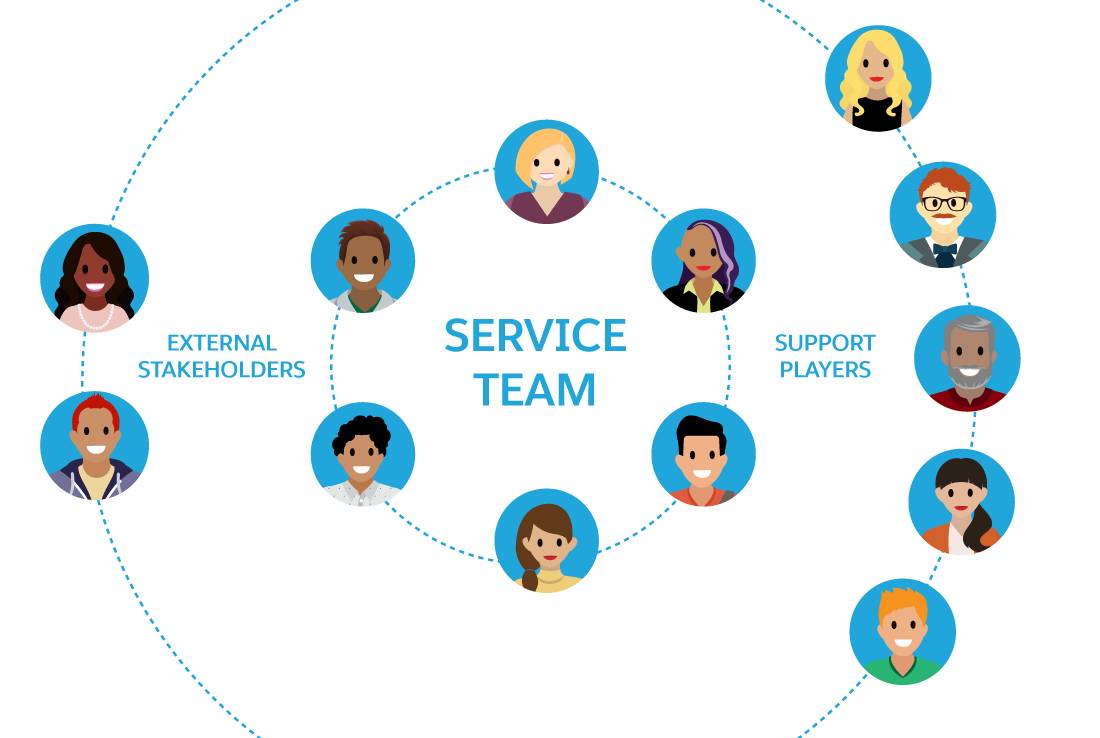 The diagram above shows how your service team works together in Slack, with supporting teams and external stakeholders coming in and out of conversations as needed. 
Your team—help desk agents, managers, service leaders, service ops, field service technicians, and domain experts—can use dedicated Slack channels to exchange in-context info and collaborate on customer cases and other projects. Supporting players from Product, Finance, Marketing, Sales, and Legal can work directly with you in Slack to provide information and approvals needed to resolve a case or incident. And you can invite external stakeholders, such as customers and partners, to work with you in shared channels via Slack Connect.
Swarm on Customer Escalations in Slack
Most customer service organizations find themselves swarming on at least one case daily. Whether you use the term "swarm" at your company or not, the idea is that a group of people at your company works together quickly on a high-priority issue impacting one (or more) customers. 
If you're picturing how a swarm occurs in nature, you're probably imagining a dense cluster of bees, frantically flying through the sky, buzzing loudly, and causing general angst. And before a tool like Slack existed, that might have been what a customer service swarm sometimes felt like, too. But with Slack, your swarm can be organized, thoughtful, and intentional.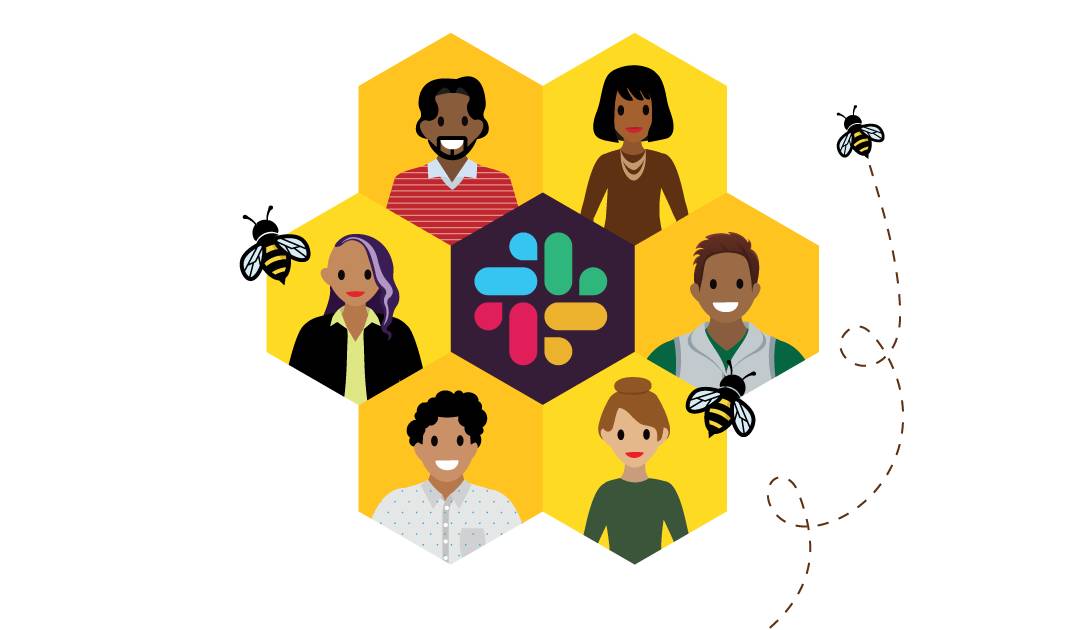 Here's how a typical swarm might work.
Support case created
Triage and troubleshoot case
Swarm initiated, if help needed to resolve the case
Swarm channel created in Slack
Swarm team members added to the channel
Swarm team members collaborate to resolve the issue; additional team members added to the channel as needed
Next actions recorded on the support case
Goal achieved; support case closed, customer contacted, and Slack swarm channel archived
End swarm
The Future of Service Is Slack-First
Let's take a look at how service teams can thrive in a Slack-first environment.
| Traditional Service | Slack-First Service |
| --- | --- |
| Send an email to an internal expert and place the customer's case on hold pending a response. | Create a Slack channel where your internal experts can answer questions in real time. |
| Organize an internal conference call for team members to troubleshoot and resolve critical escalations; issues may take days to resolve. | Swarm on critical escalations in dedicated, temporary channels, resolving the issue within hours. |
| Send an email to a product manager to share a theme you're seeing in customer feedback. | Set up a Slack channel for customer feedback, and establish a strong relationship between the customer service and product teams. |
| Maintain a running list of assets, resources, and answers to common inquiries for future use. | Search across Slack files, messages, and channels with AI-powered search. |
Now you know what Slack-first service is and how Slack can help your team close cases and resolve customer inquiries faster. In the next unit, we take a look at four things you need to think about when getting started with Slack.
Resources