Discover Slack-First Sales
Learning Objectives
After completing this unit, you'll be able to:
Explain how Slack supports your sales teams and processes.
Describe how Slack helps maximize team effectiveness.
Explain how Slack helps sales teams close deals faster.
Slack Is Where the Future Works
Slack is your company's virtual headquarters. It connects everyone in your business and supports the way people naturally work together—in real time or not, in person and remote, structured and informal.
It's where conversations come together, information can easily be found, collaboration is seamless, and your team's favorite apps are connected in one place. Slack encourages knowledge-sharing across the organization and gives everyone direct and instant involvement with ideas—and the people who have them. 
Slack helps you across three main pillars.
People: Slack is the simplest way for teams to move fast, stay aligned, and feel connected.
Partners: Access the world's largest and most secure network for business collaboration.
Systems: Centralize business processes to deliver the shortest path from data to action.
In short, Slack is where the future works.
Introducing Slack-First Sales
Sales is a balance of soft skills and technical skills. A successful salesperson manages both the relationship with the customer or prospect, and the data stored about those interactions.
Some of the most important soft skills for salespeople include:
Building trust and rapport
Asking good, open-ended questions
Listening
Understanding the customer
Overcoming objections and negotiating
Establishing and maintaining strong relationships
Some of the critical technical skills for salespeople include:
Collecting and recording data in your CRM
Following your company's established sales procedures
Building and delivering effective presentations and demos
Systematically following up with and closing leads and opportunities
Chances are, you and your sales teams live and breathe this balancing act every day. You're nurturing new leads and opportunities. You're spending time on routine tasks, like keeping your opportunity records updated. And you're adapting to a changed world, by being creative and finding new ways to deepen relationships throughout the sales cycle. For successful salespeople these days, it's less about in-person visits and more about hosting effective web conference calls and using collaboration tools wisely. And it's about removing friction from the sales process and making every minute count. 
In this new landscape, Slack can help your team work even more effectively. When everyone collaborates in Slack, they're using a tool that is: 
Optimized for streamlined interactions with members of the sales team, partners, and customers
Integrated with CRM, so that everyone has visibility into account information
Automated to reduce routine tasks and move deals through the pipeline more quickly
From triaging and qualifying leads to delivering customer presentations, your entire team has to be aware—at least at a high level—of where leads are in the sales process, as well as what steps to take next to move them through the funnel. Slack provides that visibility. This is what it means to think Slack-first for sales.
Close More Deals Using Slack
Slack is not only a powerful tool to unite your sales team, it also works seamlessly to bring in supporting players, so they can participate at the right time. For instance, a workflow might alert your legal team when an opportunity reaches the contract negotiation stage. That way, legal experts enter the process exactly when they need to.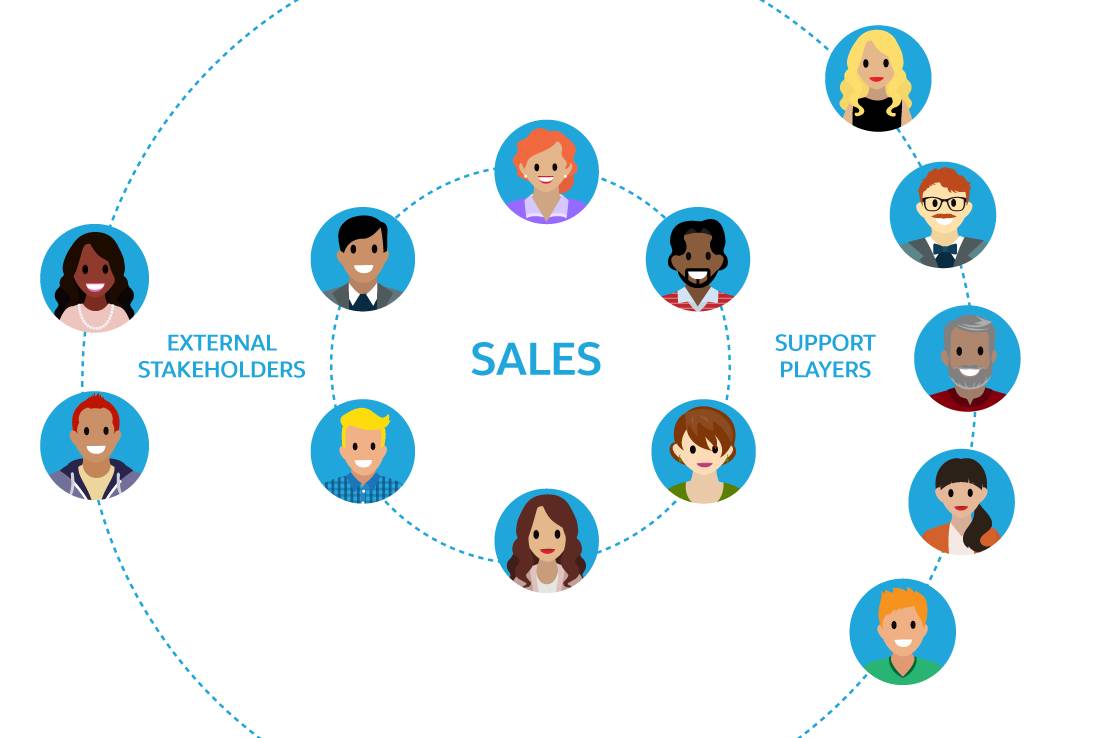 The diagram above shows how your sales team works together in Slack, with supporting teams and external stakeholders coming in and out of conversations as needed.
Your team—reps, managers, sales engineers, sales ops, executives, and sales development reps—can use dedicated channels to provide in-context info and collaborate on deals at every stage of the process. Meanwhile, you can share information and get approvals from experts in Finance, Product, Marketing, Service, and Legal. Finally, sales teams can build deeper, differentiated relationships with customers and partners by connecting with them securely in shared channels via Slack Connect (available as part of every paid Slack plan). Both parties can regularly check in, exchange feedback, and update one another on progress or blockers. Product experts can instantly be added to the channel, review the history of past conversations, and address any customer questions. When it's time to close the deal, finance and legal team members can be looped in to hash out the final details with the customer.
The Future of Sales Is Slack-First
Let's take a look at how sales teams can thrive in a Slack-first environment.
| Traditional Sales | Slack-First Sales |
| --- | --- |
| Add people to a lengthy email thread of replies; a meeting may be required to get clarity and take action. | Post in a project-based channel to quickly loop in colleagues, partners, and experts who can help make decisions in real time. |
| Set up a meeting next week for the sales team, based on everyone's availability. | Create a Slack channel for collaboration; when a live conversation is needed, start a huddle. |
| View account details in Salesforce; manually copy and paste information into emails, chats, or other collaboration tools. | Integrate Slack with Salesforce to allow key account details to be viewed by everyone at your organization within Slack. |
| Set up a meeting with your colleague to learn what worked and what didn't in their last deal cycle. | Create a channel for your teams to share best practices, resources, and lessons learned. |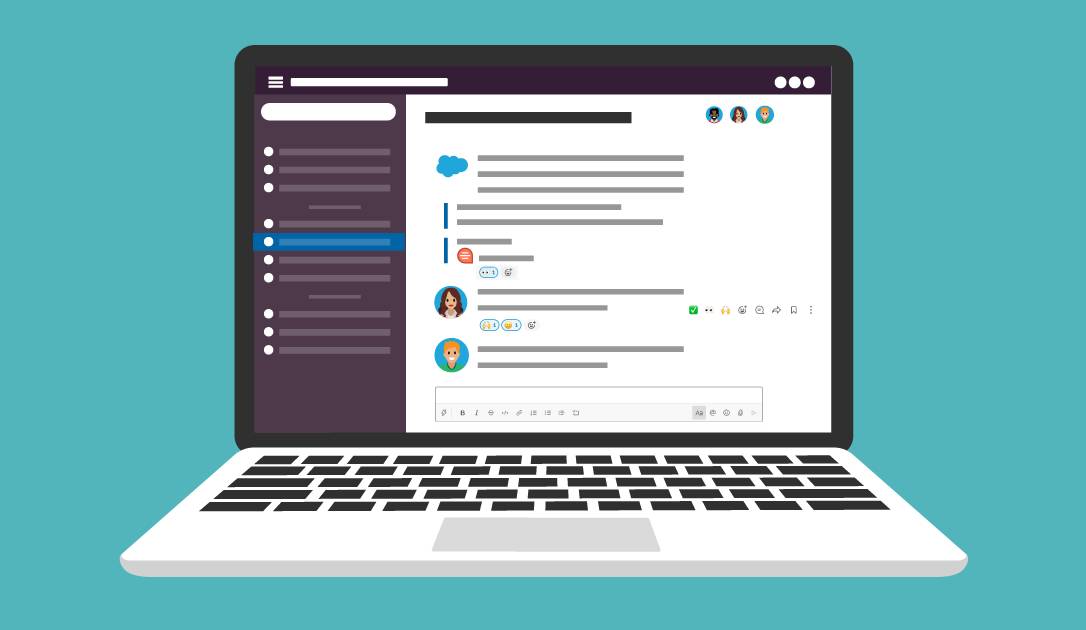 Now you know what Slack-first sales is, and how Slack can help your team close deals faster. In the next unit, we take a look at four things you need to think about when getting started with Slack.
Resources