Create a Plan to Bring Slack-First Thinking to Your Sales Team
Learning Objectives
After completing this unit, you'll be able to:
List four categories to consider before you roll out Slack to your sales team.
Explain how to use workflows and integrations to maximize your use of Slack.
Get Ready to Bring Slack to Your Team
You've seen how much potential Slack has to supercharge your sales processes. Maybe you're convinced that now's the time to get your team using Slack—or, if you already use Slack, to get them using it better. But before you dive in, remember that if you want any big change to be successful, you have to plan ahead. And you have to keep gathering data and making continuous improvements to make sure you're getting the most out of Slack. 
So before you roll out Slack to your team, think about these four things.

Naming conventions. How should you name your channels? How can you organize them so that team members can easily find the right place for the right conversation?
Workflow. What are your highest-priority workflows? How can you bring these workflows into Slack to trigger key events and approvals?
Integration. What third-party systems should you integrate with Slack? How can you support your most important workflows with integrated apps and tools?
Behavior. What user behaviors do you want to encourage? How can you train team members to use Slack consistently and efficiently?
We cover each of these in this unit.
Naming Conventions
As you set up your sales channels in Slack, think about how you group and organize conversations. A best practice is to develop a set of channel naming conventions and guidelines that you share across your organization. 
Here are a few examples.
Channel Name

Description


#sales-announcements

Create a channel for announcements relevant to the entire sales team, such as Sales Performance Incentive Funds (SPIFs).

#sales-wins 

Create one channel in which you celebrate closed deals and other team wins.

#sales-amer-commercial 




Create one channel for each org or team (or combination).
Use this channel to forecast and coordinate team-level work and activities.

#ext-cloud-kicks

Create one external channel for each account.
Use this channel to connect directly to your customers through Slack Connect.

#sales-leads-amer-commercial

Create one channel for each org or team to which you assign leads.
Use this channel to collaborate on tasks related to that lead.

#sales-cloud-kicks

Create one internal channel for each account.
Use this channel as a searchable log of all the things related to a particular customer, and as a launchpoint for workflows.

#sales-help-solar-controller-hub

Create one channel per product or product line.
Use this channel to get help from the product team.
Consistent names help your team find the right channel, and they help new reps get up to speed quickly. And adding prefixes—like #sales for your team's core channels and #ext for channels shared with customers or external partners—means your channels will be grouped naturally in Slack.
Workflow
Workflows in Slack let you automate routine tasks. Start by identifying areas with high-priority and high-volume workflows. These are good candidates for streamlining. And consider highly manual processes that cost your reps valuable time.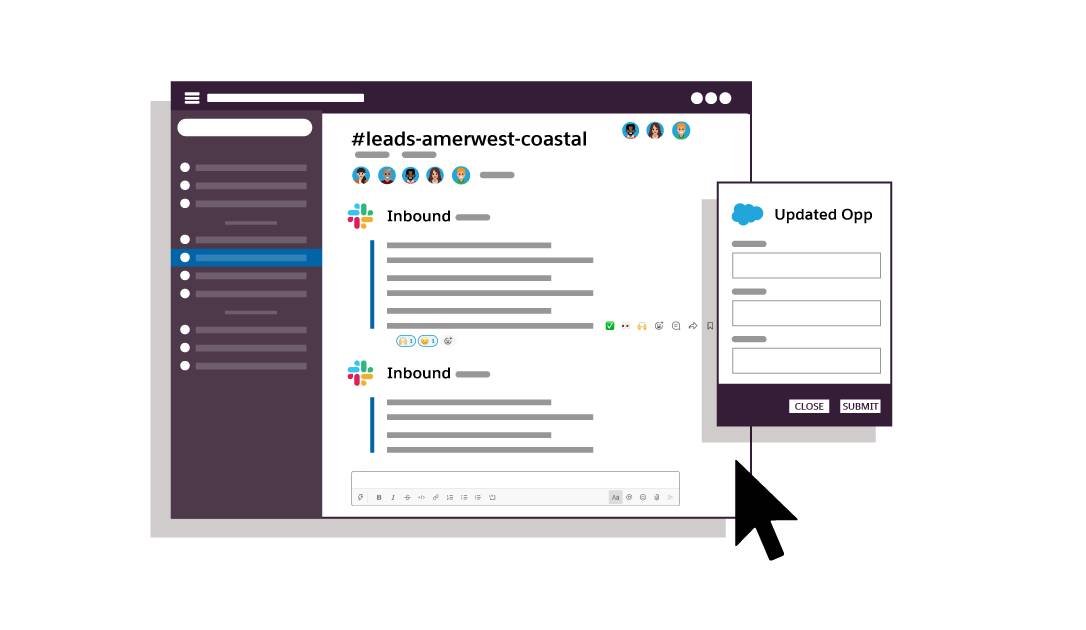 For example, your sales team can use the Salesforce integration in Slack to get lead notifications, scan and claim inbound leads, and log calls and meeting notes. They can listen to sales calls, create opportunities, and submit updates—all thanks to workflow automation in Slack. The team ensures no leads are left behind, and that every qualified lead gets a follow-up.
Another benefit of using Slack workflows to qualify and triage leads: Everyone on your sales team gets visibility to the lead pipeline. Too often, only lead qualifiers have a line of sight into this phase of the process, only bringing on the rest of the sales team later in the game. With this setup, your team increases transparency and engagement. If you really want to get creative, you can even gamify the process by creating a leaderboard in Slack, where reps can compare stats.
And consider the powerful potential Slack has to also help your teams close deals more quickly and effectively via integrated apps and tools.
Integration
Your team can optimize interactions with customers as well, using Slack Connect and third-party integrations. For example, in the past, getting customer approval might have required your reps to share and track documents manually. But with Slack workflows and integrated tools, tasks and reminders can be automated, and both the conversations and approvals can all take place via Slack.
Consider this example for how you can use integration to secure a customer's signature.
First, approval response notifications flow through the #sales-deal-room channel.
Next, sales reps initiate huddles with the account and legal teams to discuss the contract, go over redlines, and revise before sending to the customer. Virtually all of this process happens right in Slack, eliminating confusion and ensuring no parts of the contract fall through the cracks.
Finally, the rep uses an integrated third-party digital signature tool to send the updated proposal to the customer for signature and approval—all within Slack.
Integrating your existing tools and apps with Slack helps you maximize their value.
Behavior
Channels, workflows, and integrations are key tools for Slack-first sales. But tools are only as effective as the people who use them, so work with your team to establish guidelines for interacting in Slack.
Here are a few things your team might agree to do.
React to a message by adding a thumbs-up emoji to say, "I'm on it."
Pin important documents and resources to the channel, so newcomers can find them quickly.
Search for information first, before posting a question, in case the answer is already available in Slack.
Agreed-upon behaviors like these help you communicate with as little friction as possible. For more ideas, check out the Slack Etiquette and Productivity module.
And don't forget that one of the most fun things about Slack is that it helps you celebrate your team's wins.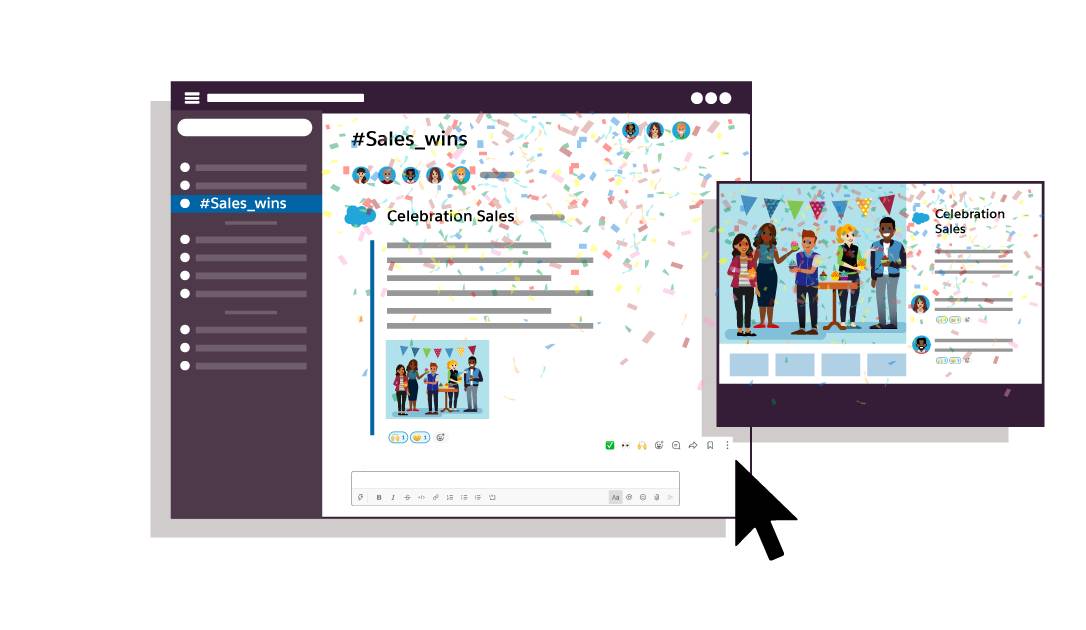 At the end of the day, we all want to be recognized and celebrated for good work, and Slack helps you do just that.
Want to Learn More?
If you're ready to take your Slack-first selling skills to the next level, check out the Slack handbook for sales teams. There you'll find even more tips for maximizing team efficiency, shortening deal cycles, strengthening partnerships, and connecting with customers.
Resources