Learn About Lightning Flow for Service
Learning Objectives
After completing this unit, you'll be able to:
Explain the value of using Lightning Flow for Service.
Describe an example use case and how a Guided Action List helps users.
Describe key features and benefits for Lightning Flow for Service.
Why Use Lightning Flow for Service?
Sales of solar panels are soaring, which is good news for Ursa Major Solar, a renewable energy company. But as sales ramp up, so does the case workload. Roberto, the company's COO, knows that ongoing success depends on service agents resolving cases quickly and consistently.
Roberto writes down some issues service agents have experienced as the case workload has increased.
Bumpy handoffs. Agents sometimes transfer calls when they don't know what to do, or a different agent picks up the call when a customer calls back. The agent guesses where in the process to begin, or starts over. Customers end up repeating themselves, which often annoys them.
Skipped steps. Agents sometimes miss a step in the triage process and come to the wrong conclusion. As a result, they can unnecessarily ship parts or schedule field service calls. Such mistakes add cost, delays, and customer frustration.
Lack of standards. There's little consistency in procedures. Customers lose confidence when they see agents address problems in strange ways. Sometimes customers get different answers in chat, on the phone, or from an on-site technician.
Not meeting compliance goals or business rules. Sometimes agents forget a step that's critical for safety, regulatory, or compliance reasons.
Roberto wonders if there's a way to coach new agents, make them productive quickly, and improve service quality.
Roberto reaches out to Maria, the company's stellar Salesforce admin, to see if she knows any tools that can give agents the direction they need.
Maria tells Roberto about Lightning Flow for Service. With Lightning Flow for Service, you use automation tools to create flows that display in a Guided Action List component on a record page, such as an Account, Contact, or Case page. When agents open the page, they see a "to-do" list. Clicking a step in the list launches a flow that does the heavy lifting, visually guiding them through the procedure.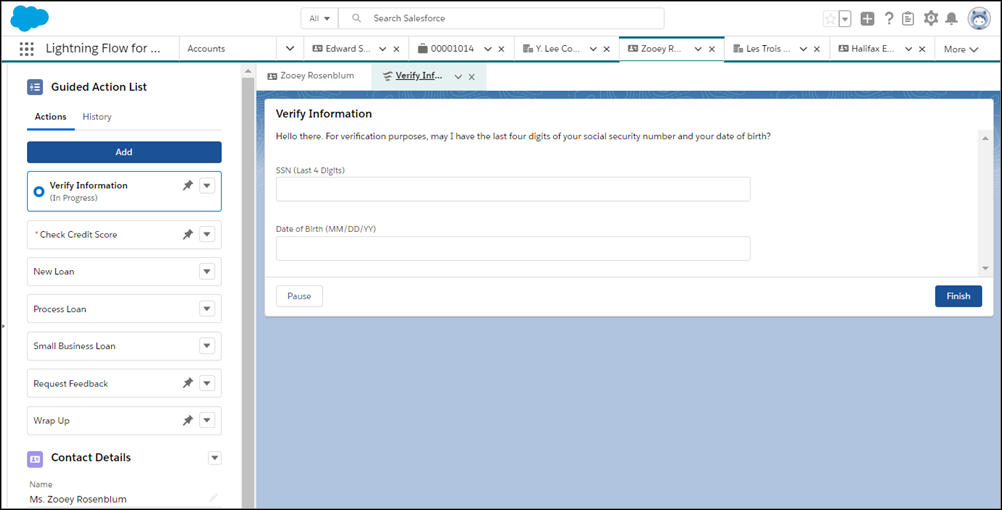 Give Workers a Roadmap
Maria predicts that Lightning Flow for Service will be great for Ursa Major's service agents. When agents click a step, an interactive flow launches and reminds them what to say and do. As they follow along, the flows update records with what they enter.
When agents have a defined path to follow, there's less stress and less guesswork. Maria gets excited because even "newbie" agents can see what to do next. The list helps them focus so that they can solve cases quickly. And customers see consistent procedures, no matter which agent takes the call or if a call is transferred to another agent.
But Maria wonders about the one-off situations, such as when there's a warranty claim, or when the customer uses chat rather than phone or email. Does the tool flex when an agent needs to do something a little differently?
On a roadmap, there's more than one route to a destination. While Lightning Flow for Service provides agents with a checklist, it still offers plenty of flexibility. Maria learns that she can design default Guided Action Lists, including different lists for the phone and chat channels. And she can set up actions that workers can add to a list as needed. That way, agents can be guided through tasks that they do less frequently, like the occasional warranty claim.
Step-by-Step
Maria discovers that she can show the Guided Action List component in console and standard navigation apps. In the Service Console, for example, list steps run in subtabs.
For field service, Maria can put a Guided Action List on a Work Type template. When the template is used to create a Work Order or Work Order Line Item, the list displays. Wow, Maria thinks, the Guided Action List can remind techs to put on their safety gear, and walk them through the full diagnostic panel. There's a better chance of a correct diagnosis on day one.
Chock-Full of Good Stuff
Maria makes a list of features and benefits to share with Roberto.
Feature
Description
Great For
Guide workers with a step-by-step list
When workers open a record, they see the Guided Action List. Selecting a step launches a flow that guides them visually through the task at hand. The flow launches in a console subtab, or in a popup window of a standard navigation app.

Reducing guesswork
Reinforcing training
Easing handoffs
Standardizing procedures

Create default lists for channels
The admin can set up a default list of actions for different touchpoints, such as phone and chat.

Customizing a default list for each channel
Supporting Live Agent and CTI

Show paused flows
Sometimes an agent or customer is missing information and can't complete a flow. The Guided Action List shows all paused flows associated with the record.

Help agents locate and resume paused flows
Complete procedures more quickly

Set up actions at the top or bottom of the list
Configure steps in pinned regions at the list's top or bottom, so users know to do those steps first or last. There's also an unpinned region for other steps.

Highlighting first and last steps
Letting users choose from common steps

Add more guided actions
When a user doesn't see a step that they need, they can add other actions to the list. The admin defines the subset of actions available to add.

Adding steps based on customer needs
Finding the right action fast

View the history of guided actions
On the History tab, agents see which actions have been started, paused, resumed, and completed, when, and by whom.

Simplifying handoffs
Letting users and supervisors grasp status quickly

Mark actions as mandatory
Mark actions, such as those required for safety or compliance, as important. When users close a mandatory action, they see a reminder to complete it.

Helping agents complete critical steps
Increasing compliance with safety, regulatory, and other goals
Maria thinks Lightning Flow for Service has great potential to improve customer service. Even new agents can focus more on the customer, and less time worrying about what step is next.