See Important Data with Related List Components
Relate Better to Related Lists
Since you've spent some time in Salesforce, you're probably familiar with related lists. Related lists are those helpful sections on a record that show you a variety of related items.
But sometimes information on related lists is too far down on a page. And if you're a support agent on the phone with a customer, you don't have time to hunt for a specific piece of data on a related list. Remember, you don't want your customer satisfaction score to drop because you put a customer on hold and forced them to listen to bad elevator music.
There's a way for everyone on your team to relate better to related lists. The answer is related list components. Related list components can rescue you, and your support agents, from searching and scrolling.
No More Scrolling Around
Do you like searching and scrolling for information on a page? Probably not. You might sigh or even gnash your teeth when you spend time searching for data related to a record. Now imagine what your support agents go through. They look at related lists every day. That's a lot of searching and scrolling and gnashing of teeth.
To reduce dental wear and tear, and to help your team find related list data more effectively, you can add related list components to a console. Related list components help you move data that's typically far down on a record's page into a sidebar, where agents can see it without scrolling.
If moving data from related records into a console component sounds familiar, it's because you've already done something similar.
In the Service Cloud Basics module, you created a contact lookup component on case page layouts. You created that lookup component so that support agents can automatically see or change customers' information right alongside cases—without searching or scrolling.
You can create a similar component for related lists. Since we already covered lookup components in Service Cloud Basics, we're going to dive right into related list components. No need to repeat!
Add an Activities Related List Component to Cases
Activities—tasks and events—are critical to solving customer cases. They show you and your support team which prioritized actions and meetings are scheduled to help close each case and keep your customers happy. Activities are on a case's related lists. And sometimes the Activities related list is looooooooong and requires some searching and scrolling.
To reduce searching and scrolling, let's move the Open Activities and Activities History related list on cases into a page layout component. The reason we'll add it to page layouts is because it will only appear on case records, not every record like a footer component.
From Setup, enter Cases in the Quick Find box, then select Page Layout.
Click Edit next to Case Layout.
At the top of the page layout editor, click Custom Console Components.
In the right sidebar for subtab components, choose the Stack style with a width of 400 pixels.
In Type, choose Related List and select Open Activities and Activity History. Also, choose Hide on Detail Page so that the related lists appear only in the sidebar and not on the detail page too. No need to repeat! Wonder why "Knowledge Sidebar" appears next to Right Sidebar in parentheses? That's because if you set up Salesforce Knowledge, you can add the Knowledge component to case pages so agents can easily find and work with articles.

Click Save, then Save on the page layout.
Click Back to Sample Console in Setup (1), or from the App menu, choose Sample Console (2).
Select a case. You might have to select Cases from the navigation tab.
If an activity is on a case, it appears as a component alongside the case for immediate access. Less scrolling and more productivity for your support team!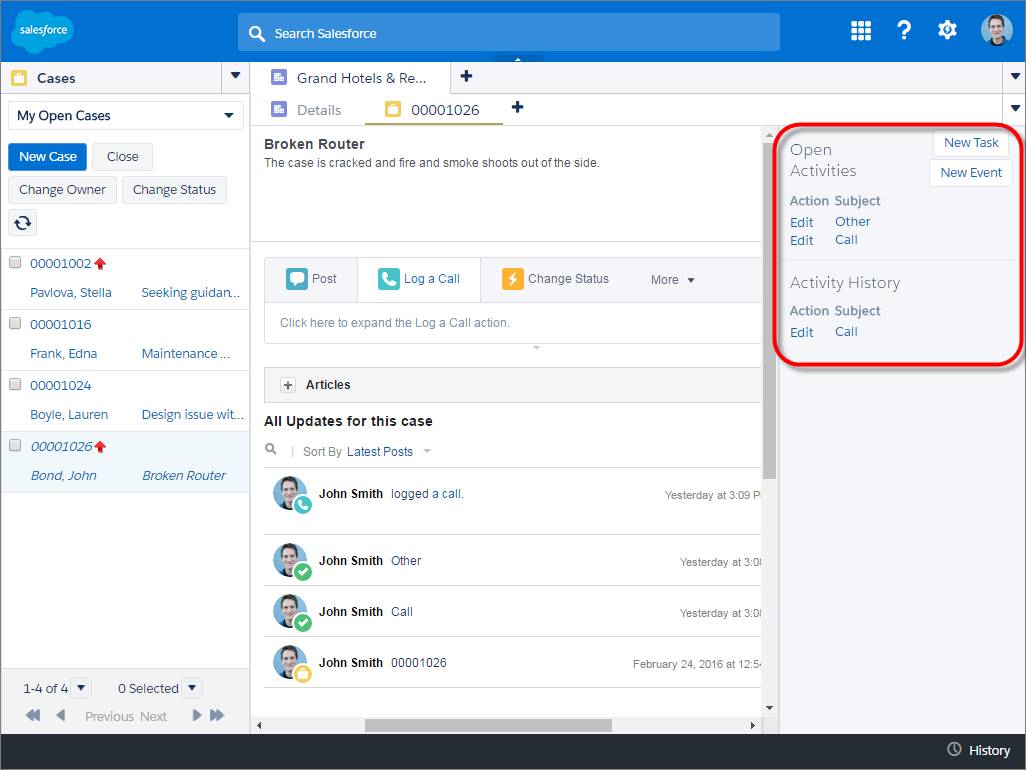 Tip
If you don't see the component alongside cases, you might have to hover your mouse pointer over your browser's right margin and click the expand arrow.