Configure a Salesforce Console
Introduction to the Salesforce Console
The console is where all of Salesforce's service features come together. The console is a unifying help desk experience for agents. It gives your team a 360-degree view of each customer and where that customer is in your support process. Think of the console as a camera lens that zooms in and out on your customers. When agents view cases in a console, they can quickly zoom in all the little details related to the customer—account, contact, products, and more—or they can focus on the one big detail: the customer's question or feedback.
A console is a type of Salesforce app that's designed for speed. You can create as many console apps as you need, as long as you don't exceed your organization's custom app limits. Just like other apps in Salesforce, you can access it from the App menu. Unlike other apps in Salesforce, a console uses tab-based navigation and a dashboard-like interface. Tabs help agents easily see all of the information they need on one screen without losing context, while the dashboard interface helps agents spot what they need so that they can complete tasks in an instant. Let's take a look at a console app.
Select objects and records from the navigation tab.
Records display in a list, which you can pin at the left of the top of the screen.
Selected records appear as primary tabs, and tabs let you work on several items at once.
A highlights panel shows key information related to records.
Records related items appear as subtabs, and subtabs let you quickly switch between related information without losing context.
View and interact with content in the feed or detail area.
Access custom component data in sidebars and footers.
Now that you've seen the console, let's give you access to it. We'll also check out how easy a console is to configure. To make life easy, after you have the Service Cloud User license (available for free in Developer Edition), Salesforce gives you a sample console to play around with.
Add the Service Cloud User License to Users
Before you or agents can access a console app, you need to have the Service Cloud User license. It's simple to assign, and we'll assign it to you now.
From Setup, enter Users in the

Quick Find

box, then select Users.
Click Edit next to your name.
Select

Service Cloud User

.

Click Save.

Now let's give you visibility to the sample console.

From Setup, click Edit next to Sample Console.

, then
In

Assign to Profiles

, click

Visible

next to your profile, then Save.

That's it! Now you're ready to take a look at the sample console.

From the App menu, choose Sample Console.

The sample console appears.
Customize the Highlights Panel
The highlights panel helps agents see key information at a glance in a console. You can easily customize it on page layouts so that your service team spots exactly what it needs first.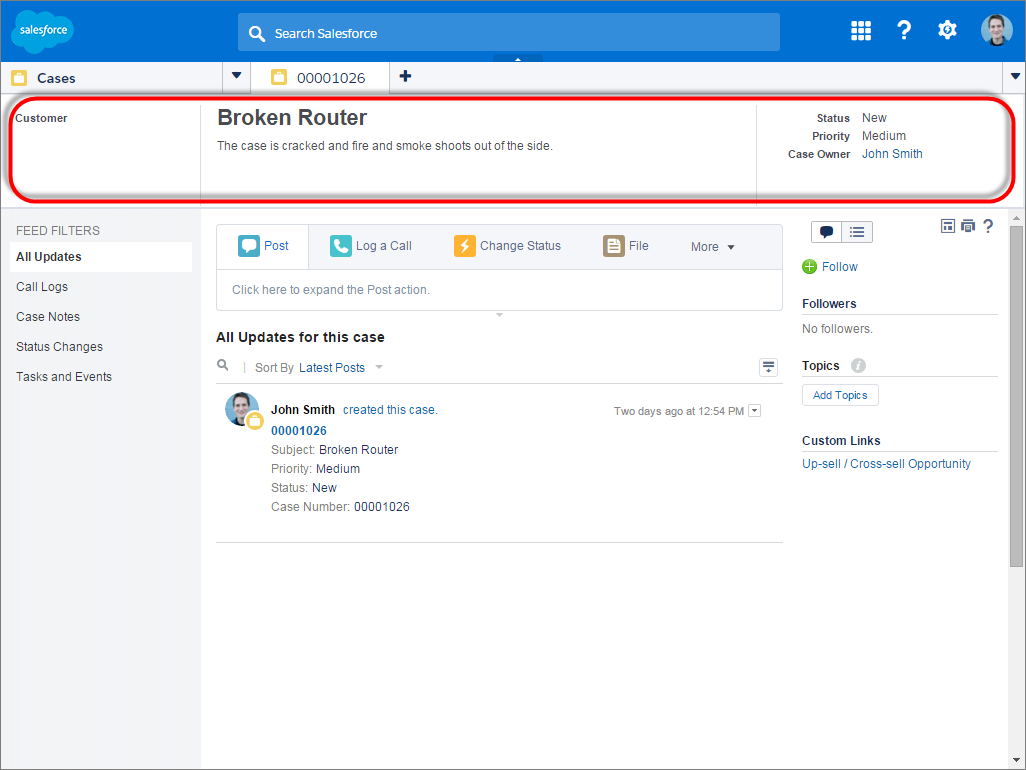 Let's change the fields on the highlights panel for cases.
From Setup, click
.
Click Edit next to Case Layout.
Click the highlights panel icon.

Add the

Contact Email

and

Case Origin

fields, and click OK.

Click Save.

Let's see the new fields on the highlights panel in the console.

From the App menu, choose Sample Console.
Select a case.

The fields we added appear right at the top.
Add Custom Components to Page Layouts
With custom components, you can take your console apps in all kinds of creative directions and solve a variety of business problems. Components let you build out a console for the specific needs of your agents and support processes. For example, you can create components to integrate third-party systems into a console, customize a console's highlights panel or footer to display data, or automatically show contextual information alongside records. To give you an idea of what a console can look like with components, take a look at this console.
When components are added to page layouts, they appear in sidebars alongside specific records in the console, such as cases. Components on page layouts help agents see related information in a snap. Salesforce lets you quickly add lookup fields, related lists, report charts, Visualforce pages, and more to console sidebars.
Console components are a big topic that weaves into the world of developers and the API, but in this module, we'll just show you how easy it is to add some out-of-the box component functionality to page layouts.
Let's add a contact lookup component to case page layouts so that agents can immediately see customer information alongside cases.
From Setup, click
.
Click Edit next to Case Layout.
At the top of the page layout editor, click

Custom Console Components

.

In the left sidebar for subtab, choose the Stack style with a width of 400 pixels.
In Type, choose Lookup and select the Contact Name field.
Click

Enable Linking

so that you can link records to contacts on cases, and select New Contact as an action for the component.

Click Save, then Save on the page layout.

Let's see the component in the console.

Click Back to Sample Console in setup, or From the App menu, choose Sample Console.
Select a case. You might have to select Cases from the navigation tab.

If a contact is on a case, it appears as a component alongside the case for immediate access. Pretty nifty!