Set Up Your Contact Center
Learning Objectives 
After completing this unit, you'll be able to:
Explain the value and benefits of the Service Setup Assistant.
Describe how the Service Setup Assistant simplifies Service Cloud implementations.
What Is the Service Setup Assistant?
Service Cloud helps anyone on your team provide incredible customer service, 24/7. But before your team can use Service Cloud, you have to set it up. With so many customer service features to choose from, an implementation may seem complex and time-consuming. You can use the Service Setup Assistant to simplify the process. 
The Service Setup Assistant helps you quickly get started with—or update—Service Cloud. With a few clicks, your team can instantly use popular Service Cloud features and best practices built into Salesforce. Some key benefits of the Service Setup Assistant include:
Get up and running with Service Cloud in a few easy steps. Start helping your customers immediately by first adding your agents, then entering a support email address.


Improve your contact center with out-of-the-box configurations. Leverage pre-configured user profiles, sample case data, in-app walkthroughs, routing tools, and workflows to free up admins for higher-value activities.


Boost agent productivity with built-in best practices. Empower agents to solve customer issues faster with best-in-class service consoles, case page layouts, frequently used workflows, time-saving macros, and more.
The Service Setup Assistant takes the guesswork out of implementing Service Cloud. With a bit of on-screen guidance, it dramatically reduces the time it takes to create or update your contact center, and it adds customer service best practices to features in your org. All of this helps you promptly deliver quality service experiences to your customers and team.   
Do You Need the Service Setup Assistant? 
It can feel intimidating to implement new technologies. Where do you start? How long will it take? What are the best options for your customers and team? Even if you're a Salesforce expert, setting up new functions such as customer service and support can have surprises or unexpected challenges, such as where to begin or which feature to set up first. Here's how the Service Setup Assistant streamlines setup for you.
Deploy or update Service Cloud features in minutes, not days.


See at a glance a variety of service features you can access or implement quickly.


Get prescriptive solutions to standard contact center problems that can reduce business value or team adoption.
The Service Setup Assistant accelerates your deployment and reduces complexities, helping you to get the most out of your Service Cloud investment. Additionally, it provides your admin more time to focus on other tasks.  
Let's look at how to do this.      
How the Service Setup Assistant Simplifies Implementations
Implement Service Cloud with just a few clicks. Set up service features from an easy-to-use, setup flow interface with guidance and prompts to help you get started. Here are some ways the Service Setup Assistant helps with your implementation. 
Prescriptive Setup Flows and Default Configurations
Instead of trying to figure out how to set up a range of service features, you get guided setup flows after the Service Setup Assistant creates your service app. Each click takes you through the process of implementing a feature, whether it's turning Tweets or Facebook posts into cases, importing your business data, or connecting a messaging channel to your contact center to communicate with customers. Setup flows automatically include solutions to common implementation pitfalls, and they include tips and content to help you explore more Service Cloud features.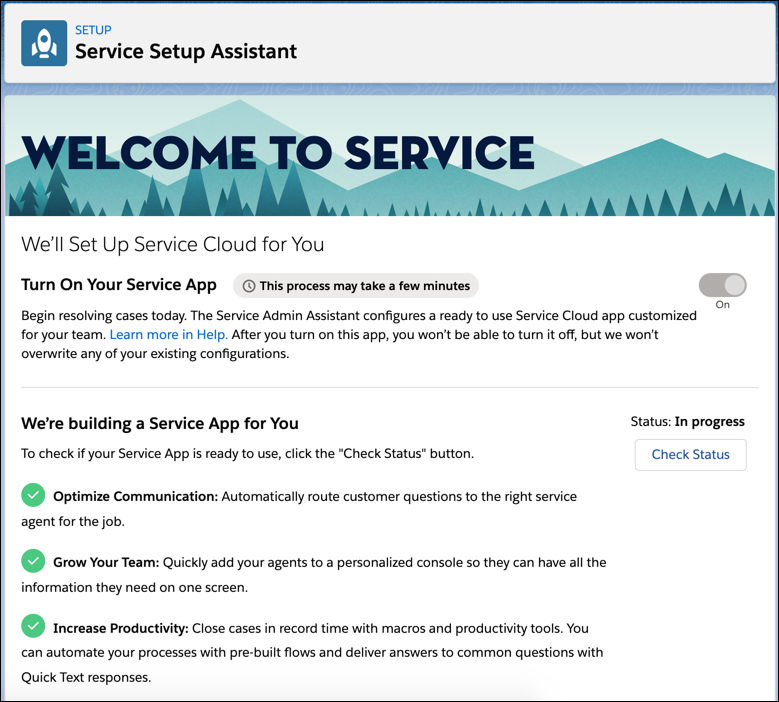 Focus on Proven Workflows 
Take the guesswork out of deciphering the most effective service console designs, page layouts, or productivity tools for your agents. The Service Setup Assistant includes tried-and-tested workflows that boost your team's ability to help customers, collaborate with each other, and handle multiple customer cases across many different channels.    


Predefined, Industry-Standard Reporting 
Make data-driven decisions about your service center and customer support with ready-made analytics. The Service Setup Assistant offers you snapshots of your team's performance, tracks customers' wait times for service, and offers suggestions for continuous improvements.  


Feature and Insight Discoverability 
Learn about new service features each release and activate tools that improve every aspect of your service delivery. Understand the value and usability of complex service features with lightweight guidance and sample data. Service Setup Assistant is a window into what you can easily deploy for Service Cloud.  
The Service Setup Assistant's Features  
Some additional key Service Cloud features that the Service Setup Assistant helps you implement include: Email-to-Case, Quick Text, Omni-Channel routing, Knowledge, Help Center, Chat and Messaging enablement, and default queues, permission sets, profiles, and more.
Some of the features that the Service Setup Assistant sets up require extra licenses or configuration steps. Before you implement a feature, review its requirements to make sure that you've met them; otherwise, an incomplete setup may occur in your org. 
Salesforce adds new features to the Service Setup Assistant every release, three times a year. After you run the assistant once, we remind you each release to install new updates.
To learn more, see Optimize Setup with the Service Setup Assistant in Help.   
Resources