Understand Salesforce Anywhere Features
Learning Objectives 
After completing this unit, you'll be able to:
Use @mentions, comments, Live Apps, and other collaborative tools.
Describe the benefits of using Salesforce Anywhere.
Collaborate with Salesforce Anywhere
The more your team collaborates, the more energized and engaged they'll feel, and the better your end product will be. 
It's easy for your team to collaborate on a document within Salesforce Anywhere. If you're the one creating the document, there are plenty of templates available to get you started. If the document already exists, you can easily access it from the appropriate account record.
Already, everyone on your team is aligned and working from the same spot. As your team adds comments and feedback, you'll have one, living document that reflects everyone's updates in real time. Soon, the comments become a conversation, giving you all the input you need to incorporate feedback and keep your project moving forward. 
All documents that are in the Document Component or within Associated Documents are fully functioning documents that live within the Salesforce Platform. Since it's a fully functioning document, here are some of the key things you can use it for.
Make an @mention. Just by pressing shift+2 on your keyboard, you can add images, live applications, people's names, dates, and even other documents to your document.
Add comments. Simply select the Comments button to type your feedback on the document.
Engage in conversations. In the conversation pane, you can see where people have liked and commented on the doc, as well as the document's entire edit history. You can also easily start conversations with your team here. For example, you can invite your team to weigh in by commenting, "@everyone, let's review this doc before our next team meeting."
What Are Live Apps?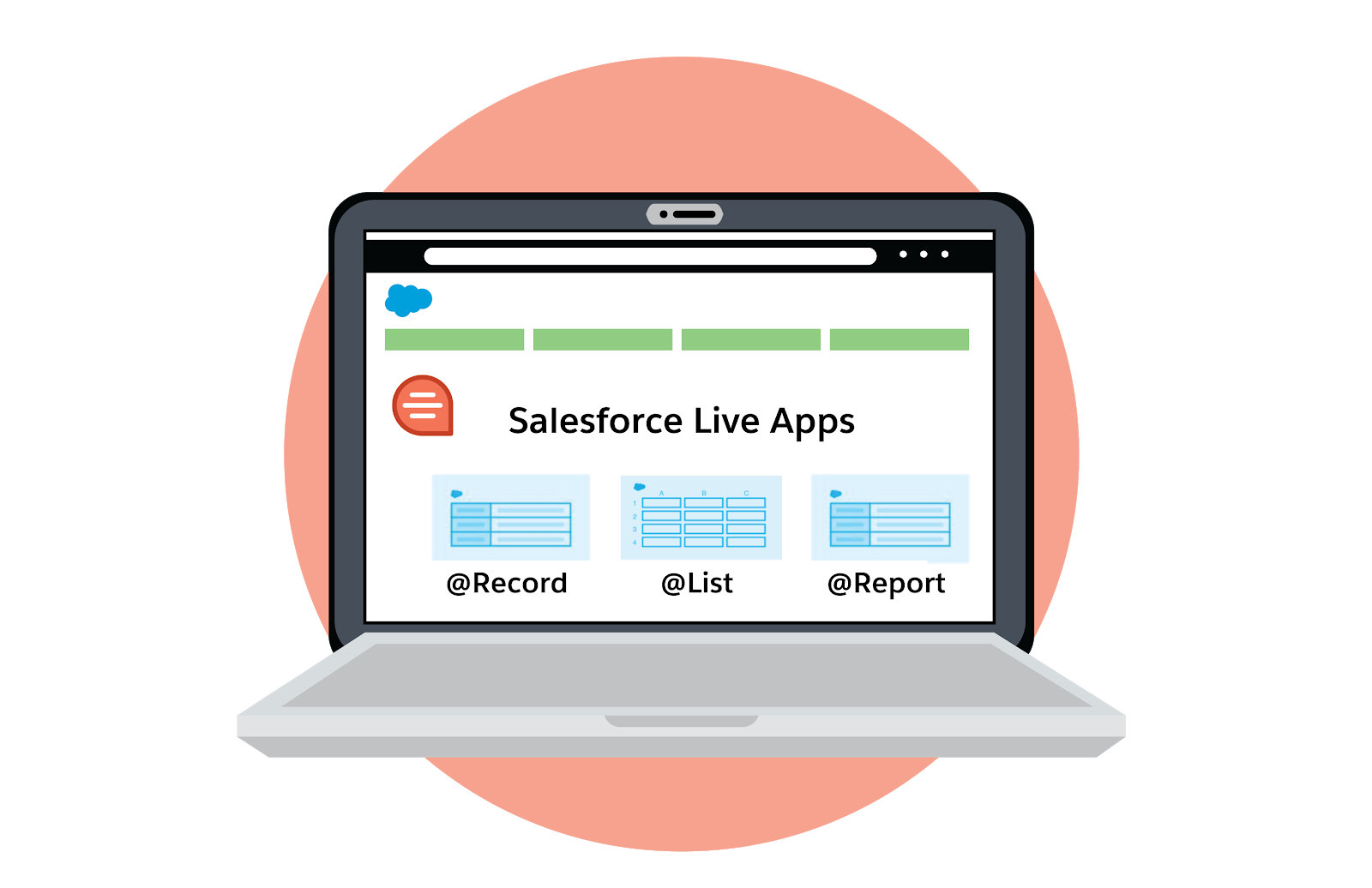 Let's dive into some of the Live Apps inside the Salesforce Anywhere tool. (We go into more detail in the next unit.) 
Live Apps are a huge differentiator for Salesforce Anywhere from some of the other collaboration productivity tools out there in the market. As you probably guessed, the way you can access these apps is through the @ key. After pressing Shift + 2 on your keyboard, all the Live Apps you see are the ones available to you. You can bring live Salesforce data into your document in a number of ways. A couple of great ways to get started are to pull in live record information with the Salesforce Record live app, live reports with the Salesforce Report live app, and live lists with Salesforce List live app.
Some Live Apps can pull in information automatically for you via a template. Or you also have the option to pull in the information that you want. It depends on whether or not they are set up in Template Mode or Standard Mode. 
Template Mode: This setup dynamically populates your document based on the account or contact record. It takes the work off your plate to pull in that data and creates consistency across documents.
Standard Mode: This setup allows you to pull in the information you want. It can be used both within and outside of templates.
Ready to get started with Live Apps? Here are a couple of user favorites to check out.
Want to dive deep into live apps? Attend our Salesforce Anywhere foundations webinar (link in Resources section).
Using Live Apps
One Live App fan favorite is the Project Tracker Live App. Access it by typing @project tracker. This is a super helpful way to list a large amount of information in one place. It's great for tracking projects, and allows for an even higher level of detail. 
The Project Tracker Live App incorporates Kanban functionality, which is extremely useful in managing projects with detailed tasks. To create your own Kanban boards within Salesforce Anywhere, just type @kanban to access the live app. With this app, your team can see all the specific task "cards" that have to happen to complete your project. There's something very satisfying about dragging a card over to the "done" category.
If you have questions about live applications or want to check out other templates, go to the Apps and Templates tab in the sidebar to find tons of different Live Apps and other templates. 
Finally, remember that Live Apps are not a commitment. If you decide to take things in a different direction, you can delete them at any time from your document. So why not play around with them and see how they can be a major game-changer for your team?
Resources