Get Started with Salesforce Anywhere
Learning Objectives
After completing this unit, you'll be able to:
Apply Salesforce Anywhere use cases to your organization.
Understand where to look in Salesforce Anywhere to accomplish specific tasks
Sharing Is Caring
As you have learned by now, Salesforce Anywhere is an extremely powerful tool. And at the root of that power is a surprisingly simple concept: the importance of sharing. 
In the top-right corner of your Salesforce Anywhere window, you've probably noticed a blue Share button. This button allows you to add people or folders, grant granular permissions, and see who is on your document. 
With granular permissions, you can choose if you want people to be able to view, comment, or edit your document. So, for example, with your account plan, you can share the first draft with your immediate team and give all of them editing rights, so you can all prepare a tightened draft to share with your manager.
Then to help with version control, you can give your manager commenting rights. That way, they can add their feedback as comments, so you can incorporate it separately and make sure it doesn't conflict with important pieces you and your team have already ironed out.
Finally, when your account plan is ready to share with your customer, give them viewing rights. They aren't able to comment on or change the plan, but they are able to view the final version.
No matter how you are using your document, granular permissions help you control who can view, comment, and edit. So how do you choose and assign granular permissions? We're glad you asked. 
A Streamlined Sharing Experience
When you click Share, you see an option to share the current doc with both individuals and shared folders. Adding a document to a folder will automatically share the document with every member in that folder. For, example, if you need an easy way to share a document with the entire Sales team, just add it to the Sales Folder. You can search people and folders by their name or email address, and view a list of all the shared individuals, folders, and permissions associated with each.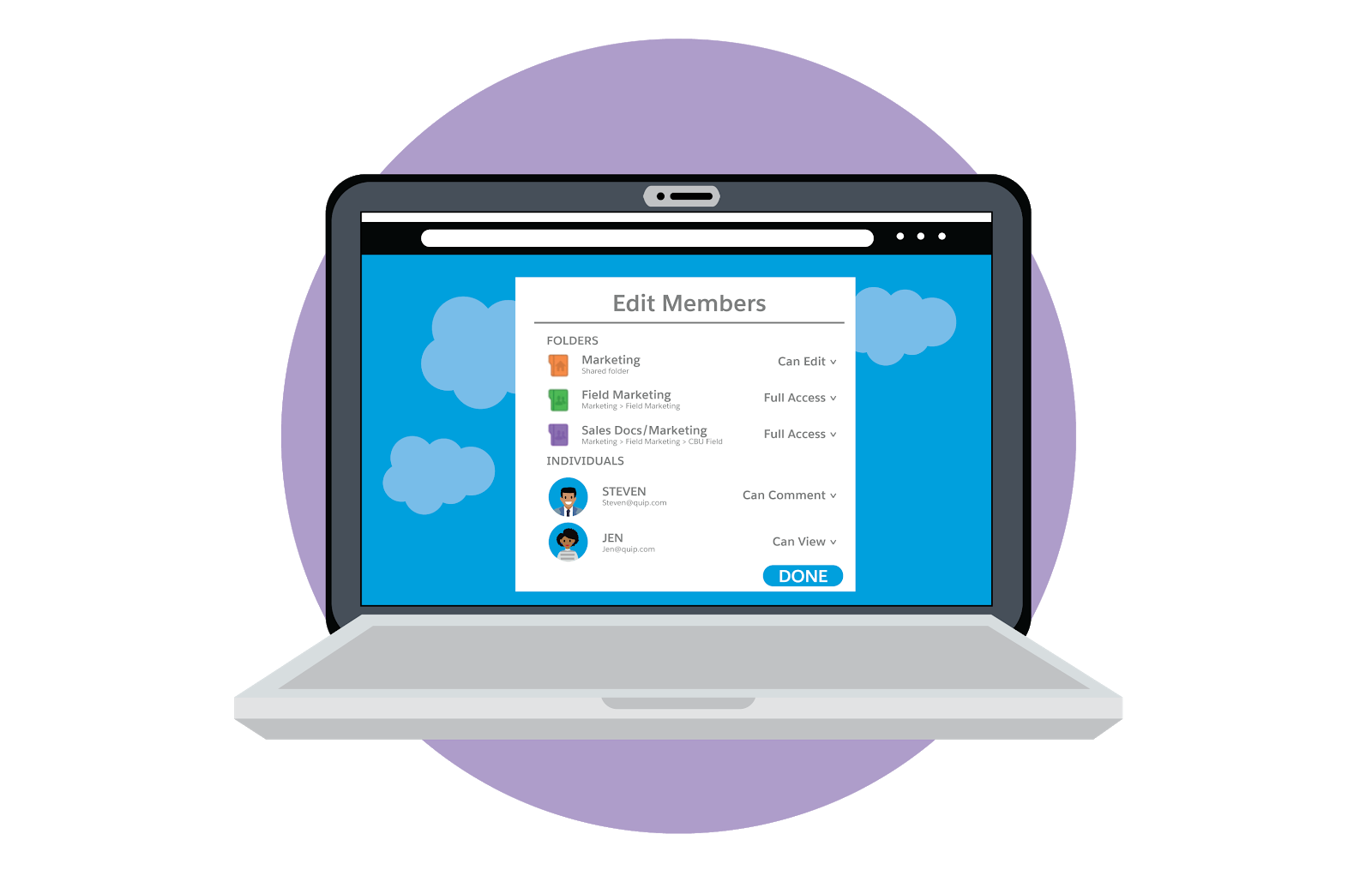 Rather than having to navigate to every individual shared folder in order to manage access, you can now track and modify all shared permissions from one centralized view.
There are four ways to define permissions at the individual user and folder level.
Full Access: Can share and edit.
Can Edit: Can edit, but not share.
Can Comment: Can only view and comment.
Can View: Cannot share, edit, or comment.
With granular permissions in Salesforce Anywhere, it's easier than ever to get fast, high-value work done with your team.
Literally "On the Same Page"
As we touched on in Unit 1, the great thing about Salesforce Anywhere is that it allows you and your team to work where you are. The docs live here, but they're also accessible to people outside the Salesforce Platform. 
So, maybe you're an account executive and are working on an account plan in Salesforce Anywhere. You can still send it to your team's engineer and ask them to weigh in, even if they don't have Salesforce. 
When and How to Use Specific Components
Each component is versatile enough to help you in a number of different use cases, but also specific enough to streamline nuanced processes. Now that you know all the tools and resources Salesforce Anywhere can provide, how will you use it with your team? Here are a few ideas to get started.
Use the Document Component to streamline your 1:1 meetings with your manager. Create performance reports that automatically integrate Salesforce record data, saving you time in your meeting prep and making your meeting more streamlined and efficient.
Take team meeting notes. In that same vein, use the Document Component to take team meeting notes and easily bring in key sales numbers.
Manage your personal to-dos. Set Salesforce tasks for yourself directly from a to-do document. (You can also assign tasks within other documents, such as the examples listed above.)
With Salesforce Anywhere, there are endless ways your team can streamline processes, stay out of your inboxes, and maintain real-time feedback that make collaboration and communication a cinch. 
Resources