Design an Effective Onboarding Program
After completing this unit, you'll be able to:
Identify core competencies new reps need.
Explain why it's important to personalize the learning journey.
Explain why it's important to have centralized enabling technology.
Anytime a new person joins a company, the first thing you want to do is make them productive as quickly as possible. But when it comes to sales, there are so many things new reps need to learn and know. Finding the right way to structure the learning process is incredibly important if you want to scale your enablement, onboarding, and training programs as your company grows. In this module, Salesforce sales leaders offer up some best practices on how to quickly enable, train, and motivate sales reps to position them for success.
"While we used to be able to teach and learn person to person, we now use a 70/20/10 model, where the bulk (70%) of sales training takes place online, followed by 20% in-person, and 10% in stand-and-deliver assessments." — Dan Darcy, SVP of Global Enablement, Salesforce
Define Core Competencies
At Salesforce, when we hire a new sales rep, we make sure they know what's expected of them.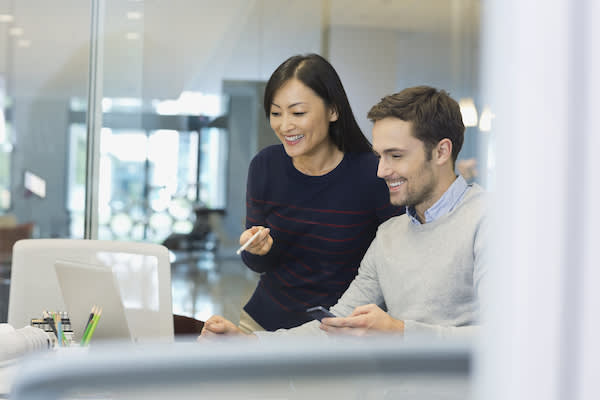 That includes company culture, products, and the logistics of selling. Identify a set of action items for your new hires, and create an onboarding process that positions them to start their successful selling journey. To help get you started, here's an overview of what Salesforce covers when it onboards new sales reps.
Culture is extremely important at Salesforce, and it's imperative that every employee understands what drives the company and contributes to its success. (See the Salesforce Success Model module and Pledge 1% to learn more about what makes Salesforce's culture so remarkable—you may find things you want to introduce at your own company.)
Products (and services) are at the heart of what we do. That's why we ensure all of our new reps know what differentiates our products and how our services can help. Each new hire learns to demo products and explain their benefits succinctly.
Selling tools are core to an effective sales team. We obviously use Salesforce to manage our sales; the entire sales methodology is encapsulated in the system so an opportunity naturally flows from one stage to another.
Overcome the Sales Learning Curve
Some items on your list for new sales reps can apply to everyone, like which tools to use and how to use them. Others require far more specificity, like which products to sell, how to position them, and what stories to tell. How seasoned the new rep is makes a difference as well. People who are new to selling can require more of your time to teach them the basics: cold calling, prospecting, or pipeline management. You can customize training all the way down to selling segments. A rep selling to large enterprises globally requires different resources (travel, exclusive events, and so on) than a rep selling to small businesses in the US where each transaction is simple—face-to-face meetings are not necessary. Identify the things that require you to customize your training and enablement for reps, such as geography, types of companies they're targeting (SMB, large enterprises, and so on), and their experience level. The more specific you get with your training, the quicker you can ramp up your reps.
Choose an Enabling Technology
No matter how amazing your enablement program is, reps still need resources they can reference when they have additional questions. That's why you need a central hub that houses knowledge articles and guidance documents. At Salesforce, Trailhead is one way we train and enable our sales reps. We use learning modules to teach product skills, selling skills, and the Salesforce culture.
Now Put Your Team to Work
Now that you've hired and trained stellar reps, it's time to get them selling. But how can you make sure they take everything they learned and close more deals? There are a couple things we emphasize at Salesforce that we believe help create a productive selling environment.
Be proactive: It's important that your reps take initiative every day. Create a culture that values an open mind and consistently looking for new opportunities. It's important that team members actively own their pipeline and manage their accounts at all times. Reps who wait for their manager to tell them things like how their pipeline looks and if they're making enough calls are less likely to succeed. Staying on top of metrics and planning their activities themselves helps ensure success. There are always competing demands on a rep's time, and you don't want them investing in the wrong activities. While it can be easier to sit behind a keyboard and send off some prospecting emails, it's not the best use of the rep's time. Actively managing their time enables them to focus their energy on high-impact activities. If they're more likely to get responses by jumping on the phone, that's what they should do. Experts also recommend blocking out time on the calendar so reps can group their related activities. If their chances of getting responses to their calls are better when they call in the early morning, they should schedule that on their calendar to ensure they get it done.
Build relationships: Every sales rep works to build relationships with customers and prospects, but it's important to get to know the players among all levels in the organization and across all lines of business. Many reps only focus on those they identify as decision makers and gatekeepers. If you narrow your relationship-building to focus only on those two possible roles, others you left out can influence the buying decision and ultimately prevent you from closing the sale. Getting to know the problems of one department can help solve the problems of your customer in another part of the organization.