Empower Your Sales Team to Get Stalled Deals Back on Track
Learning Objectives
After completing this unit, you'll be able to:
Add the stuck opportunities report to key dashboards.
Deploy your new process for assessing stuck opportunities
Add Stuck Opportunities to Dashboards
Sales managers should work with reps regularly to review stalled opportunities. The best way to keep tabs on all these idle opportunities is with a dashboard. We show you how to make this happen. Follow along as we update an existing dashboard called Key Sales Activities (however, you can follow along with any dashboard that makes sense for you).
Click and select the Sales app.
Click Dashboards in the navigation bar.
Open the dashboard you want to modify, or click New Dashboard and select a folder if you're starting from scratch.
Click Edit.
Click + Component. Search for the Stuck Opportunities report that we created in the previous unit. Select that row, then click Select.
In the Display As section, click  to select the Lightning Table visualization.
Configure the component with the following.

In the Groups section, click on Add group... ; type owner in the search box, and select Opportunity Owner.
In the Measure Columns section, click Add measure column...; and select Amount.  Then check Sum for the measure.  Finally click Apply.
Click  to hide the record count column.
Title: Stuck Opportunities

Click Add.
Once you're satisfied with the new component, click Save.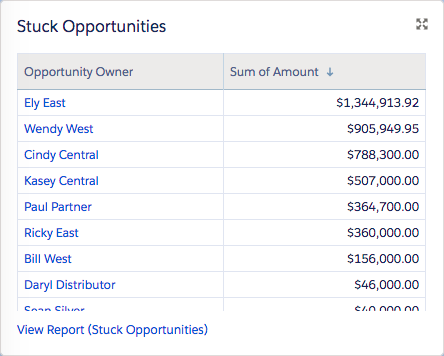 Ready, Set, Launch!
It's time to share the new stuck activities insights with your entire sales team. Work with the leaders of your sales organization to let the team know about the new report and dashboard components. Here's a sample email or Chatter post you can use to get started.
Sales Team,

You know the longer the sales cycle extends, the less likely it is you will close the deal.

What if you could quickly identify deals that are not progressing through the sales cycle at the average rate?

Let Salesforce help you identify those deals that are not progressing and determine what you need to do to get the deal back on track.

Check out the new Stuck Opportunities component on the Key Sales Activities dashboard [INSERT LINK TO DASHBOARD]. This new component identifies any opportunities that are not moving through our sales cycle.

I strongly suggest reviewing stuck deals during 1:1 meetings with your manager. Digging into these deals that are not progressing is critical!

For questions, please contact [INSERT CONTACT DETAILS] or post in [INSERT CHATTER GROUP NAME].   
Put It Into Practice
Ask your sales managers to review stuck deals with their reps during 1:1s so they can focus on deals before they go off track. Here are some quick tips and questions managers and reps should consider during each review.
Step 1: Confirm the Deal Is Stuck
There are many reasons why a deal has lingered for too long in a sales stage. That's why digging deeper into a deal that has not progressed is important.
Questions to ask:
What is the customer's decision-making process?
Do you have an internal customer sponsor to help you overcome hurdles?
What are the key obstacles keeping this deal from progressing?
Step 2: Go or No-Go
Evaluate whether it's worth your time to continue pursuing the deal or if you should focus your efforts elsewhere.
Questions to ask:
Does the customer have funding for the deal?
What is our competitive advantage for this deal?
What is the compelling event for the customer to close this deal?
Step 3: Take Action
Develop an action plan to help move this deal along or reprioritize the opportunity.
Questions to ask:
If the deal is truly not moving forward, should the opportunity be closed out?
Are there any internal resources that can help this deal progress?
What specific steps need to be done to reengage the customer?
Monitor Usage
Your sales team now has a new way to sell smarter and win more deals. As with any new process and feature, it's important to monitor usage, collect feedback, and make improvements. Here are a few ways in which you can successfully monitor and enhance your process for analyzing stuck opportunities.
Run the stuck opportunities report for all opportunities to define a baseline metric for the typical volume of stuck opportunities. Run report on a quarterly basis to share trends with sales management.
Are the stage duration thresholds you initially defined correct? Schedule quarterly reviews with sales management to review average stage duration for deals and determine if filter criteria need to be adjusted.
Resources
Sales Reports for Lightning Experience—Trailhead Module
Sales Cloud—Getting Started—Trailblazer Community group