Sell Better with Essentials
Learning Objectives
After completing this unit, you'll be able to:
Identify how a lead becomes an account, contact, and opportunity.
Navigate the Opportunity Workspace.
Use Path in opportunities to close deals faster.
Distinguish the difference between an account and an opportunity.
Set a goal for your business.
Work Your Leads
We've had a quick look at how to find your way around Essentials, and how to do the basic setup. Let's dive deeper into how to use Essentials to help sell your products and services.
Before we take the leap, let's have a quick refresh of some terminology.
Leads are potential customers. Once a lead is ready to buy your products or services, you convert them. Then they split into an account (the company), a contact (the person), and the thing they want to purchase is your opportunity.
When Tracey clicks the Lead tab to see what new and exciting business is in her sales pipeline, Essentials prioritizes her list. Now she can tackle the leads that she's most likely to convert. So, say goodbye to randomly cold-calling potential customers and instead save your valuable time for the people most likely to be ready to buy.

When you want to look at a specific lead, select the name, to bring you to that lead's record page. The record page includes a lead Path (2), an activity log (3), and all the other details about the lead (1). No more searching sticky notes for emails or phone numbers.

As you make progress toward converting each lead, you update the lead record. That way, anyone in your business can have the most current information when they speak with your potential customers. When you convert your lead, Salesforce creates an account, contact, and opportunity from the lead. So let's dive into what that means for you and your team.
Adding and Editing Records
Essentials keeps things simple when it comes to adding or updating records—it's the same no matter what object you're viewing.
To add a new record:
In the navigation bar, click the tab for the type of record you want to add. For example, click the Leads tab for a new lead record.
Click New.
Complete the form and click Save.
To edit an existing record:
Search for the record, or use the navigation bar to go to the object home page and look for the record in the Recently Viewed list.
Click the name of the record.
Click Edit. Update the record and click Save.
Lightning Dialer for Essentials
With Lightning Dialer for Essentials, our out-of-the-box native phone feature for Essentials, the customer's profile and account information is immediately available on screen during every inbound and outbound call. That way your team will have full context and customer history while contacting Leads and servicing customers. Calls are automatically logged within the contact and account activity history of Salesforce. This reduces manual data entry and makes sure that information doesn't get lost.
View Your Accounts
We've said that an account is a company you're doing business with, and a contact is someone who works at that account. When Tracey converts the Bookay Wedding lead, she names the account Bookay Wedding and the contact Ivanna Bookay. Here are a few examples of what that can look like for different businesses.
| Account Example | Contact Example |
| --- | --- |
| Big Tal's Tires | Big Tal, CEO |
| Lighthouse Office Properties | Marcus Hanna, Property Manager |
| South Coast Hospital | Mal diTesta, Operations Manager |
Just like with leads, to see the detail of an account, just click its name. In the account record, you can find information about the account, like the Account Name (1), and also related records, like contacts (2), opportunities (3), cases (we get to those later), notes and an activity timeline (4) to bring it all together and shows you the history of the account.
As with most other objects, you also find a Chatter feed, where you can collaborate with your teammates about the account.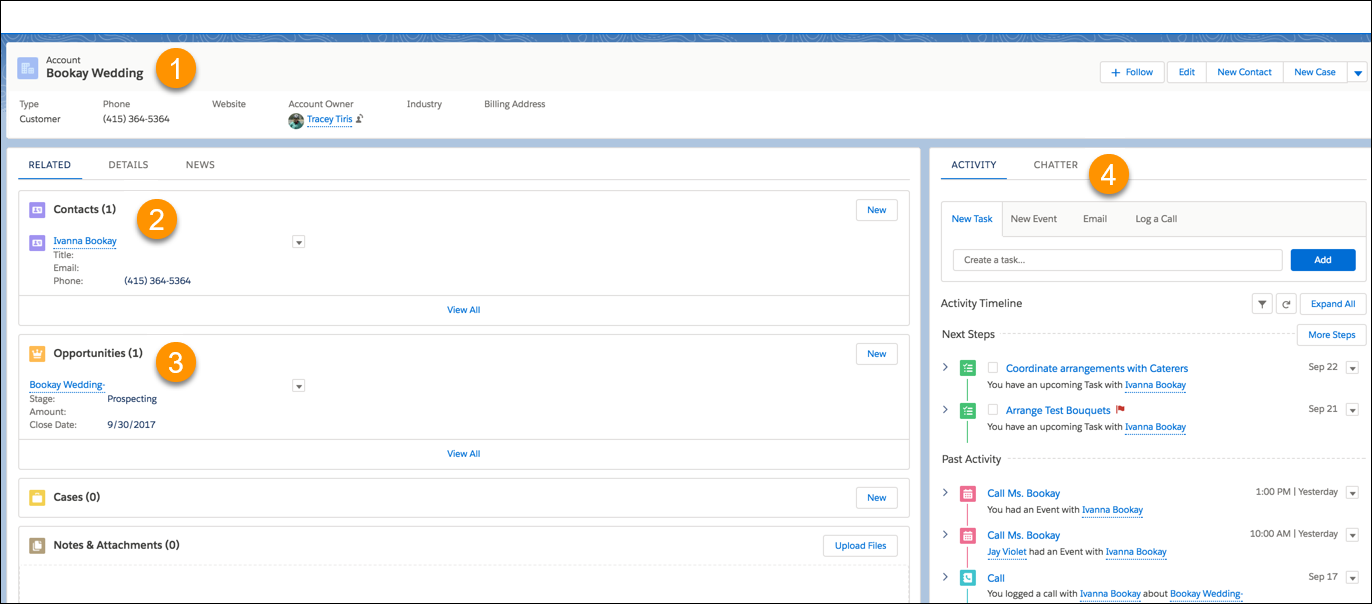 These pages are built for quick reference, so you can find what you need and keep on movin'. Speaking of that, let's move on to contacts.
Keep Up with Contacts
Just like with any object, to see the detail of a contact, just click its name.
When you drill into a contact record, you see it contains many of the same elements as the account record page.
You can have multiple contacts associated with a single account. For example, both Ivanna and her husband purchase flowers and have separate contact records. These contact records include their individual opportunities and support cases. But, because they're related to the same household account, you can easily see the overall Bookay Household purchases listed on the account object.
In addition to related records, just like the account and lead records, contact records also have their own activity timeline and Chatter feed.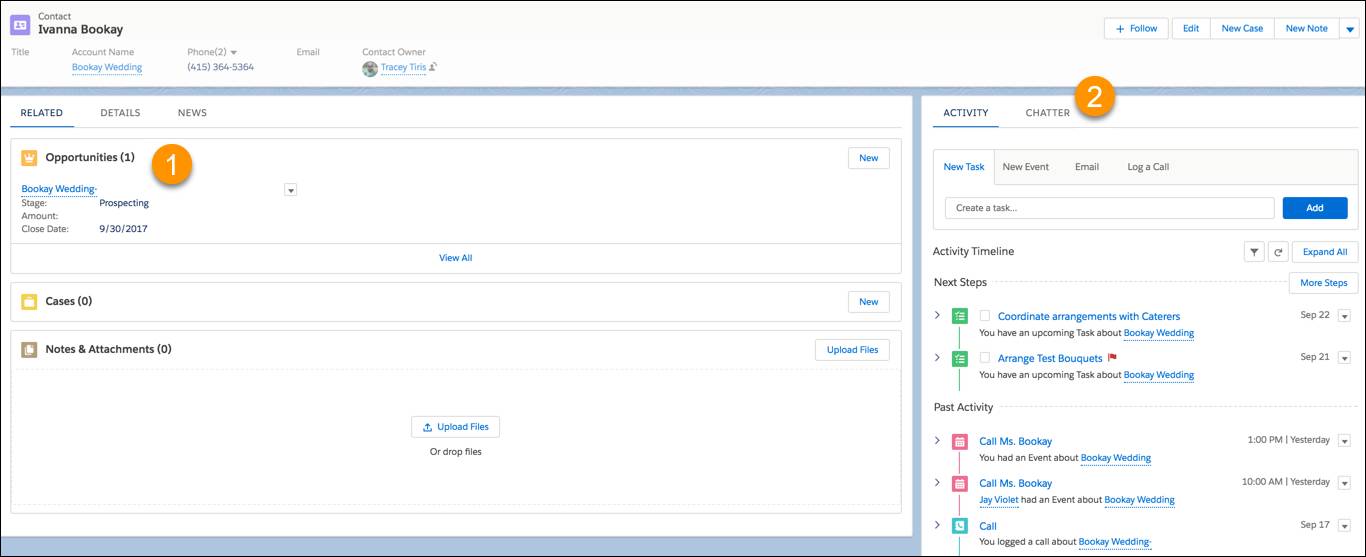 Own Your Opportunities
Jay loves working with Dreamscape's customers. He can coach them through their gardening fears or recommend the season's best blooms without batting an eye. With Opportunity Workspace, he can make note of these quick conversations so that the next time he sees that customer, he knows exactly where they left off. They're far more likely to complete a sale when their favorite salesperson knows their favorite flowers or last purchase, right?
To get to an opportunity's record, in the navigation bar, click the Opportunities tab and then click the name of the opportunity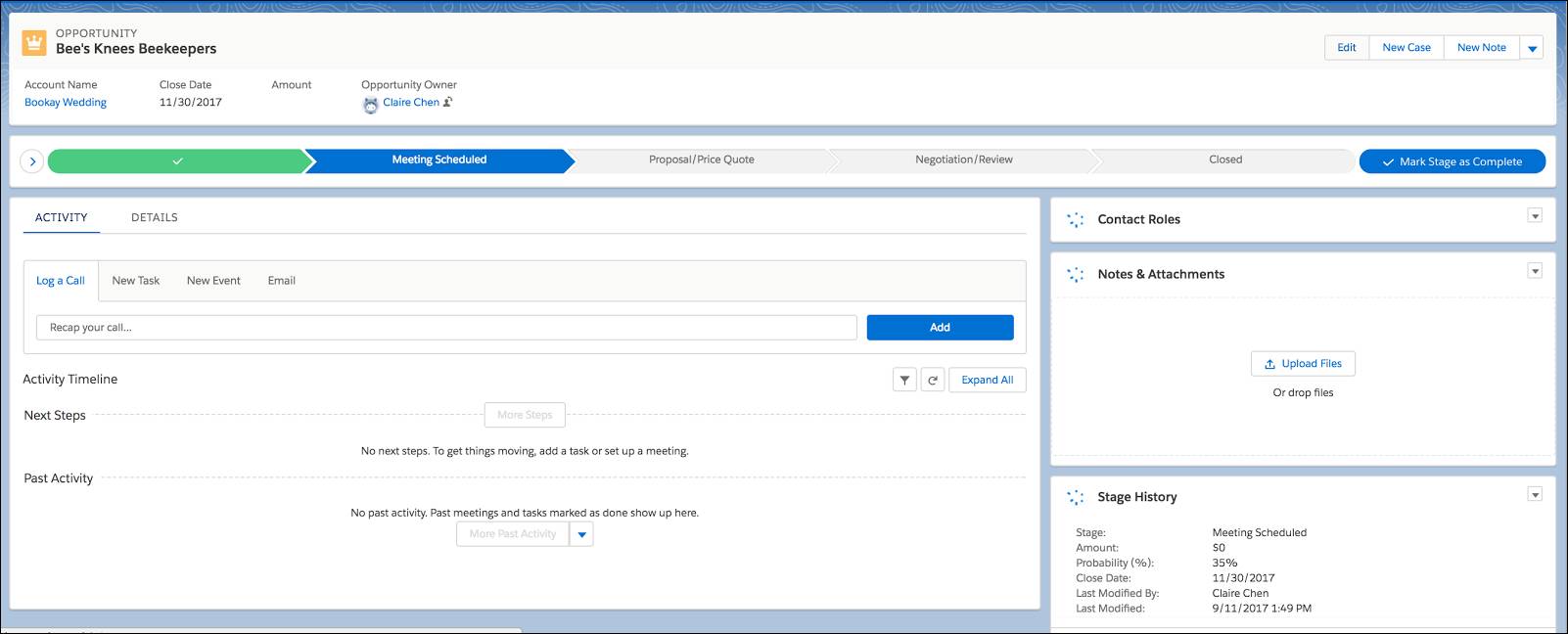 Path and the activity log are front and center in the opportunity record page to help you collaborate and close the deal.
Bee's Knees Beekeepers has contacted Tracey to purchase flower pots. Let's see how we'd move the opportunity record from Meeting Scheduled to Closed.
Click the Opportunity tab.
Click the name of the opportunity (in Tracy's case, Bee's Knees Beekeepers—flower pots). 
Click Closed Won.
Tracey's tracked her opportunity through her customized sales process and closed her biggest deal yet with Bee's Knees. That brings her one giant step closer to hitting Dreamscape's sales goal for the year.
Speaking of goals, let's talk about how to set sales goals in Essentials so that you can always see how close you are to reaching it.
Set a Sales Goal
When Tracey first opened Dreamscape, she only had one goal in mind—make the world a little brighter with beautiful flowers. But she also knows that to have more impact, she needs to grow her business.
The first step in doing that is to get a better sense of how her business was doing.
With Essentials, she learned to set a goal and track their progress toward it. She and Jay began to surpass their number every month. They accurately order enough flowers for their estimated demand or whip up a marketing campaign when they're in danger of not making their goal.

To set a goal:
Find the Performance Chart on the Home page.
Click next to GOAL.
Enter your goal for the quarter.
Click Save.
That's it! With a real goal in place, you and your team can take the steps that you need to achieve it. How can you track progress toward goals? We cover that in the final unit. But, in our next unit you learn how Essentials helps you connect and collaborate with them better than ever before.
Resources