Get to Know Real-Time Location in Appointment Assistant
Learning Objectives 
After completing this unit, you'll be able to:
List the benefits of Real-Time Location.
Describe how customers receive updates.
Explain how Salesforce protects privacy.
Welcome to Ursa Major Solar
Ursa Major Solar sells, installs, and maintains solar energy products with the goal of harnessing sunshine for its customers. Ursa Major Solar delivers exceptional customer service by using Salesforce Field Service and Salesforce Field Service Mobile to connect its workforce, products, and customers on one platform.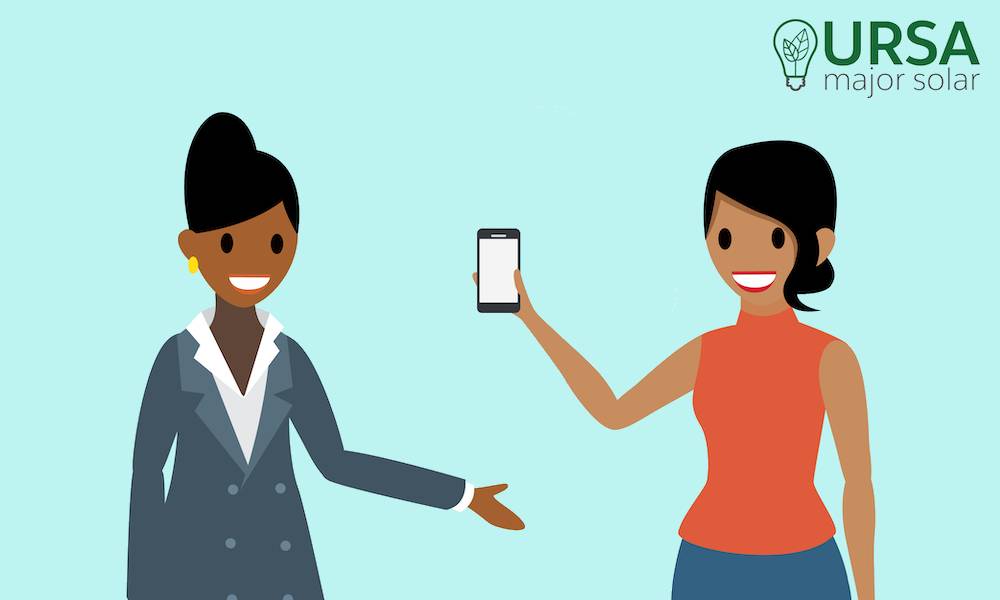 Let's meet some key members of its field service team.
CEO, co-founder, and decision maker: Sita Nagappan-Alvarez. Among her other duties, she chooses the best software to keep customers happy.
Salesforce admin: Maria Jimenez. She administers Salesforce Field Service for all hubs and makes sure that her teams have the access and tools to be successful.
Keep Customers in the Loop with Real-Time Location
Sita is always looking for ways Ursa Major can serve its customers better. In a recent survey, customers said that they're tired of waiting around for long appointment windows. They'd like to know exactly when a mobile worker will arrive at their home or business. If possible, they'd also like to see the mobile worker's location when they're on the way.
Sita wonders if Field Service Appointment Assistant and its Real-Time Location feature might be just what the company needs. She explores further. 
Real-Time Location sends customers a notification when a mobile worker is on the way to their job site. Knowing that a worker is arriving soon gives the customer time to prepare for the service appointment. The notification can include details about the mobile worker, like their name, job title, and picture. When the mobile worker gets close to the customer's house, say a mile or kilometer away, another notification goes out. This notification tells the customer that the worker is almost there.
Customers choose the kind of notification they'd like to receive, such as an email, WhatsApp message, or an SMS. When customers receive the notification, they can see the mobile worker's location and estimated time of arrival on a map while they're en route to the appointment. Customers can follow the worker's progress right to their door.
Mobile workers, in turn, know that their customers are expecting them. Keeping customers informed about arrival times reduces the number of customer cancellations, no shows, and all around impatience. Everyone's happier knowing that help is on its way and when it's due to arrive.
Sita watches a video to see how Real-Time Location works.
Handle Data Ethically
Sita likes what she sees, but privacy and safety are key values at Ursa Major Solar. Sita made a promise to her employees and customers to keep their data safe. That means she must make sure that every software tool she buys keeps their data safe too.
Fortunately, Salesforce uses strong Ethical Use Principles in everything it does. 
To keep Ursa Major's customers safe, Salesforce carefully protects and stores the data gathered from the Salesforce Field Service mobile app. Salesforce uses techniques such as encryption, user authentication, and sensitive data handling to protect data.
To keep Ursa Major's workers safe, Salesforce Field Service informs workers in advance that their location and work information is shared with customers. And that it's only shared when necessary. A worker's location information isn't shared with customers until they mark themselves as En Route to an appointment. After the appointment is completed, the customer doesn't see their location information anymore. The worker's location reverts to their standard org-wide setting.
Now that Sita knows how Salesforce takes good care of her customers and her own employees, she's ready to start using Real-Time Location at Ursa Major Solar.
In this unit you learned how customers can see that help is on the way and receive details about the en route mobile worker using Real-Time Location. You also learned that everyone's information is ethically used and stored. Next, you learn how to install and configure the Appointment Assistant managed package. 
Resources