Create a Quip Document
After completing this module, you'll be able to:
Create and format a document.
Explain how to use the @ key for rich mentions.
Build a checklist for tasks with reminders and due dates.
Embed a spreadsheet in your document.
Understand how edits are recorded in Quip.
Now you're ready to create your own Quip document. To get started with a new document or spreadsheet in Quip, click the create button in the upper right-hand corner. You have seven options:
New Document
New Spreadsheet
New Folder
New Chat room
Send Message
Upload or Import
Clicking document takes you to a new Quip doc for word processing. If you click spreadsheet, you're taken to a brand-new spreadsheet. Later, you can convert that spreadsheet to a document that contains your spreadsheet by following these steps:
Click the send message option and select a person or list of people who you want to start a new, private chat with.
Go to upload or import if you want to convert or move files around.
Upload is a way to convert an existing file to a Quip doc; this works with text files.
Import lets you bring files from various services like Evernote, Basecamp, and more.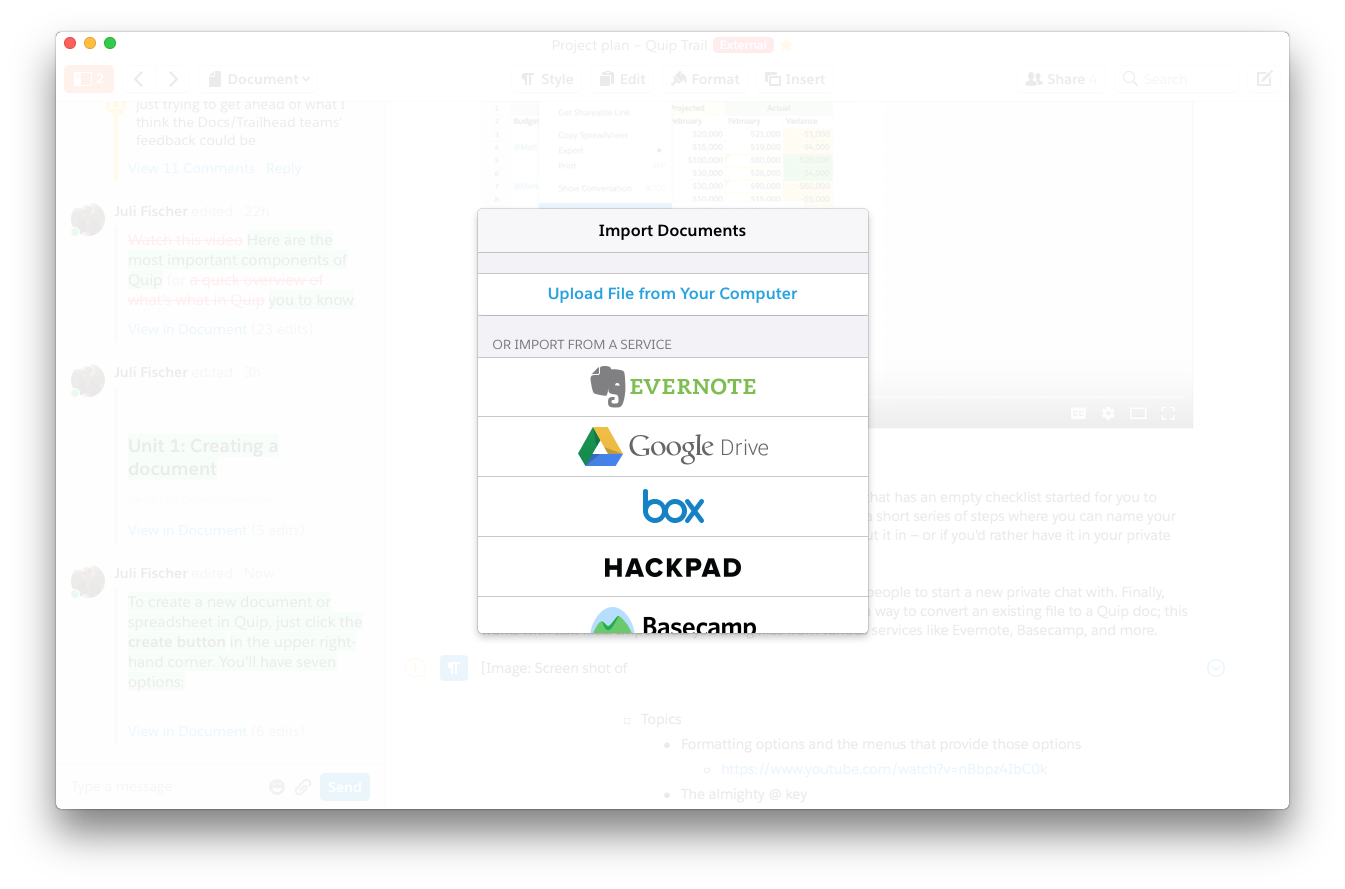 Watch how to format your Quip docs:
The @ key in Quip is a powerful way to incorporate rich mentions and links into your work. You can @ mention your teammates in documents, comments, and chat. You can also link to other Quip documents to give people real-time insight and context.
Watch this video for more details.
You can also grab anchor links to specific parts of your work, and share them with your team.
You can use checklists in Quip to manage your projects. Create a checklist full of tasks, then assign them to teammates and set due dates using mentions and reminders. Here's how.
You've now seen all of the different components that Quip documents include. Next, we take a look at how to use these documents to collaborate with your team. We show you how to add teammates (and external people) to your work, set up shared folders, and create group folders for team and organizational transparency.