Take a Tour of Quip
After completing this module, you'll be able to:
Find and name the different features within Quip.
Find your most important documents, spreadsheets, and chats in Quip.
Explain how different teams use Quip to excel at work.
Explain how Quip's functionality can apply to your job and your team.
Here are the most important components of Quip.
Sidebar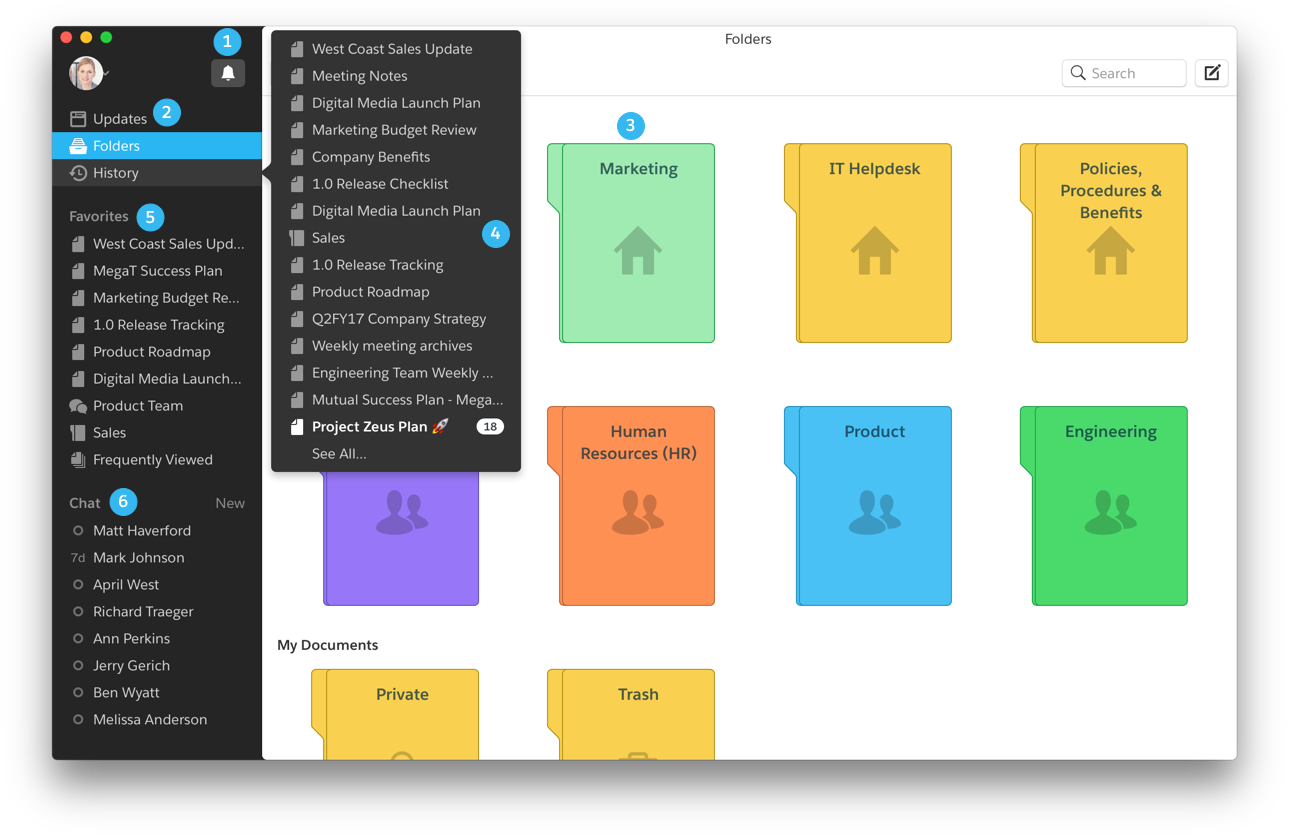 Notification button
Updates
Folders
History
Favorites 
Chat 
In a Quip Document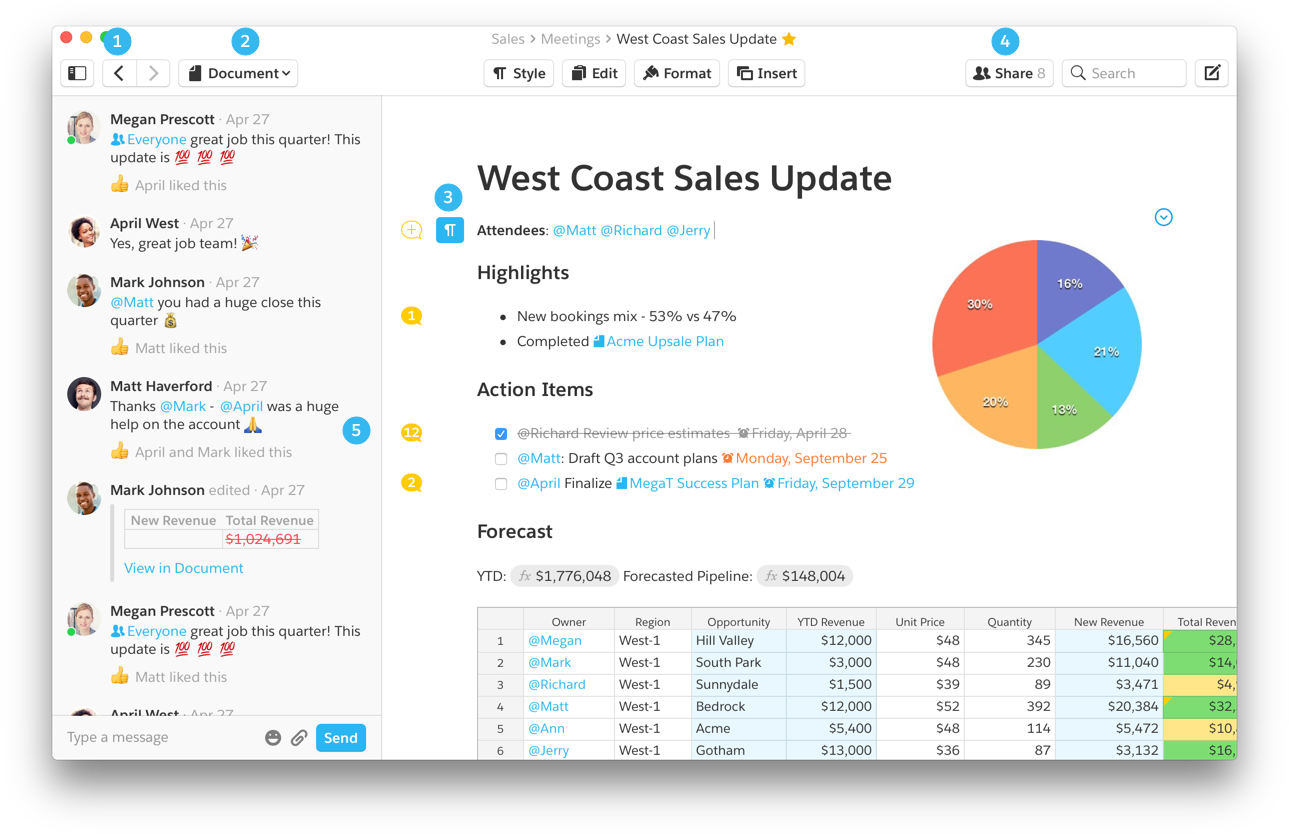 Back button
Document menu
Formatting buttons (style, edit, and so on)
Sharing menu
Document conversation
Quip's sidebar is the center of all your work. It saves you time, helps you prioritize, and keeps you from experiencing email fatigue. Think of the sidebar as your workflow sidekick. It's always available when you need something, but then it blends into the background when you're in concentration mode. This quick video shows you how the sidebar can help you get more work done.
When you're in Quip, the type of menu you see at the top of the app adapts to fit the work you're doing. For instance, if you're working in a checklist, you see the checklist menu. If you're working in a document, you see the document menu. This makes it so that all the things you need are front and center, with nothing else in your way.
Have a look at how Quip changes which menu is shown based on the work you're doing.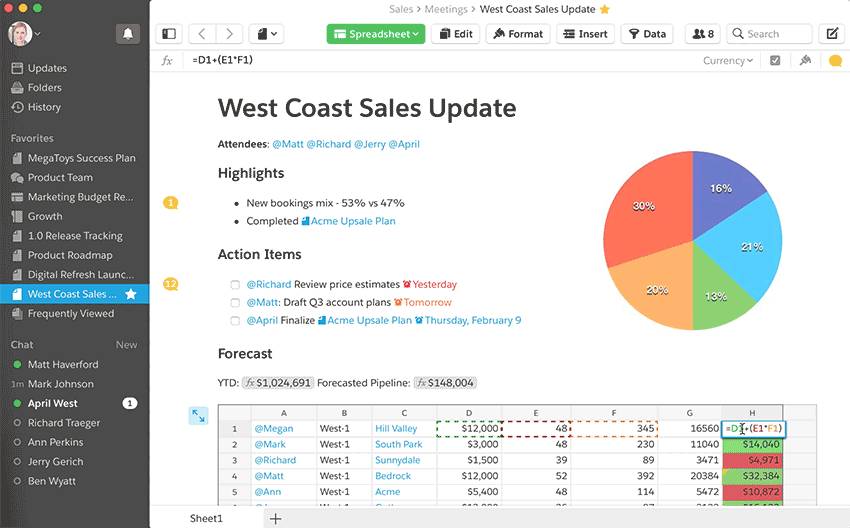 These Quip features enable teams to work smarter and faster. Now, let's explore real-life examples of how sales, marketing, events, customer success, and technical teams are using Quip every day to excel at work.
All kinds of teams use Quip to create, enliven, and share work. Anything you need to type up can be done in Quip: account plans, press releases, product roadmaps, blog posts, project plans, event proposals—the list goes on. And since Quip documents can contain spreadsheets designed for teams, and Live Data from Salesforce, Quip is perfect for almost any kind of team. Here are a few examples.
Sales teams
Stay focused on selling—Quip's mobile app makes it easy to access and update work, so salespeople always have the information necessary to keep deals moving forward from anywhere.
Account and territory planning—Quip gives sales teams a central place to collaborate, and bring Live Data from Salesforce—including account and opportunity info—right into their team documents.
Mutual success plans—Teams can share their documents externally, adding fine-grained permissions. This enables rich, deep interactions with customers and prospects in real time.
Marketing teams
Team communication—Marketing teams use Quip's team chat feature to stay updated on everyone's work, every day. They can share best practices, team wins, announcements, and fun stuff.
Project planning—Quip docs are perfect for planning projects and campaigns. They have spreadsheets for budgets and timelines, checklists to manage tasks, and images to share the whole story.
Content creation—Quip is perfect for drafting, sharing, and gathering feedback on content. Live editing, comments, and the document conversation make it easy to collaborate on and perfect blog posts, website copy, emails, newsletters, press releases, and more.
Events teams
Planning large events—Teams use a single Quip document to manage every single aspect of their events. Everyone involved—even external parties—can easily collaborate on budget, assets, and task lists.
Streamlining communications—Keeping chat and decisions about events in the central planning document ensures that no one ever drops the ball, gets confused, or misses a detail.
Real-time troubleshooting—Teams are prepared for anything with the Quip mobile app. When events go live, team members can communicate quickly and reference important documents on the fly.
Customer success teams
Creating templates—Reps can send ready-to-fill-in documents to customers that gather the exact data needed, while making the best use of the customer's time.
Collaborating externally—Documents can be shared externally, giving teams a way to collaborate with customers that's easier, faster, and more painless than email or phone calls.
Centralizing work—The team can work together on customer's needs by gathering information in templates, then collaborating together, along with the customer, in a single Quip doc.
Engineering and product teams
Product roadmaps—Quip is an easily accessible and conversational place for a team to create and share a roadmap. With spreadsheets, color coding, anchor links, checklists, rich mentions, date reminders, and much more, it's easy to create an amazing product roadmap.
Technical integrations—Quip lets you build chat rooms around integrations with tools like GitHub, for issues and commits, and Jenkins for build status.
Design docs—When teams are working on ideas for new products or features, they can create a doc with goals, mocks, code samples, and timelines. Then, the team can give suggestions and feedback via comments and the document conversation.
As you can see, there are many different ways that your team can use Quip to get more work done together. In the next module, we help you customize your team's workflow using Quip.